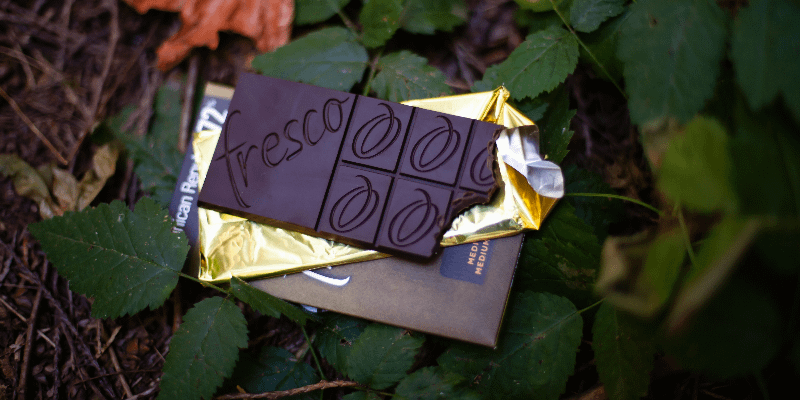 Fresco Chocolate is a Washington-based chocolate maker. Founded in 2010 by Rob Anderson, a computer scientist from southern California.
Rob had his career set in astrophysics, studying Physics at the University of California. However, he slowly started to realise that this wasn't the road for him, and instead began working as a network design Engineer – a job that "was a blast". Rob's career eventually led him up north, leaving California for Washington State. Yet, a trip in 2003 brought him back home to California. During this trip, Rob found himself joining a tour of Scharffen Berger's chocolate factory.
During this tour, Rob's love of chocolate intensified. So much so that he was then determined to start a career in chocolate.
Today, Rob's engineering-mindset has transferred – appropriately – onto chocolate-making. Rob strives to use the best possible ingredients and change the variables that affect taste, texture, and aroma – one variable at a time. Most chocolate makers go through a similar process when creating their bars, but will settle on one cacao percentage, roast and conch time for the finished bar.
Fresco's approach is different. They release each variation so that we can experience the nuances – or sometimes vast differences.
Fresco use just three ingredients in their bars; cocoa beans, cane sugar and cocoa butter. Yet its range is extensive and diverse. From the subtle and delicate to the vibrant and intense, it's truly amazing just how much difference changing a single variable can have on the flavour of chocolate.
Fresco Chocolate In The Chocolate Library
Compare the Roast: Fresco - Polochic Valley 70%

£15.95

Fresco - 212 Dominican Republic 72% 2017 Vintage

£8.95

Fresco - 212 Dominican Republic 72% 2019 Vintage

£8.95

Fresco - 229 Peru, Maranon, Medium Roast, Long Conche 70% Dark

£12.95

Fresco - 230 Peru, Maranon, Dark Roast, Long Conche 70% Dark

£12.95

Fresco - 260 Ghana, ABOCFA, Light Roast Subtle Conche 68% | Cocoa Runners Exclusive

£8.95

Fresco - 261 Ghana, ABOCFA, Dark Roast Medium Conche 68%

£8.95

Fresco - Guatemala Polochic Valley 70% Dark Roast

£8.95

Fresco - Guatemala Polochic Valley 70% Light Roast

£8.95

Fresco - Madagascar 100% Cacao, Light Roast, Long Conche

£8.95

Fresco - Oko-Caribe 100%

£12.95

Fresco 214 Madagascar 74%

£8.95