This maker is no longer available from Cocoa Runners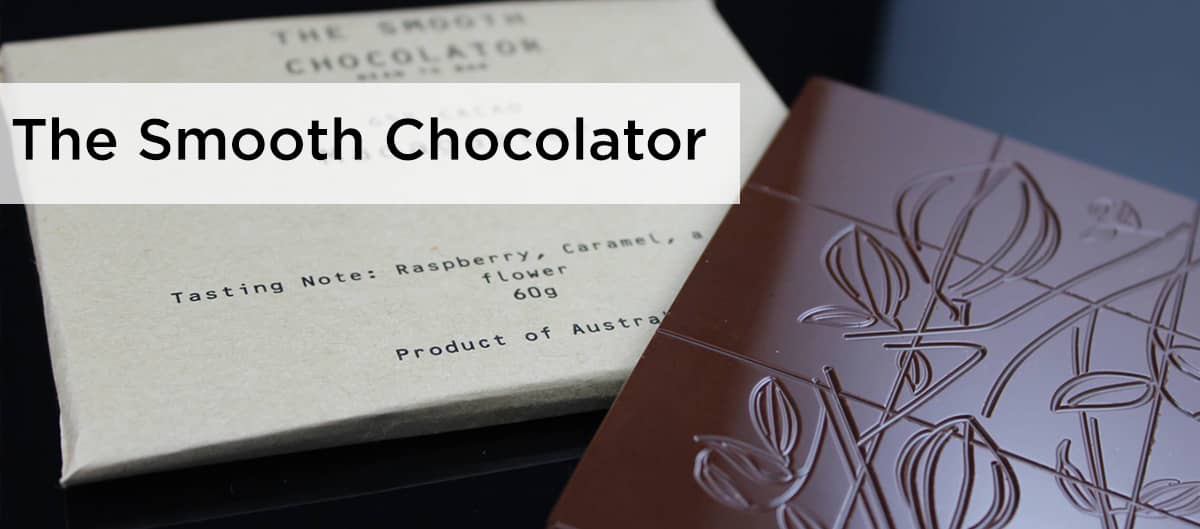 Yoon Kim is the Aussie chocolate master behind wonderfully named The Smooth Chocolator. It was sheer curiosity that led Yoon Kim to enrol on a short course about bean-to-bar chocolate. Like so many others, when she tasted the results and discovered the amazing depth and variety of flavour to be found in craft chocolate she was hooked.
In April 2015 Kim started The Smooth Chocolator. Although primarily a one-woman show, Kim's engineer husband provides welcome support and technical assistance. As she continues to craft, experiment and develop as a chocolate maker, he is helping to build a winnowing machine. She focuses on seeking out new beans and translating their characteristics into amazing chocolate while he is sourcing food grade pipes and getting the pressure just right!
One of the things that we love about The Smooth Chocolator is its bold and adventurous spirit. When we first spoke to Yoon, she was producing a handful of different origins but has quickly expanded. She has delighted us time and time again with experimental sample bars using different origins and flavour combinations.
We spoke to Yoon to find out more about her vision for The Smooth Chocolator.
What's your background? Why and how did you get into chocolate?
I've been a Cuisine chef for several years as well as undertaking a fashion design degree. Currently I work as a pastry chef and chocolatier.
I have always had an interest in chocolate, so, I started to take short chocolate courses at Savour Patisserie & Chocolate School in Melbourne, Australia.
Late 2014, I started to make coloured bonbons using commercial chocolate as a side business. Thinking about designs and colours of the bonbons was fun but I was curious to know how chocolate was made from start to finish.
Fortunately, Savour was also running a 'Bean to Bar' class which I undertook in early 2015 to fulfil my curiosity. The process of making chocolate was interesting but I was blown away by the flavours of the bean to bar chocolate. I never knew chocolate could taste more than just chocolate. It was a new world of chocolate for me and I haven't stopped making chocolate since!
What mission have you set yourselves for making chocolate?
Making chocolate with beans from different parts of the world requires an understanding of the flavor characteristics of each bean origin. Our mission is the continued experimentation to highlight and discover new characters within the cocoa bean and communicate that through the customer's senses in the nicest possible way. I'm still new to chocolate making so I'm looking forward to discovering more origins/flavours in my chocolate making journey ahead!
When did you start your company — and with whom?  How many are there of you?
I started 'The Smooth Chocolator' bean to bar in April 2015. It is just myself, but I get occasional help from my husband!
Where do you want to go next?  New bars?  New beans?  New markets?
I'm always in search for new beans. Discovering and getting to know what they have to offer is the reason why I have this business.
How did you source your beans? (again know a little of this, and obviously not prying for secrets!  But would love to hear more on this….).
We source our beans from companies who connect farmers with craft chocolate makers. We think transparency when sourcing cocoa beans is really important and this ensures farmers get the fair price for their cacao and we get quality assurance with our beans.
Similarly would love to hear more about innovations in tech, crafting, marketing etc. you're pursuing
We are in the middle of building a winnower at the moment. My husband being an engineer is sourcing various food grade pipes, and installing a negative pressure system. The challenge for him is ensuring the maximum husk removal whilst not removing too much cocoa nibs from the process.
What is your favourite food?  Wine?  Other chocolate makers?
I generally love anything Italian, Thai, Korean. I'm not a wine drinker but a huge coffee drinker. Melbourne has some nice coffee roasters which I feel very grateful for. My favourite chocolate maker is Soma.
Save
The Smooth Chocolator In The Chocolate Library
Discontinued Bars
No products were found matching your selection.