This maker is no longer available from Cocoa Runners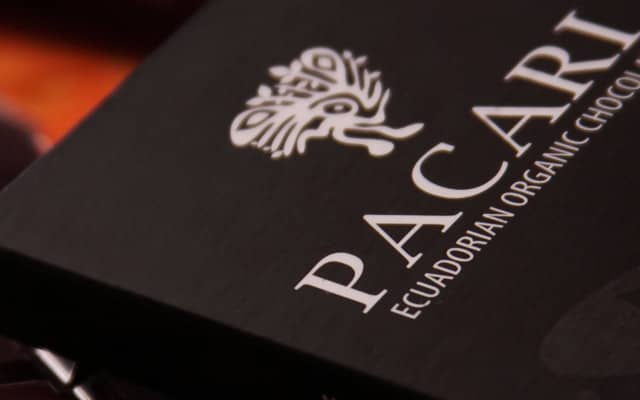 Unfortunately, we have no short-term likelihood of restocking Pacari.
Pacari are one of only a handful of chocolate makers producing chocolate from the bean in the country where it grows. Their "tree to bar" chocolate is made with fine Arriba Nacional cocoa beans sourced directly from local farmers.
Their raw chocolate is made with minimal processing and regularly wins awards for its distinctive flavour.
Founded in 2002 by Santiago Peralta and Carla Barboto, Pacari is a business built on sustainability and quality. The name Pacari means "nature" in the Quechua, the local indigenous language, and it's at the heart of everything Pacari do.
Santiago is a great believer in sustainable agriculture. All Pacari's chocolate certified organic, and the company supports an innovative organic education scheme in Ecuadorian schools as well as Project Flashlamp which distributes solar powered torches to farmers in some of Ecuador's most remote areas.
We were fortunate enough ask Pacari a few questions:
1. What is you background? Why and how did you get into chocolate?
Neither I nor my wife Carla come from a chocolate-making background. I trained as a lawyer and Carla has a background in business. But we both knew they wanted to do something sustainable that showcased Ecuador's natural abundance and so they started out sourcing and exporting organic agricultural products, including cacao. Not having a chocolate-making background allowed us the freedom to think differently, to experiment with processes and ingredients.
2. What mission have you set for making crafting chocolate?
First of all, we want Pacari chocolate to taste good and to do good. And by doing good we mean that it be produced in a sustainable way, that it provide a decent living to all the people in the value chain—especially the farmers, traditionally overlooked in the commercialization of chocolate—and that it be healthy for the consumer.
3. When did you start your company — and with whom?  How many are there of you?
We originally founded Pacari in 2002, there are now nearly sixty employees of Pacari and more than 3,000 small, independent farming families who provide the company with the all-organic ingredients that go into every Pacari bar.
4. Where do you want to go next?  New bars?  New beans?  New markets?
We are always experimenting at Pacari. It is what motivates us and gives outlet to our creativity. So, of course, you will continue to see new Pacari bars and new flavors. Regarding markets, Pacari is now present in nearly sixty countries. That may sound like a lot, but we still see room for growth. More and more consumers around the world demand to know where the food they eat comes from and that it be produced in ethical, sustainable ways. We are also interested in Asia and the Middle East, not just in the traditional markets in Europe and North America
5. How do you source your beans?
Sourcing our fine cacao has always been the top concern for Pacari. We know that the quality of our chocolate—at the end of the day—is inextricably linked to the quality of the cacao we source. That's why we spend so much of our time getting to know the farmers, working side-by-side with them, understanding their needs.  Without going into details here, we hold it as one of our proudest achievements the work we have done to improve the lives of the farming families we work with, paying them a fair price for their produce, helping them be more productive, working with them to improve sustainable farming practices, and, from time to time, lending them a helping hand financially.
It is important to point out not only are all the farms we work with organic, they are also small, family-owned and operated. And we only work with integrated farms, ones that eschew plantation-style, monoculture farming. So, on a typical farm that produces for Pacari, there will also grow—in addition to cacao—many other fruits and vegetables, and even livestock for the family's use or for market. We believe this dynamism on the farm to be of vital importance to producing the world's finest cacao.
The majority of our beans come from Ecuador but recently we have also begun sourcing cacao from parts of Peru and Colombia. This is a trend that will certainly continue but, for obvious reasons, the bulk of our sourcing will come from the farmers we know best, here in Ecuador.
6. What are your favourite foods?
We love all sorts of foods and, in our travels, we have been fortunate to sample a wide variety. But, being from Ecuador, we have a preference for the local cuisine and, in particular, the excellent local produce. So, if we had to pick a daily favorite food, it would probably be a fresh juice made with local fruit or vegetables, perhaps spiced with a dash of some superfood like Spirulina or Chia or Maca.
Pacari In The Chocolate Library