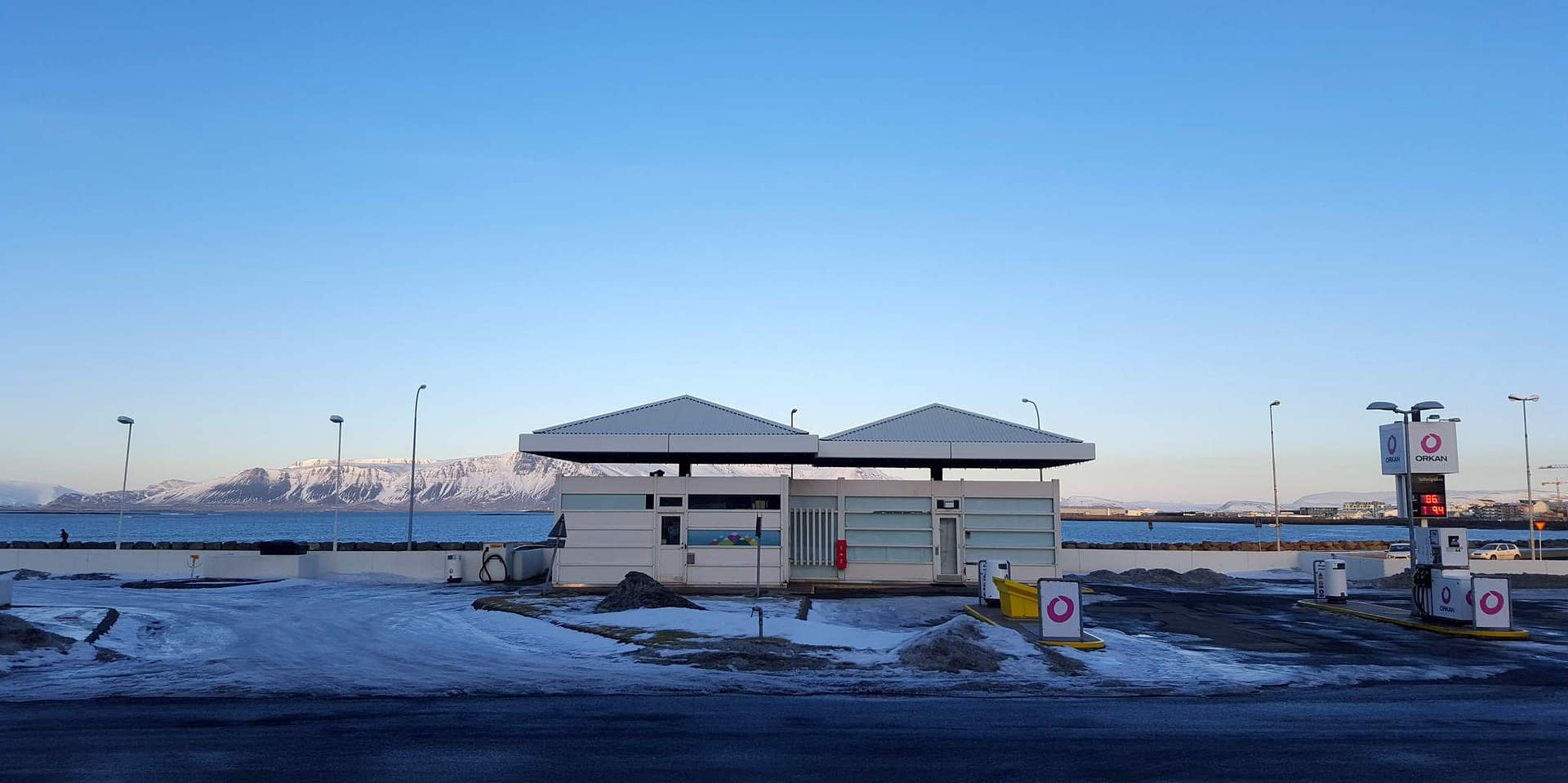 Born of a true passion for fine food, Omnom is one of Iceland's first small batch artisan chocolate makers. Co-founder Kjartan Gislason worked as a chef across Europe for nearly two decades before discovering the bean to bar chocolate movement that was starting in the USA.  As a chef, Kkartan was already familiar with single estate chocolate produced by Valhrona, but even he was amazed when saw the flavours and textures that could be achieved at such a small scale. So he started to experiment.
Pretty soon, he teamed up with his childhood friend Oskar, and they sourced the finest beans from South America, Papua New Guinea and Madagascar. With a helping hand from internationally renowned chocolate alchemist John Nancy, it wasn't long before they needed to find a permanent home for their fledgling chocolate factory. And in a short time, they found themselves making bars in one of the quirkiest chocolate making spaces we know of – a converted petrol station!
Today there are four partners in Omnom as Oskar and Kjartan have been joined by Vigo, a former pastry chef, and Andre, the South African designer who is the creative genius behind Omnom's striking packaging. Andre is a key part of the Omnom team, working alongside the chocolate makers to develop each bar's unique design at the same time as the flavours are perfected.
Omnom's mission is to make the best chocolate possible with the best beans available. The founders' passion for making chocolate for the lesser served Icelandic palette still shines through in their unique flavour combinations. When we first tasted the milk chocolate, we detected hints of the fermented milk so often found in this northern nation.
Omnom's commitment to experimentation is inspirational. Never one to shy away from bold flavour pairings, its truly unique combination of chocolate and liquorice is a best seller in its native Iceland. We heartily encourage you to try this most unusual chocolate. However they are proud of the fact that the quality of their beans shines through, even in their flavoured bars.
They seek to incorporate customer feedback into each and every new bar they develop, and, while we can't give anything away just yet, we're hearing some very exciting things about the bars they're thinking about releasing in the coming months…
Save
Omnom In The Chocolate Library
Milk & Dark - Madagascar & Iceland

£14.31

Omnom - Black N Burnt Barley

£7.95

Omnom - Black N Burnt Barley (Carton of 10)

£79.50

Omnom - Caramel and Milk 2017

£7.95

Omnom - Caramel and Milk 2017 (Carton of 10)

£79.50

Omnom - Coffee and Milk

£7.95

Omnom - Coffee and Milk (Carton of 10)

£79.50

Omnom - Dark Milk of Tanzania

£7.95

Omnom - Dark Milk of Tanzania (Carton of 10)

£79.50

Omnom - Dark Nibs + Raspberries - Winter Collection

£7.95

Omnom - Lakkrís + Raspberry

£7.95

Omnom - Lakkris and Sea Salt

£7.95

Omnom - Lakkris and Sea Salt (Carton of 10)

£79.50

Omnom - Madagascar 66%

£7.95

Omnom - Milk + Cookies - Winter Collection

£7.95

Omnom - Milk of Madagascar 45%

£7.95

Omnom - Milk of Madagascar 45% (Carton of 10)

£79.50

Omnom - Nicaragua 73%

£7.95

Omnom - Nicaragua 73% (Carton of 10)

£79.50

Omnom - Peru 100%

£7.95

Omnom - Salted Toffee

£7.95

Omnom - Sea Salted Almonds and Milk

£7.95

Omnom - Sea Salted Almonds and Milk (Carton of 10)

£79.50

Omnom - Spiced White + Caramel - Winter Collection

£7.95

Omnom - Super-choco-berry-barley-nibbly-nutty-licious

£7.95

Omnom - Tanzania Dark

£7.95

Omnom - Tanzania Dark (Carton of 10)

£79.50

Omnom Love Collection - Lakkrís + Raspberry and Sea Salted Toffee

£14.95

Omnom Madagascar 66% (Carton of 10)

£79.50

Omnom Nicaragua Milk

£7.95