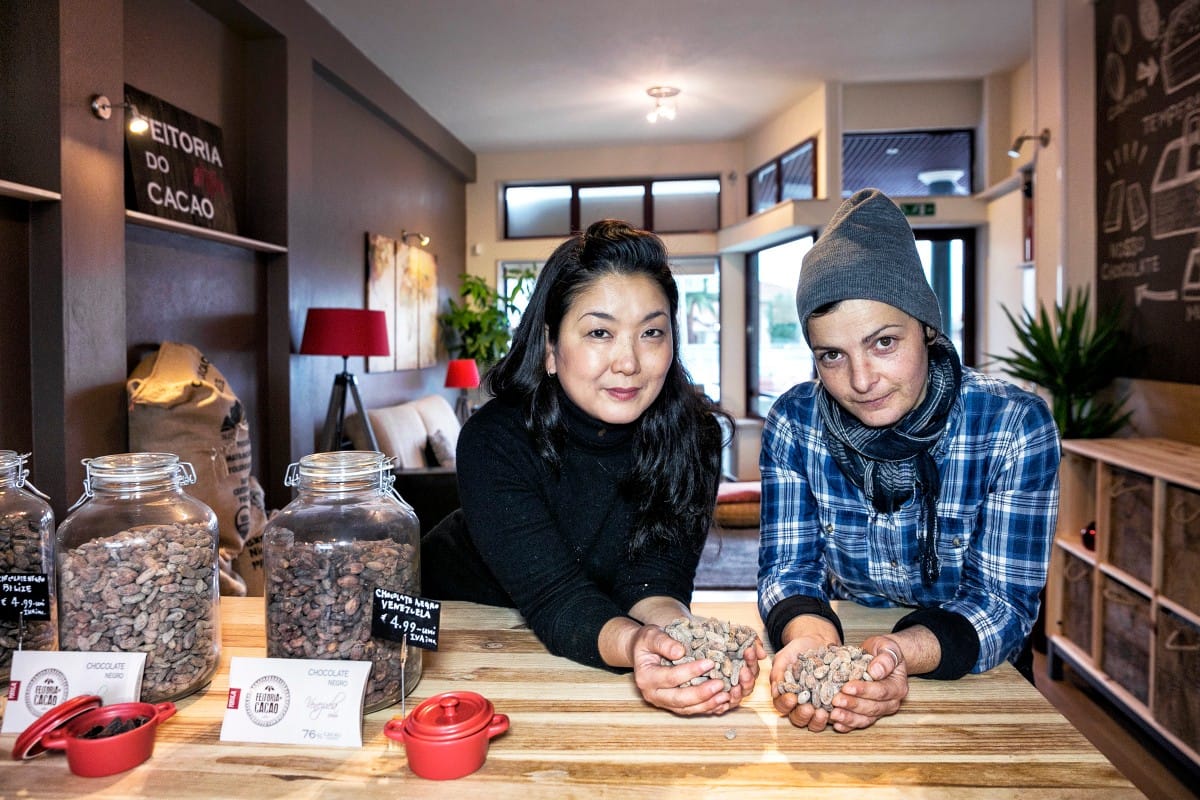 About Feitoria do Cacao
The start of Feitoria do Cacao took place after Tomoko Suga and Sue Tavares took a trip to São Tomé and Principe. Tomoko Suga graduated at Fashion Design & Arts School in Tokyo, and experienced a wide range of jobs, including designer assistant, writer, journalist and singer. From Tomoko's singing job, she found her voice worked perfectly with the traditional Portuguese music, "Fado". With this in mind, and the Portuguese cuisine, Tomoko ventured to Portugal in 2000. The food, people and climate kept Tomoko in Portugal, and in 2012 she met Sue Tavares. Sue, a biology and geology graduate and working as a manager in loss prevention and fraud company, was unemployed and in search for something new to do. Sue's mind drew to chocolate, and Feitoria do Cacao was born.

How they became makers…
When Sue and Tomoko were in São Tomé & Príncipe, the pair met with cocoa farmers. In awe of the plantations and practices, when asking why the farmers didn't produce their own chocolate from the beans they grow, the farmers' response sparked a drive in Sue and Tomoko: to firstly learn how to make chocolate and then to teach these farmers how to make chocolate.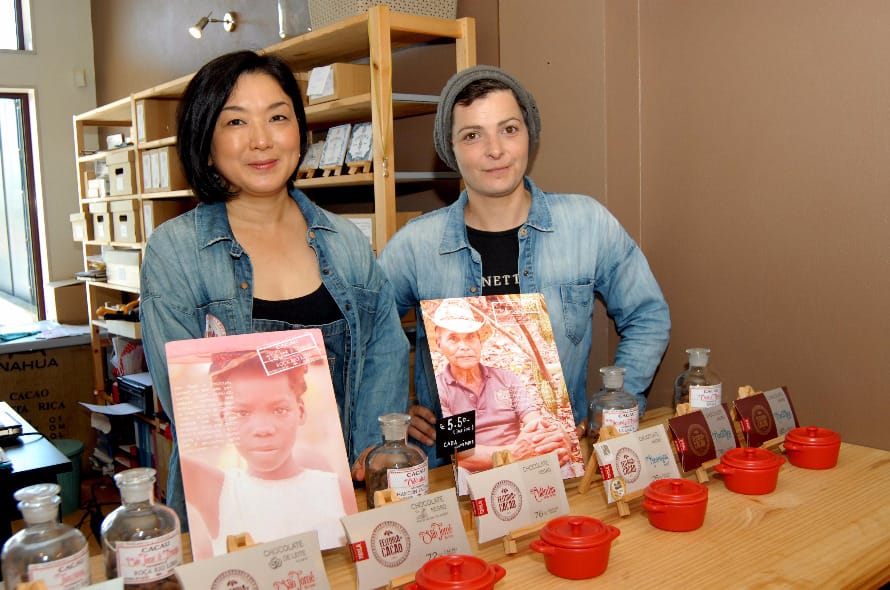 Feitoria do Cacao's Sourcing
Feitoria do Cacao believes that the most important part of chocolate making is the people. If Feitoria do Cacao cannot buy directly from the farmers, the company makes sure they have direct contact with producer, knowing who produces the beans, how they produce the beans and how they live.
An Interview with Feitoria do Cacao
What's your background? Why and how did you get into chocolate?
Tomoko Suga, our founder, graduated at Fashion Design & Arts School in Tokyo, and had different jobs in Japan as Designer Assistant, Writer, Journalist and Singer. From the singing job, she found her voice worked perfectly with the traditional Portuguese music, "Fado".
She came to Portugal to study and learn Fado and as she also loved the world of food she fell in love with Portuguese food, people and the climate. Since year 2000 she has lived in Portugal and met Sue Tavares in 2012.
Sue Tavares studied biology and geology at University of Oporto, but started working at a telephones company, as a Loss Prevention and Fraud manager. After 12 years working for the same company, Susana became unemployed and had to find something else to do.
Chocolate appeared as something that makes others happy, and that seemed to play a huge role on the way she wanted her life to keep going.
And then Sue and Tomoko went to São Tomé & Príncipe for vacation and met the farmers who produce cocoa beans. After a talk with some of them and asking them why don't they produce also chocolate from the beans they grow, and their answer was "because we don't know how to make chocolate", we were sure we would pursue the goal to learn how to make chocolate and one day go back to São Tomé and teach them how to do it (even that time we didn't know it was even possible to make chocolate on a small scale).
After coming back from this trip, we found Ecole Chocolat, and took both the courses of Chocolate Making and Professional Chocolatier. After some tests, errors and good results, and friends telling us that we should go ahead with our dream, we decided to open a small store in Aveiro, where we produce and sell our chocolate directly to customers.
What mission have you set yourselves for making chocolate?
As chocolate makers, our goal is to make amazing chocolate that make people feel happy. In all ways. Making good chocolate, paying the fair price for beans and making the cocoa producers happy and of course, the costumers.
Our mission is being part of that happy chain and respect origin countries, the cocoa beans and all the people involved. Chocolate is about people.
When did you start your company – and with whom?  How many are there of you?
Our company officially started on 4th December 2015, co-founded by Tomoko Suga and Sue Tavares, and still being the only staff at Feitoria do Cacao, til today.
Where do you want to go next?  New bars?  New beans?  New markets?
We will surely have new bars. We are always looking for something special, never is "enough". We have some plans already for some of new bars, and also new beans. We are selling chocolate in Portugal, Japan, Spain, Belgium and UK , but we are willing to expand this list. We hope to reach and can share with more people our perception of chocolate at Feitoria do Cacao.
How did you source your beans?
We taste as much chocolate as we can and that had lead us on a path. We developed our preferences tasting chocolate bars from all over the world. So after knowing what were we looking for, it became easier to look for the right producers, always testing different beans as much as we could.
There are producers that we buy directly, but others (and due small quantities we work with) we ask producers for a trader in Europe. So, even some times we don't source directly, we make sure we have direct contact with producer. Knowing who produces the beans, how do they produce the beans and how do they live. The most important about chocolate, are people.
What inspired your choice of wrapper/mould design?
We are actually designing new wrappers for our bars and we are very excited about it. Inspired on Portuguese old tiles that can be seen a little all over the country.
The Portuguese Feitorias (Age of Discovery) were fortified trading posts on coastal areas (all over the world, including East Africa, Indian Ocean, China, Japan, South America…) to dominate the local trade of products with Portuguese Kingdom. Working at "Feitoria do Cacao", being a Japanese and Portuguese founders, buying beans from other countries and exporting our bars to some other ones, is a part of our history being a Portuguese company. Our roots, as also the old tiles (sec. XVI) handpainted on the new wrappers.
Similarly would love to hear more about innovations in tech, crafting, marketing etc. you're pursuing
We will start soon the tests with chocolate and Port Wine, since we are from its production country we feel almost as a mission to take Port Wine into our chocolate bars. Due to some good relationships we have on Douro region, we will be able to test some different techniques / wines / products to flavour the bars and have fun tasting all of them. We find very interesting working with wine at the chocolate making, and will make all the efforts to deepen our knowledge and tests on that subject.
What is your favourite food?  Wine?  Other chocolate makers?
While Sue, Portuguese, prefers Sashimi, Tomoko Suga (Japanese) enjoys Seafood rice, a Portuguese dish, and both enjoy Port Wine and Moscatel Wine.
As costumers, we enjoy Friis-Holm, Bonnat, Duffy's. But there are a lot of more very good chocolate makers! We are also fell in love with Es Koyama creations.
As chocolate makers, we admire the work from Shawn (from Askinosie), who keeps inspiring us with his work and initiatives with local producers all over the world. Thankfully his company is not the only one working like this in this chocolate making world.
Feitoria do Cacao In The Chocolate Library