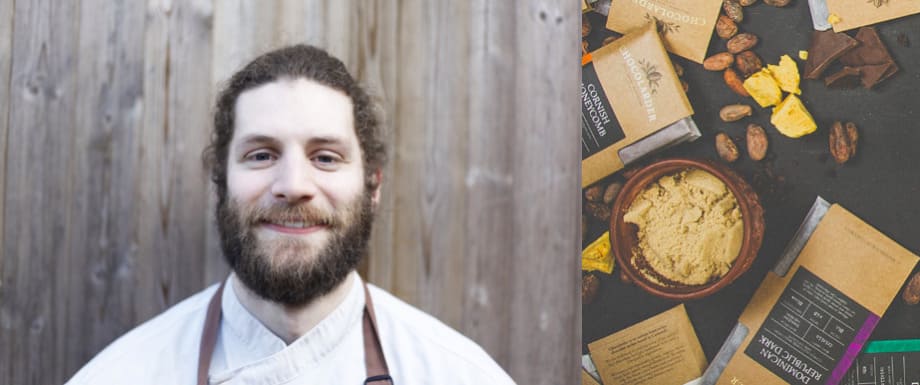 About Chocolarder
Deep in the heart of Cornwall, England, a mere stone's throw away from the coast, lies Chocolarder HQ. It is here that former Pâtissier Mike Longman has been fashioning his own machinery by upcycling and repurposing (you can read more about it in his interview below) to craft an extraordinary line of bean-to-bar chocolate since 2012. Base ingredients of cacao and cane sugar arrive at the port of Falmouth following an epic journey on the high seas by sail boat, in a commitment to transportation that is as close to zero carbon emissions as is possible. These top quality, carefully sourced organic ingredients are then transported to Mike's factory, ready to be crafted into exquisite chocolate.
The forefront of Chocolarder's mission is making ethically-sound and sustainable chocolate, with a specific focus on packing their exquisite bars into plastic-free packaging. As a result, Chocolarder is not only gentle on the planet, but also helps give back to the people who make the cocoa industry possible in the first place – the cocoa farmers and growers. The team also carry out every part of the chocolate making process themselves, which means Chocolarder can experiment with taste and flavour at every stage.
How they became makers…
Originally, Mike began a gastronomic career as a part-time chef to pay his way through a degree in economics. Quickly realising that his passions were far stronger for food than maths, he consequently ditched his calculator for an apron, enjoying a successful career over several years as a respected pastry chef. Whilst dedicating himself to creating all of the ingredients that he could from scratch, Mike became fascinated with the process of crafting chocolate. He perfected the art of roasting, conching and alchemizing cocoa right in his kitchen at home – an office space that was quickly outgrown with the snowballing demand for his chocolate.  Thus, began Chocolarder. Today, Mike remains unwavering in his commitment to the intention he set at Chocolarder's foundation, "unadulterated sensory enjoyment without compromise." Chocolarder's exciting line of fine single-origin bars and delightfully innovative locally inspired inclusions, is at its heart one of top quality ingredients that succeed in 'doing better' for the environment and the communities at their source.
Chocolarder's Sourcing
Mike's unwavering ethical values are evident in every aspect of production. Chocolarder source their 100% organically grown cocoa beans directly from farmers so that they can be sure that payment is truly going to those doing the hard work. This has a double advantage: not only do farmers receive higher than market value for their produce, but also that Chocolarder can be more selective about the quality of the beans they receive – resulting in more diligent control over the quality of their chocolate.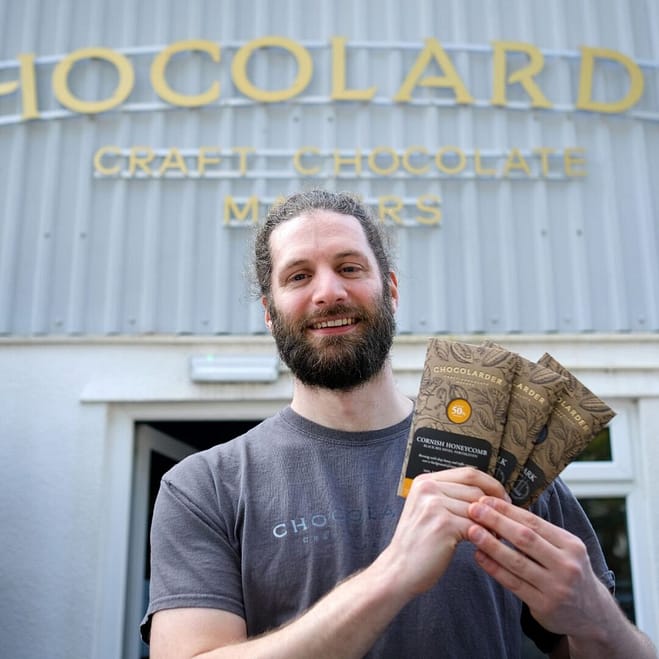 Indeed, when it comes to sourcing, Chocolarder really does push the boat out; for Mike, ethical sourcing doesn't stop with finding the beans, but rather at the very end of the journey in how they are transported home. Mike's heroic efforts all come as part of a genuine and dedicated commitment to environmental sustainability which sees him attempt to keep carbon emissions from transport as close to zero as possible. Cocoa is loaded directly from the farmers into their hold for a wind powered journey back to Falmouth, Cornwall, where the beans are unloaded and brought to the workshop. Mike even sources raw cane sugar from close to the cacao to make sure that all raw ingredients can be put onto one boat. This is perhaps the most intrepid chocolate you'll ever eat!
An Interview with Chocolarder
To celebrate Chocolarder joining the Cocoa Runners library, we sat down with Mike to find out more about his bean-to-bar adventure.
      Why and how did you get into chocolate?
My road to chocolate making was a long and winding one. I initially started as a part time chef in order to pay my way through an Economics degree, but when I finally graduated, I realised my passions had been for the food rather than the maths. So, I followed my instincts and applied for the nicest restaurant in the area and started the following day. I quickly got to grips with the basics, and found myself running the hotel's brasserie within the first 6 months. I progressed through the kitchen and eventually found myself in the pastry kitchen, having had a pretty one-sided conversation with my very good friend and head chef, who let me know that one of us would have to be head pastry chef, and it wasn't going to be him.
I loved everything about running a pastry kitchen, especially as I had free reign over any dish, any element, any strange fabrication. I set to work making everything we could from scratch. Our attention eventually fell upon chocolate. And so, I became transfixed, breaking numerous pieces of equipment until I had my first batch of chocolate. I had little idea what the best approach was, and so felt my way there until I had something truly special. But the more I made, the more I discovered the world of chocolate, the flavour of different regions, different varieties, different roasts, different sugars- limitless possibilities, and all a million miles from the chocolate I knew from the high street shops. It was soon after my first batch of chocolate that I knew where it was all going, and I'm glad I took the leap.
       What mission have you set yourselves for making chocolate?
I don't have a mission, just a strict level of ethics in making chocolate that seem to have been forgotten over the years. These are the very same ethics that are bringing back a revival in small bakeries, coffee roasters, breweries, this new artisan world.
Sourcing is very important, not only for flavour, but because the production of the raw beans is so labour intensive. The producers of cacao have been exploited to the level where they have no idea what cocoa beans make; they do not know the value of their crop. Taking care of the growers takes care of the flavour, and everyone benefits.
The ingredients in the chocolate are of course of major importance, and our aim is to use as few as possible, as a lot of the additional ingredients are often unnecessary. In our dark chocolates, we only use the beans and raw sugar. An addition of whole milk powder makes our milk chocolate. All our ingredients are organic, all as pure as possible.
The packaging is the last of the big ethical problems we had as we contemplated the environmental impact of being a producer. Our packaging is now 100% recyclable, and made using recycled material.
      When did you start Chocolarder — and with whom?  How many of you are there?
I started Chocolarder on my own, in my kitchen, making a few bars to sell at local farmers markets and in my local delis. From the get go, it was a struggle to keep up with demand, partly because the equipment I was using was what I had found and adapted to work: a tiny coffee roaster that I slowed the drum speed on, and a grinder I had taken apart. I decided what equipment I wanted to keep and what I wanted to change and rebuild. Scaling up over the years has continued along this theme, everything is adapted and cobbled together. There's no duct tape but we're pretty close!
       Where do you want to go next?
I have some amazing projects on the horizon this year, one of which is bringing my cocoa beans across the Atlantic via sail ship. The logistics of this are tricky, as the trip is a two-month round trip. The crew of the ship use the voyage to educate about the difference of zero carbon transport in terms of environmental impact, in addition to bringing across freight. This absolutely the ideal way to transport cacao, and we hope to expand in this way the future. We will also have a cupboard full of sample bars from small batches with different flavours, beans, and different sugars. My personal favourite of these is the 100% bar. It has been my aim from day 1 to make a 100% bar that I really enjoy eating. I'm very excited to let this one out and see what happens.
       How do you source your beans?
Sourcing is the most difficult part of chocolate making, and is an absolute minefield. The only way to source effectively is to form solid relationships with the growers themselves. Other chocolate makers, and friends who have travelled to South America, have helped me massively along the way. I'm yet to set off on my first trip, but hope to be out in Ecuador later this year to go shopping and friend making.
     Tell us a little about some of the great innovations in tech you've made in creating your machinery
The equipment used to make the chocolate is built to our needs from what we can get our hands on, and based on good, old-fashioned science. Stripping machines down and building them back up to our needs has become commonplace – for us as well as a lot of other small-scale chocolate makers. Our roaster is very interesting as it started out life with the purpose of roasting chickens, but it has since been fitted with a drum to roast cocoa beans. In addition, the melange had to be completely stripped down to have new granite pillar stones and a new motor fitted, and our butter press was once a car jack! All of these pieces of art work perfectly to do the job they are needed to do, and working with them is so much more personal.
       What is your favourite food? Wine? Other chocolate makers?
I couldn't possibly pick out a favourite chocolate maker, but there are many that I admire. My favourite food would have to be the crispy pork belly dish at The Langford in Fivehead, and to drink, any Merlot from Chile hits the spot.
We can't wait to see what's to come from this passionate chocolate maker and incredible bean to bar company!
Chocolarder In The Chocolate Library