This maker is no longer available from Cocoa Runners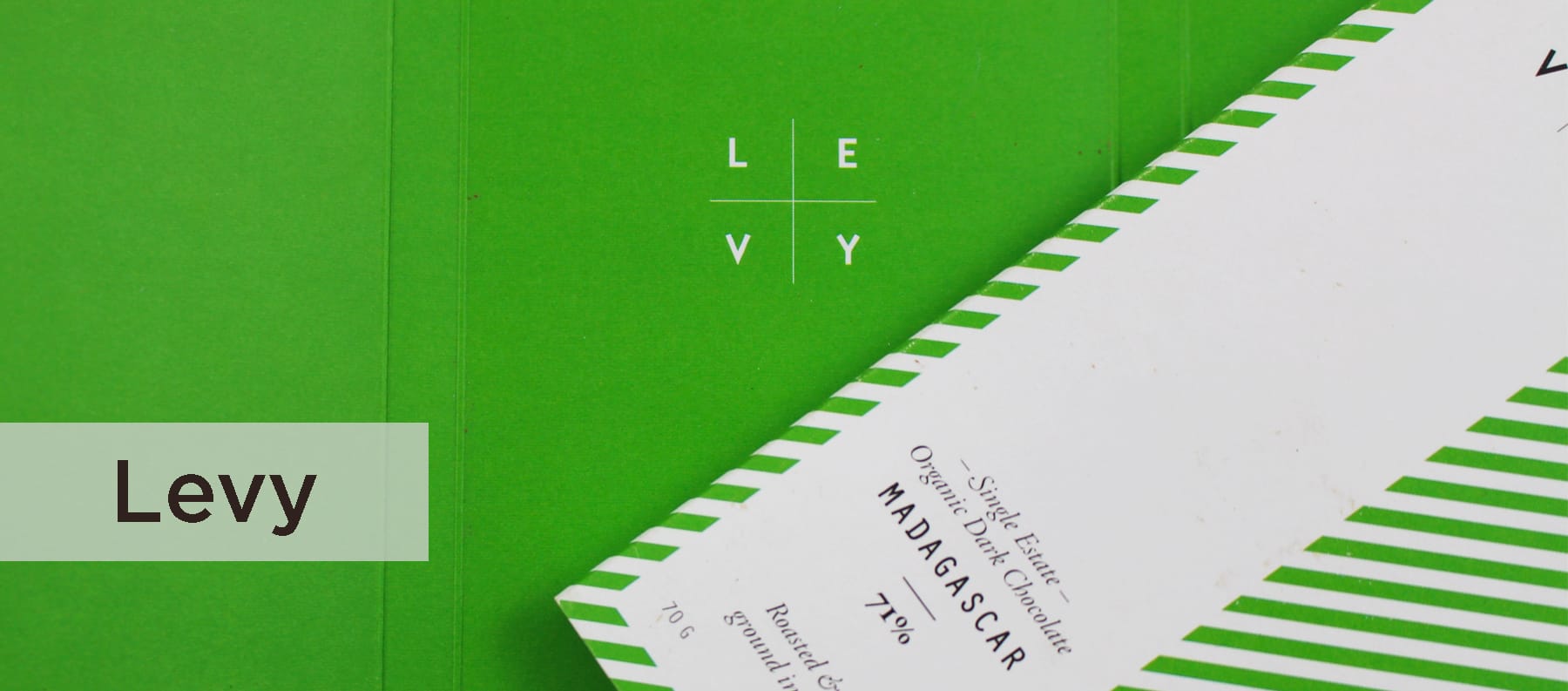 Sadly, Levy are no longer making chocolate.
Tom Jakobsson, our first Finnish chocolate maker, found his way into the world of single estate chocolate by a happy accident. Having studied Computer Sciences, he decided instead to pursue a career in advertising and graphic design. In 2010 he came across a video online about Brooklyn-based chocolate makers Mast Brothers. Inspired by what he had seen, he realised you didn't need a huge factory and multi-million pound machinery to make truly delicious chocolate.
A year later, in 2011 Levy chocolate was born, with its first bars being released a few months later in the summer of 2012.
Levy's chocolate contains only two ingredients: organic cocoa beans and organic cane sugar.
Tom and his team hand clean the beans in Finland before roasting. For each batch of beans, they carefully adjust roasting temperature and time according to bean type, origin and desired outcome, to ensure the beans release their full potential flavour.
The beans are then cracked and winnowed to separate the husk and nibs (the part used in chocolate). The nibs are then ground in a granite grinder. It is at this point that Tom adds in the only other ingredient – organic cane sugar. The combined nibs and sugar, known as cocoa liquor is then conched for up to three days. Then to further enhance the flavour the solidified chocolate is aged for one to three months.
Finally, the chocolate is tempered, moulded into bars and hand wrapped in foil and Levy's distinctive candy striped packaging, ready for you to enjoy.
We were lucky enough to speak to Tom to find out more about him and his chocolate:
What's your background? Why and how did you get into chocolate?
I graduated with a Master of Computer Science degree, only to go on and study Graphic Design. I then ended up working in the advertising industry as a designer and art director for over 10 years but returned to graphic design shortly before stumbling on a Cool Hunting video about the Mast Brothers in 2010. Personally I didn't know much about the chocolate process but the video showed that it could be done small scale. This was the start of the journey into chocolate and through a series of strange events and luck Levy was born.
What mission have you set yourselves for making chocolate?
When starting out it was all about the flavour of the bean and no additional ingredients apart from sugar. We also use exclusively organic beans in our production and produce quite a limited amount of bars. This is still the way we work.
When did you start your company, and with whom?
The company was started in the end of 2011 along with Tuukka Koski who is an ex chef, and Aki Arjola. The first bars were out in the summer of 2012. For the last 3 years there have been a couple of people helping out but it's basically a one man company at the moment as Tuukka is pursuing his photography career in New York and Aki is working with small producers in the Finnish countryside to make them available as retail items.
Where do you want to go next?
There are plans of introducing new bars from new origins in 2015 and definitely new markets to follow if all goes according to plan.
How do you source your beans?
Sourcing beans is one of the toughest parts. First you need to find great beans from honest producers and then convince them of selling small amounts. There are definitely more small suppliers today than three years back which is good. However if it wasn't for the helpful people in the business and internet, bean-to-bar chocolate made in Finland would still be a waiting to happen.
Similarly would love to hear more about some of the great innovations in tech you've made?
I wish I had some great tech innovations to share but I have toyed with ideas from static electricity to Raspberry Pi controlled machines. The chocolate production process has a lot of possibilities/challenges.
What is your favourite food?
My favourite food is Italian style pizza and almost anything with fresh coriander. I also love red wine. There are so many great chocolate makers out there, but two I particularly admire are Dandelion Chocolate and Rogue Chocolatier, (although they are by no means the only ones!)
Levy In The Chocolate Library