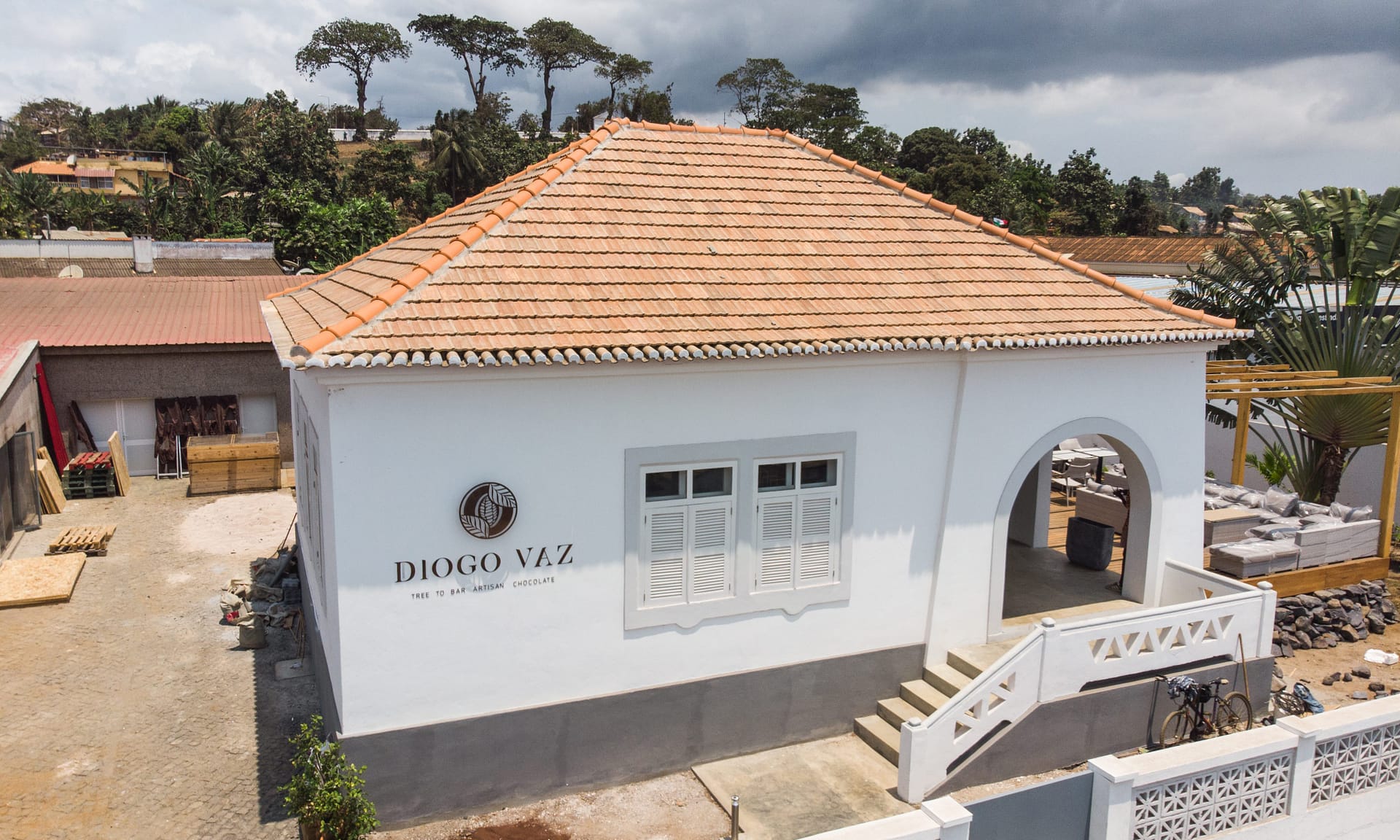 Tree to bar artisan chocolate maker, Diogo Vaz, took a straight forward approach to naming – their name is from the plantation of where its cocoa is farmed: Diogo Vaz Roça on the island of São Tomé (Roca means plantation). And the inspiration from the company is similarly straightforward.  Jean-Remy Martin, founder of the Kennyson Group, a company known for its work in the rural development in Africa, wanted to revitalise São Tomé's cocoa growing. So Jean-Remy set up a project to replant cacao across the island and thereby raise the social status, and incomes, of local cacao farmers' by providing higher yielding and finer cacao (which offers higher prices).  After various negotiations the project was "greenlight" by the São Tomé government in 2004. Soon after the Kennyson Group took over the management of the historic Diogo Vaz plantation.  Fast forward 15 years and with the help of master chocolate maker, Olivier Casenave, Diogo Vaz are now growing, crafting and selling award winning bars from São Tomé.
Behind this straightforward story and name is a far more complex and controversial history of cocoa in Africa.  São Tomé cocoa history is sadly not all as positive as the vision and story of Diogo Vaz.  Following the Portuguese colonisation of São Tomé and Príncipe in 1493, there is a long and dark history of slave labour culminating in an infamous court case between Cadbury's and the Evening Standard in 1908.
The first settlers in São Tomé and Príncipe rapidly realised that the volcanic soil was well suited to growing su São Tomé gar cane.  Sugar cane cultivation was labour intensive and the Portugese rapidly resorted to importing large numbers of slaves from the African mainland. At the same time São Tomé became a transit point for ships transporting slaves between the West and continental Africa. And then after a period of gradual decline in the 18th and 19th century São Tomé suddenly emerged as a "goldmine" for cocoa in the 1860s. Somehow (there appears no exact record) cacao seedlings were introduced from mainland Africa to the islands of São Tomé and Príncipe.  And the islands have a perfect microclimate for cacao. By the 1880's cocoa plantations were spreading like wildfire and the Islands became known as the "Chocolate Islands".  By the end of the 19th Century, despite being Africa's second smallest country, São Tomé and Príncipe had become world's largest grower of cocoa.  Their cocoa was sold to all the big name chocolate manufacturers of the time, including Cadbury, Rowntree and Fry's.  And by the turn of the 20th century these three pioneers of "best practise" worker employment in the UK (cf Bournville etc.) were sourcing the majority of their cacao from São Tomé and Príncipe.
However there was a dark understory to this export success.  Growing, harvesting and managing cocoa can be back breaking, gruelling and dangerous work.  Lacking a willing local workforce, the Portuguese colonisers resorted to importing indentured (i.e., slave) labour from other parts of Africa despite slavery having nominally outlawing the slave trade in 1836 and slavery in all colonies in 1878. By the late 1890s and early 1900s, stories of the appalling working practises in São Tomé lead to Cadburys starting to investigate the labour conditions on the plantations from which it purchased over half of its cocoa beans. As well as appointing an investigative agent (Joseph Burtt) to visit the Islands, in 1902/3 William Cadbury personally travelled to Lisbon to argue for new labour regulations with the São Tomé and Príncipe plantation-owners. For the next few years Cadburys worked hard behind the scenes with the British Government to pressure the Portugese government to improve working conditions.  However in 1905/6 Henry Nevinson's published his exposé: "The slave-trade of to-day. Conclusion.–The islands of doom" in American publication Harper's Magazine (you can read the original article here).  This gave rise to a notorious court case where Cadburys accused the Evening Standard of libel, and despite winning the court case, was only awarded a farthing's worth of compensation and suffered much bad publicity.  The upshot was that Cadburys, along with other chocolate makers, moved their sourcing from "the Chocolate Isles" of São Tomé to new areas such as Ghana.  Sadly the cocoa industry's supply chain remained (and remains) "opaque" and still very problematic. And for São Tomé, its cocoa industry was destroyed by the maker's boycott and is only now starting to recover.
Following the declaration of independence by São Tomé and Príncipe in 1975, the "chocolate islands" have slowly started to re-engage with cocoa growing. A few of the abandoned cocoa plantations, including that of Diogo Vaz, have been "rediscovered" by craft and ethical chocolate makers and cocoa growers. Indeed the story of Diogo Vaz Roça re-emergence provides a wonderful case study in how local farmers can work with international craft chocolate makers.  Back in the early 2010s, Jean Remy sent some of the plantation's Amelonado cocoa beans to Olivier Casenave, a chocolate maker with Basque roots, who is a leading pioneer of the small batch craft chocolate movement in France. With these beans Olivier won Gold at the 2016 Salon du Chocolat in Paris for a 75% dark chocolate. And armed with this success, the Diogo Vaz project developed its own craft chocolate operation, working with Olivier Casenave, to craft bars from "tree to bar" on their plantation.
We spoke to Christian, who together with Olivier Casenave, has been working to promote and market Diogo Vaz's bars
When did the company start — and with whom?  How many are there of you?
Diogo Vaz is the historical plantation in São Tomé and Príncipe. It was founded in 1880. We took over management in 2004, while it was abandoned. We started with a vast replanting strategy. Given the good results with our cocoa beans, what started out as an agricultural venture with the Diogo Vaz Roça has organically germinated into the project of producing our own exclusive chocolate. Keeping in mind our main goal, as to keep the value of our work locally and to be able to create a superior quality final product. We opened our chocolate our own chocolate factory and chocolate store in São Tomé and Príncipe in 2018.
What mission have you set yourselves for making chocolate?
Diogo Vaz is born from our determination to produce the best chocolate possible while combining: product quality, full traceability, and ethical responsibility.
Where do you want to go next?  New bars?  New beans?  New markets?
We have only scratched the surface of what the plantation can produce. Having full control on the whole chocolate process opens up a world of possibilities. We're starting with new bars, playing with fermentation and maturation process. For now we've only have 2 varieties of cocoa that we can use (Amelonado and Trinitario), during our replanting process we discovered 5 other varieties (…). The plantation also produces : banana, Ylang-ylang, jackfruit, mango, passion fruit, vanilla, cinnamon, pepper… all of these that can be mixed with our chocolate to make different new bars.
What is the story behind your company name?
Diogo Vaz is the historical plantation in São Tomé and Príncipe. It was founded in 1880 by the Portuguese.
How did you source your beans?
All our beans come from our own plantation.
What is your favourite food? Wine? Other chocolate makers?
Marou, Pacari, Stone Hill … There are so many.
What chocolate achievement are you most proud of to date?
We're employing more then 250 people at the planation and 20 people at the laboratory. Our chocolate maker, Olivier Casenave, won the gold medal for best dark bar at the Paris "Salon du Chocolat" in 2016 with our beans.
DIOGO VAZ In The Chocolate Library