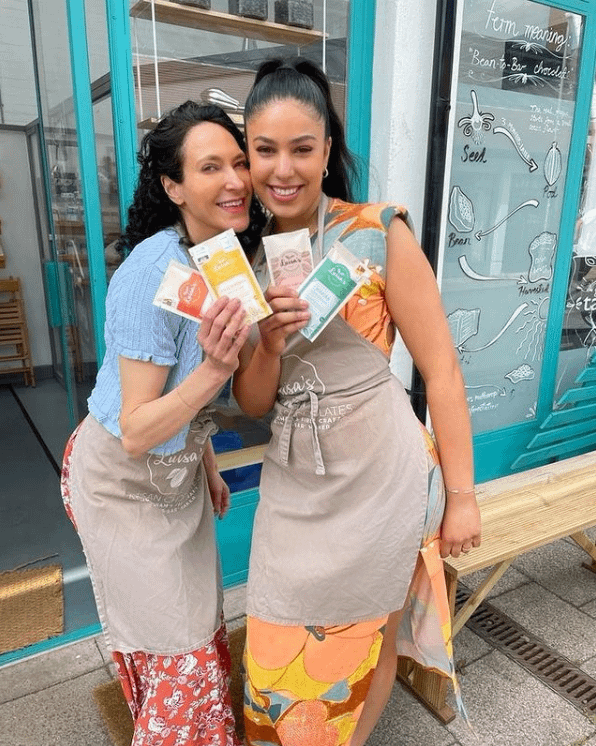 "I adore bringing out the different taste nuances of each bean when I create a new batch of chocolate".
Luisa, of 'Luisa's Vegan Chocolates' fame, shared with us some of her story, and how she's working hard to make superb craft chocolate which taste better, and helps build business and community.
The Background
Prior to embarking on an exciting exploration of craft chocolate, Luisa was a fashion and textiles teacher
Even as a teacher, Luisa was never far from chocolate, with a bar always on standby in her bag.
"When my eyes were opened to the world of single origin chocolate and all the incredible nuances that can be present purely from beans, I felt like I was missing out on a whole world that I yearned to discover".
Upon igniting a passion for chocolate and chocolate making, Luisa began a journey that led her to leave her teaching career, and start up her own business. What began with Luisa alone, making chocolate in her own kitchen, has grown organically into a thriving small business, with premises and employees. Luisa shared her pride in it being a family concern too; "we are a female-led and mum & daughter run business".
After a year of making chocolate, Luisa realised that there was a space in the market to explore plant-based alternatives to milk chocolate. Now, Luisa and her team have developed a range of alternative milk chocolates which they call their "better-than-milk range". Their 'Hazolate' and 'Casholate' bars are flagships for the range.
Now, Luisa's Vegan chocolate shop, based in Sneinton Market, Nottingham, is the UK's only 100% plant-based, bean-to-bar shop.
Building Business and Community
Like many craft makers, Luisa values building direct relationships with farmers and other stakeholders in the chocolate supply chain.
They're currently developing a relationship with Jamaican farmers after a chance encounter with the family of a member of the Jamaican embassy in their shop. "It'll be fantastic as we have a great Jamaican community in Nottingham".
And elsewhere in Nottingham, they're working alongside a number of other small businesses on interesting collaborations including a local coffee brewery and a beer brewery, to bring out a coffee and malt chocolates. Luisa's Vegan Chocolates also supplies chocolate to Michelin Star chefs.
They're even getting in on the science! They won a project with The University of Nottingham and Innovate UK to explore "micrological changes that happen in the fermentation box can affect the fine flavours in cacao beans".
Working with Farmers
Luisa's work, building relationships with farmers has had some real impact. She tells us about one of her proudest achievements: "I was most proud of working with 3 wonderful women from Colombia on an innovation & female empowerment project, alongside the University of Nottingham. These farmers wanted to move away from producing commercial cacao, and elevate their product into the super premium market. My job was to visit and survey the farms, build relationships with the farmers, as the plant science team collected scientific data to see what microbiological changes occur during cacao cultivation and fermentation. We used their cacao to make chocolate, from the 1st to the 3rd crop, and gave feedback, and suggested improvements that could be implemented on the biodiversity side. Vast improvements were made with the cacao, and in turn the chocolate got significantly better as the crops went on, backed up by our taste testers (our customers)".
This is an amazing example of what a dedicated craft chocolate maker can help to achieve. One of the farmers, Carmen, commented: "in Colombia, farmers are not traditionally well paid for their work or product. The gains we have had are much higher than what we used to get before we started this process with Luisa". And the increased income that Carmen is no able to take in, from selling fine flavoured cacao to Luisa, is enabling her son to go to college.
Presenting the Product
Packaging, and how the bar presents itself to consumers, are important considerations. And Luisa takes these very seriously: "We wanted something simple but bold, and the most important thing was to have 100% plastic-free, biodegradable and compostable packaging for all our bars. Our packaging is simple, with pops of colour that reflect the bright, punchy flavour notes within the chocolate. It also biodegrades in normal bins rather than needing an industrial setting, which is great".
And, in keeping with the family spirit behind the business, Luisa tells us "My daughter Isabella learned how to use Illustrator so she can make tweaks and create new labels herself, too!".
Moving Forward
Luisa's passion for the craft, and the growth of the business is marching on. And Luisa is looking to continue sharing her amazing chocolate, and advocating for better chocolate: "My teaching background is still part of me, and I tend to keep people into the shop until they can leave understanding the differences between a chocolatier and chocolate maker, and the fundamental differences craft chocolate can make to cacao growing communities".
"I love telling people about the story of our chocolate, but making it fun and accessible to everyone, not only how it's created here but also on the farms. I like to open people's eyes to craft chocolate and want people to share a little bit of the passion I have".
"I must admit that we love it when people come into the shop not being fans of dark chocolate, but leave with a handful of them, never knowing it could taste so good".
Luisa and her team work to a simple, impactful motto: "Great Beans Make Great Chocolate", and we couldn't agree more!
If you want to explore their bars, check out which Luisa's products we have in stock below, and keep an eye out for future lines which we hope to bring you!
Luisa's Vegan Chocolates In The Chocolate Library