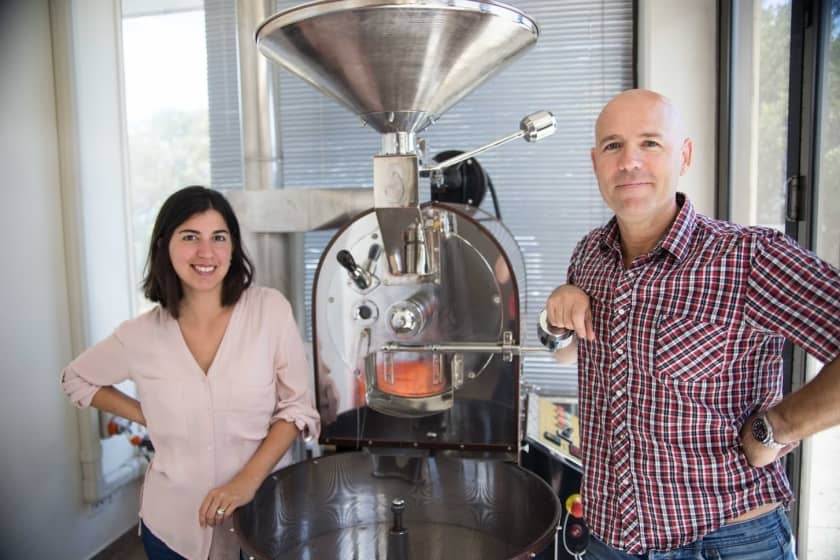 Hogarth Chocolate
Former fisherman and sailor Karl Hogarth was first inspired by craft chocolate when on a trip to South America he tasted chocolate made from from pure cacao for the first time.
While still working on a supply ship as a second officer, Karl started to explore his new-found passion. He bought and tasted bars from all over the world. After reading an American magazine article he began making his own chocolate in his shed. Selling these homemade bars at a local farmer's market in Nelson, he was overwhelmed by how popular they were.
We recently spoke to Karl to find out more about Hogarth and the husband and wife team behind these amazing bars…
1. What's your background? Why and how did you get into chocolate?
Over 20 years at sea, starting as a 15 year old deck boy, to becoming a captain, then moving into the oil and gas industry on specialized oil field vessels.
Chocolate making started as a hobby/interest. I love chocolate and after trying some rustic home-style chocolate when I was visiting Guatemala, my eyes were opened to how different pure cacao can taste compared to mainstream chocolate. I also love tinkering and usually have at least one obsession on the go. Once I found chocolate making it became my focus and continues to excite me.
Along with my studies in nautical science I've also completed a commerce degree in marketing and law, the chocolate business has finally given me a vehicle to put my studies into practice.
2. What mission have you set yourselves for making chocolate?
We want to make the best chocolate we possibly can, and be able to share it with the world. We want to push the boundaries a bit too, trying new flavor combinations and challenging peoples perceptions of what chocolate is.
3. When did you start your company — and with whom? How many are there in your team?
We are a husband and wife team, Marina and I. I met Marina in Argentina, we got married and had our first child, our daughter Rose. Marina was head PR for Converse Argentina. We started in Hogarth Chocolate in 2014 a couple of years after moving back to NZ. We still do our local market every Saturday morning here in Nelson because we love meeting our customers and chatting about chocolate. We think it gives us the best feedback so we trial any new ideas there.
4. Where do you want to go next? New bars? New beans? New markets?
Closest markets for us are Australia and Asia and we would love to be selling across Europe. We just landed three new origins (Haiti, Guatemala & Bolivia) which we are very excited about, once we have a good range of single origin bars we will start to release some flavoured bars we have been trialing. We are still to explore the options in South Pacific cacao but we are watching very closely for improvements in post harvest processing.
We have a dark and milk Gianduia made with local Hazelnuts which has proven very popular.
5. How did you source your beans?
Being so far away poses challenges in visiting origins. I do a lot of research on the internet, including buying bars of other makers for evaluation. We source through fair trade organizations, direct trade with plantation owners or use third party agents who can offer transparency and satisfy us they are operating ethically.
6. What inspired your choice of wrapper/mould design?
The idea of starting the chocolate business was to allow me to be home for my family. So originally we didn't want to use any seafarer motifs or imagery because we felt the chocolate was a new direction for us.
We knew we wanted the wrapper to be embossed, tactile and sticker-less. We were always telling people about the similarities with wine and chocolate, so we looked at embossed wine labels. It was our designer Ana Aceves who by chance put her illustration she had already made on to the bar and it just made sense, we loved it instantly. We then carried the waves pattern onto the bar and it was Danny her partner who brilliantly designed the textures of the mould in CAD, the mould manufacturer made the blank directly from his design.
7. Similarly would love to hear more about innovations in tech, crafting, marketing etc. you're pursuing
I love tinkering and problem solving, so making gadgets to make chocolate is heaven. I've made some automatic feeders to feed my winnower and the grinders. It allows me to be free to do other things and, it is better for the grinders if the nibs and sugar go in slowly. I made pulse timer to regulate the flow, then I can set the feeder to switch on at 6am (for example) and start feeding the sugar in at 50g a minute. Similarly I can feed the nibs in nice and slow so the grinder doesn't seize.
My winnower is still a work in progress, I recently purchased an gyratory sieve which works to classify the material, this will have the winnowing tubes attached to it and the crusher positioned over it so I'll be able to put in roasted beans and have clean nibs come out with out any double handling. At the moment it takes me a whole day to roast and winnow 70kg of beans.
8. What is your favourite food? Wine? Other chocolate makers?
Apart from chocolate I'm quite a carnivore. Living in Argentina where good quality meat is so cheap I have got to be quite particular about meat. I love to cook and became a competent cook at a young age from working on fishing boats and cooking for the crew. NZ has many great wines which means sadly I don't know much about international wines (apart from Argentina). A central Otago Pinot Noir is usually a favorite as well as Argentinean Malbec.
My favorite chocolate maker is Patric Chocolate. Taste, texture, melt, aroma, ingenuity, fun, its all there.
Hogarth In The Chocolate Library