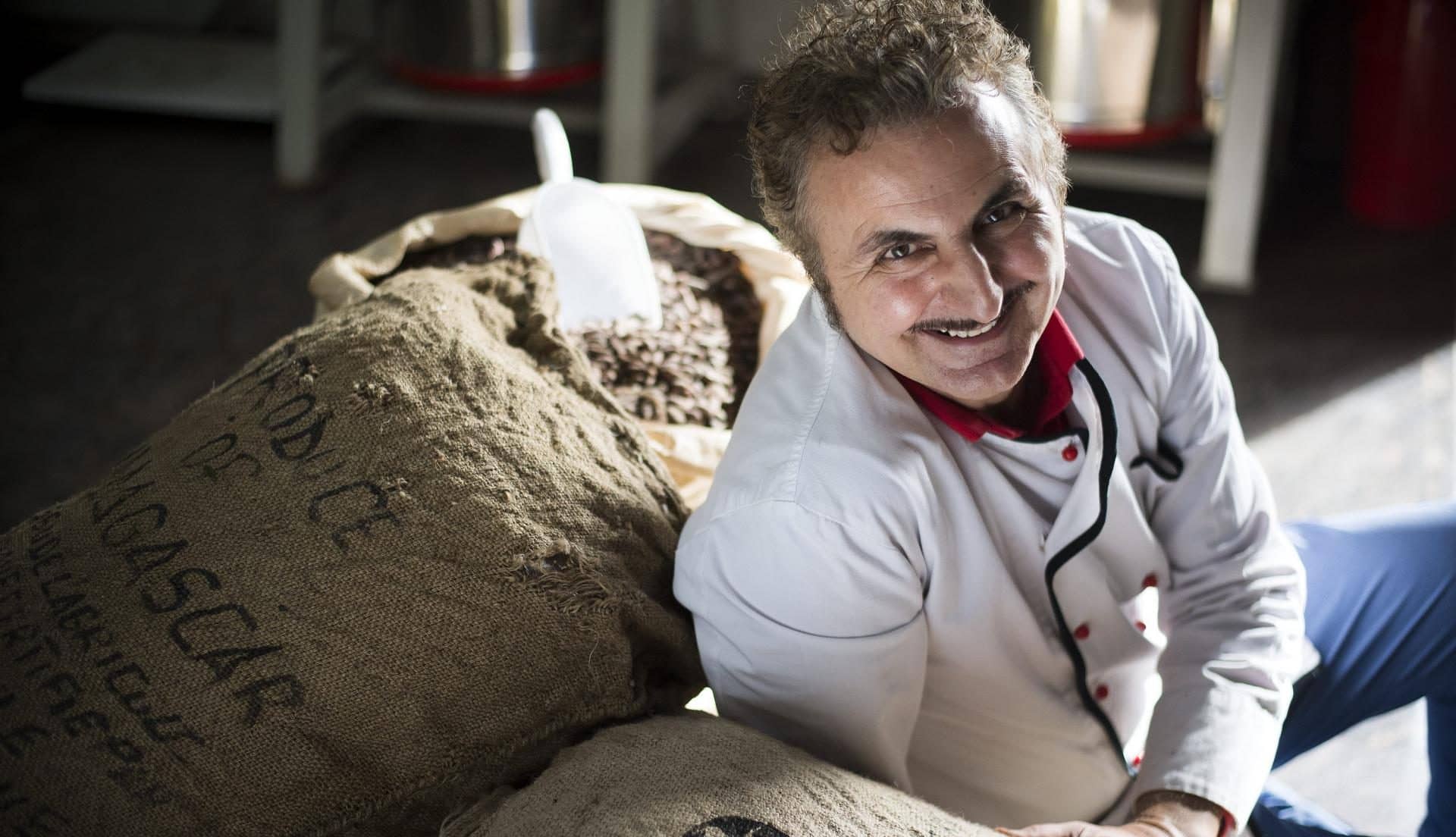 ABOUT NADALINA
Whilst our Chocolate Library is home to bean-to-bar chocolate makers, Nadalina, crafting its chocolate in Split, Croatia, is a self-proclaimed "bean-to-music" chocolate maker. The man behind Nadalina is Marinko Biškić, a creative chocolate maker and former lead singer of Split's first punk band: Fon Biskich & Narodno Blago.
For all his life, Marinko has been captivated by chocolate and music. One story he likes to tell is when as a young man travelling with friends, whilst they would all bring back home fashion-centric presents, for example, jeans from Italy, Marinko would bring back chocolate. It then only seems natural that Marinko's chocolate brand "Nadalina" might combine his two passions.
Marinko, since 1979, has been known for his unconventional and provocative punk image. And still today, in the realms of chocolate, Marinko is as ever creative. A record -made out of chocolate- that spins on a turntable that blasts Marinko's band's "bean to bar song", or producing the world's largest chocolate square for the Guinness World Records, Nadalina has done it.
Behind all of Marinko's creativity is his desire for quality. Nadalina is a chocolate maker that prides itself in flavour, quality, and craft.
AN INTERVIEW WITH NADALINA
What's your background? Why and how did you get into chocolate?
I come from a family of bakers. I started my own business (production and processing of spices and herbs) in 1990 under the brand NADALINA. Being a chocolate addict, all my life I've dreamt of producing it and I've made a firm decision that one day I would make my own chocolate.
When did you start your company — and with whom?  How many are there of you?
In 2007 I expanded my manufacturing plant and bought the basic equipment for chocolate tempering. During the first several years I used Belgian couverture to which I added local produce (lavender, dried figs, sweet wine, carob, sage, honey, olive oil). During the following few years I bought the equipment for the bean-to-bar production. Currently eight of my employees work in the chocolate production.
How did you source your beans?
We are a small chocolate producer and we buy cocoa beans from European distributors. A direct connection we have is with cooperative Conacado in the Dominican Republic. We have visited their plantations and had the chance to get to know their production methods, which are in line with organic standards.
What innovations in tech, crafting, marketing etc. are you pursuing?
In collaboration with the Serbian company Račić Lapovo we have developed a roaster, a mixer-conche and a production line for chocolate spreads.
The presentation of our chocolates at fairs and exhibitions is considerably facilitated by the fact that we have made a chocolate gramophone record which can actually be played on a gramophone, and the song recorded on it is sang by our chocolate maker Marinko Biškić. Many chocolate makers produce bean-to-bar chocolate, but we like to call ourselves a BEAN-TO-MUSIC chocolate production.
What is your favourite food?  Wine?  Other chocolate makers?
Since we are in Dalmatia, the mediterranean food is our day-to-day diet. We use lots of olive oil and so we made our best-selling chocolate with olive oil. Our favourite wine is "Crljenak" (a very old variety of grapevine from which the variety Zinfandel has been developed).
Among chocolate makers the one I hold in highest esteem is Zotter, because of his originality and innovative spirit. Willie's Cacao and Friis Holm I find inspiring as well.
Nadalina In The Chocolate Library