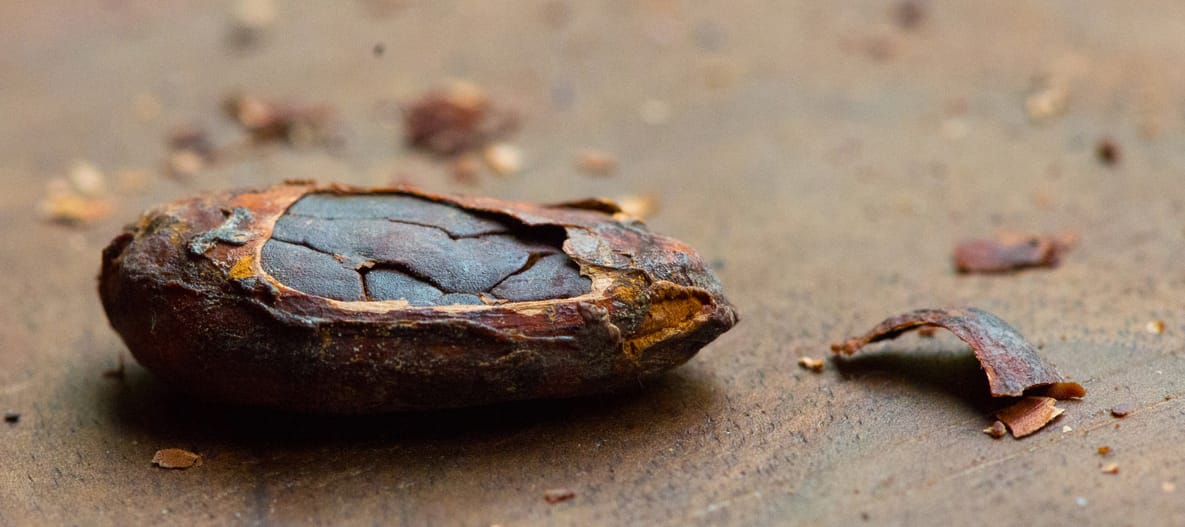 Cocoa Runners have been Soma's first partner (and sale) outside of the Americas.
Based in Toronto, Canada Soma started making chocolate from the bean in 2003. Cynthia and David originally set up their tiny factory in the corner of a disused whisky distillery. Combining David's skills as a pastry chef with Cynthia's technical expertise as an architect they immersed themselves in the world of craft chocolate, creating something of a mini chocolate empire in Toronto. Soma has now got two cafes/shops where it sell its chocolate bars, as well as baking cookies, making hot chocolates, and producing a line of truffles and even making its own gelato!
Craft chocolate, or 'micro-batch' as Soma call it has been at the heart of the business since the very beginning. With every bar, their technical attention to detail as well as their creative flare shine through. On each bar is marked, not just the cocoa percentage and origin, but the bean variety and batch number. Unwrap the bar, inhale the delicious aromas and the beauty of the chocolate is immediately apparent. The wonderfully thin chocolate bars are made using a custom mould showing a map of Toronto.
An early pioneer of the new wave of bean to bar chocolate makers, Soma continues to innovate far beyond the chocolate it produces. It is a founding member of the Heirloom Cacao Preservation Initiative. This initiative is dedicated to identifying, preserving and protecting fine flavour cacao varieties in order to conserve the natural biodiversity of cacao. The project helps to fund farmers that grow these cacao varieties without GMO practices.
We spoke to Cynthia and David about their mission and passion for chocolate.
What's your background? Why and how did you get into chocolate?
David was working as a pastry chef and Cynthia was working as an architect. We really wanted to start something small together that would combine our skills.
Being huge chocolate fanatics with a natural curiosity to invent and explore- we got bit by the cacao bug. In 2003 our little chocolate shop was conceived. We made truffles, cookies, hot chocolate, and spun gelato- but the heart of our business was making small batches of chocolate from the cacao bean. Back then we called it micro batch chocolate the term "bean to bar" had not yet surfaced.
In a small 400 square foot space in an old whisky distillery with a refurbished refiner/conche and a modified coffee roaster, we dug deep into the world of cacao and went for it. Today the fascination continues- there are big smiles on our faces every morning knowing our work day involves chocolate.
There are 2 sides to our world- the science and technical side of making a single beautiful bar that makes a specific origin of cacao sing, and the exploratory playful side of finding new ways to enjoy chocolate with new products new techniques and new ingredient combinations.
What mission have you set yourselves for making chocolate?
Our mission has always been to explore the possibilities of chocolate. In the most basic sense this means discovering new sources of great cacao, but also how different chocolates interact in a blend, or the impact of a new roast profile or technique. Craft chocolate making is a continuous experiment.
When did you start your company — and with whom? How many are there of you?
We started in 2003 and Soma is Cynthia Leung and David Castellan.
How did you source your beans?
Sourcing happens in a few different ways. Some of our beans are bought direct from the farms. Some of the rare beans or more difficult to get are bought through a broker who is a specialist in that region of origin. Some beans are bought from fellow makers within the chocolate community or traded to share origins.
What is your favourite food? Wine? Other chocolate makers?
Toronto is much like London there are a lot of pockets of exotic food from different countries. We love and eat a lot of different foods.
Current obsessions- David is crazy about Szechuan food his favourite dish is Dan Dan Mein, he makes and seeks out different versions from around the world. Cynthia loves an Iranian spiced lamb stew called dizi, it is meant to be slurped dunked in and shared and will warm the soul. Although we love wine, we love our rum more, in particular El Dorado from Guyana.
So many chocolate makers are doing amazing things. Such a great community to geek out with. Some stand outs- Rogue for his fanatical attention to detail. Domori as a pioneer in microbatch chocolate. Pump Street, we love his sourdough chocolate. Lonohana for the love he puts into his tree to bar chocolate.
Soma In The Chocolate Library