About Luisa Abram Chocolate
Founded in 2014, Luisa Abram is a chocolate maker that dedicates itself to sourcing micro-lot, wildly grown cacao from the Amazon Rainforest. The chocolate is made small-scale in São Paulo, Brazil by the Abram-Banks family: Luisa, Andre, Mirian and Andrea. Luisa, the eponymous woman of the chocolate, values a commitment to quality in every stage of making a differentiated product. The family take a very hands-on approach to chocolate-making, controlling and overlooking every stage of the process, from the harvesting of the cacao to the finished bar and logistics. This explains why the chocolate tastes so good and so personal at the same time – quality is very important to Luisa Abram.
During fermentation, Luisa will often remove a handful of cocoa beans and cut them in half to see the progress of the fermentation. This is not so much a test that is strictly followed, but Luisa Abram likes to observe this amongst other things – like the temperature of the mass and its aromas – all to aid the decision of when to stop the fermentation. Tests like this also allow Luisa to check the quality of the cacao.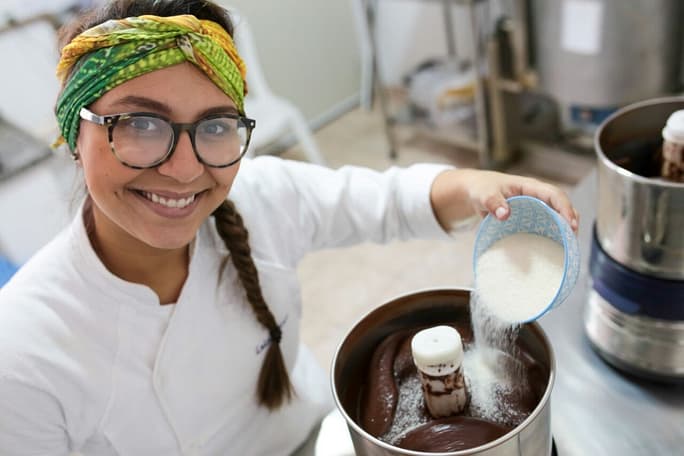 Luisa Abram's Sourcing
Luisa Abram prides herself on sourcing beans from a variety of Brazilian origins. Today, Luisa Abram's vision is to restore Brazil's fine-cacao industry.
Rio Purus: In the midst of finishing her Gastronomy studies at Anhembi Morumbi University, São Paulo, Luisa made a trip into the Amazon Rainforest in search of fine quality cocoa for the production of her first chocolate bar. After stumbling across Cooperar, a cooperative of 300 river dwellers who farm the wild cacao flourishing on the banks of the Purus River, Luisa returned home with 20kg of dry and fermented cacao beans. But the flavours contained within that mere 20kg bag of beans was enough – Luisa decided to make her way back to the cooperative to provide simple training to the farmers, in hopes of increasing productivity and quality. Today, the cooperative produces 10 to 12 tonnes of fine quality cacao each year.
Rio Juruá: The Juruá cacao is considered world-class, giving chocolate notes and aromas typically found in fine cacao from Ecuador, Venezuela and Peru. The first production of wild cacao on the Jura River, in West Brazil, was in 2018 under the responsibility of brothers Osmir and Aires Andriola, who had received training in fermentation by Daniel O'Doherty, a leading expert in cocoa fermentation funded by SOS Amazonia. After two major floods in the following years, production dropped from 1 tonne to 200kg – simultaneously, the 10 families previously farming the cacao dropped to less than 5. As a result, efforts have been made to generate more family engagement; In 2022, Luisa Abram Chocolate set a new precedent for the value of cacao in the region. They started paying BRL 0.40 per fruit against the previous BRL 0.25 per fruit. Today, 20 families farm the cacao, helping to produce upwards of 1 tonne of fermented beans over the course of 2022. This number is expected to increase in the coming years.
Rio Acará: The cacao sourced to produce Luisa's Rio Acará bar is very special; their only supplier is Francisco (Bico) and his wife Iolanda, a pair of riverside dwellers from the Acará river. Bico and Iolanda buy cacao from 10 families, who farm the wild trees that grow on the embankments of the Arauaia, Acará and Guamá rivers. Although the pair are brilliant, exporting the cacao from their home has proven a challenge in itself – Luisa's cacao carrier doesn't travel to where Bico lives, and Bico cannot provide the invoices the carrier needs as he doesn't have a formal company. Despite these difficulties, Bico and Iolanda are extremely enthusiastic about supplying fine quality beans, providing more than 3 tonnes of cacao to Luisa this past year.
Rio Toncantins: Wild cacao has been harvested for cacao commercialisation from the embankments of the Toncantins River, next to the city of Mocajuca, since the 17th century. In light of this, the majority of the beans farmed from the Toncantins River today is sold in bulk to large industries, who have no concern for the quality of the cacao whatsoever. After witnessing this first-hand, Luisa decided to seize an opportunity and provided training for their now-partners, Mario and Marcio, in 2017. Not only did this improve the quality of the cacao through proper fermentation, but also provided 20 families with better livelihoods and a higher quality of life. Today, Luisa pays BRL 30-36 for a kilo of fine quality cacao, in contrast to the BRL 10-12 paid by larger chocolate companies.
Rio Cassiporé: When Luisa sought out to source the wild cacao growing on the banks of the Cassiporé river, she hadn't an idea of the struggle that lay ahead. After initial contacts to convince the residents of Vila Velha, a small riverside village in the municipality of Amapá, to collect the wild cacao had failed, Luisa turned to Joao Dorismar for help. As a former resident of the village, Joao was able to quickly establish a cacao chain and samples were sent to Luisa's factory in São Paulo. Devastatingly, the quality of the fermented beans was terrible. After giving their feedback, the Abrams-Banks family were invited to travel to the village and train 13 families how to ferment their beans, according to Luisa's guidelines. Since, the quality of the wild beans has increased significantly, with Luisa buying a tonne of cacao from Cassiporé last year. All in all, it took 4 years to start producing their Rio Cassiporé bar with the Vila Velha beans.
An Interview with Luisa Abram Chocolate
We were lucky enough to catch up with Luisa's father André to get a better insight into this exceptional maker…
What's your background? Why and how did you get into chocolate?
We are a family business. Everybody is involved, so that everyone's skills contribute to the whole. There are four of us; Luisa Abram – who was born in Coventry, England. Luisa has just finished Culinary Studies in São Paulo, Brazil. She is our barsmith. She takes care of the tempering process to the packing of the bars. Then there is Luisa's father; André Banks. André is a native Brazilian from the Northeast of the country with a PhD in maths from Warwick. He takes care of all the machines and does the cleaning, roasting and grinding of the cacao nibs. Mirian Abram is Luisa's mother. She is also from the Northeast of Brazil, she takes care of the logistics and finances. Then there is Andrea Abram – Luisa's older sister who has a Law Degree and helps with legal issues.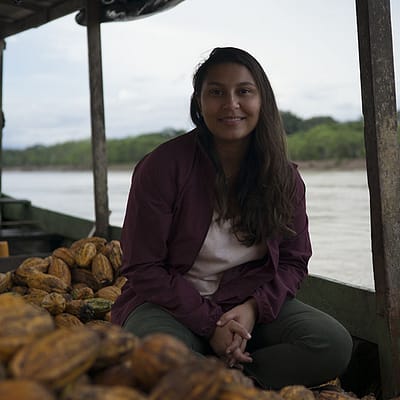 Luisa always wanted to have her own business, and chocolate had always been an interest. Once she finished her degree, we started looking for options. We read many newspaper articles, magazines and webpages about competitive food products made in Brazil, made with raw material indigenous from here. We discovered that cacao is from the Amazon Rain Forest, which a large part of it sits in Brazil. Then we started looking for places where the locals collected cacao from the Forest in an organised way. After much effort and time, we found a co-operative that was doing a good job in collecting and fermenting wild cacao from the Forest. Moreover, the cacao is an important source of income to them, acting as a palpable incentive to preserve the Forest, since the cacao trees only grow and bear fruits under the shadow of bigger tress. We were really happy to meet such natural sustainable business model! We brought this cacao to Sao Paulo, made tests and were amazed with its flavour, creaminess and smell! We fell in love with that chocolate and the integration that came with it between the local communities and the preservation of the Rain Forest!!
Where do you want to go next?  New bars?  New beans?  New markets?
New beans for sure, focused on wild ones. The ones nature created many years ago in the Amazon Rain Forest. We aim for the world to eat our bars and enjoy them.
How did you source your beans?
From small communities in the Brazilian Amazon rivers (see above)
What is your favourite food?  Wine?  Other chocolate makers?
Luisa: Tuna sashimi. Chocolate: Naïve 67%, and of course ours most definitely!
Andre: Japanese food, Brazilian cuisine, Indian cuisine. Chocolate: Zotter Peru, Naïve 67%, Domori Canoabo, and ours most definitely!
Mirian: Brazilian cuisine, Indian cuisine
Andrea: Japanese cuisine
Follow the journey, from Amazonia cacao bean to Brazilian craft chocolate bar:
Luisa Abram In The Chocolate Library