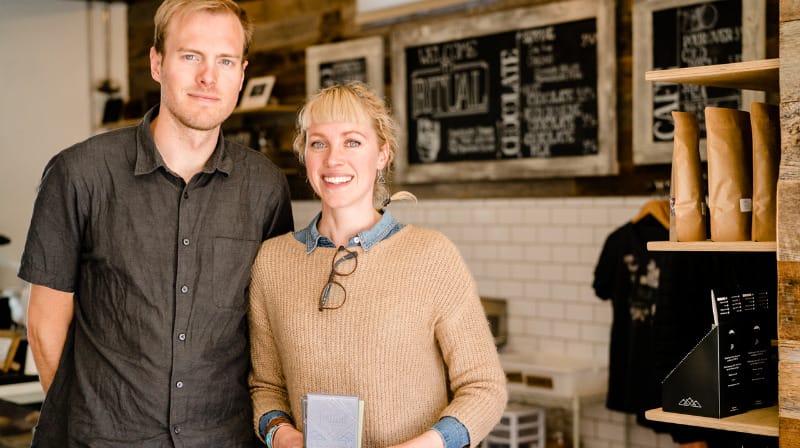 Ritual obsess over finding the best beans for its chocolate. The Peruvian Maranon perfectly illustrates this dedication. In 2010 Anna and Robbie tried a test batch of chocolate made from the recently rediscovered Maranon cacao. The pair describe it as "the best chocolate" that they had "ever tried, by a landslide". They knew they had to make chocolate with those beans.
Anna and Robbie contacted the Pearson family who had rediscovered the Maranon bean and were trying to improve the yield. They sent them letters, and samples of their chocolate, and after three years of begging and pleading the pair were finally able to buy the beans. Ritual was the first chocolate maker to get its hands on some of the rare heirloom cacao.
Anna was born in Essex and for much of her upbringing lived in the UK, studying at Queen Mary's College in London. As Anna's mother is American and her father's family residing in the UK, it has led Anna to hop back and forth from the UK to the States, but has since called the U.S home for the last ten years.
From making chocolate in their apartment to now running a chocolate factory and chocolate-cafe, Anna and Robbie have transformed Ritual into one of the best know craft makers in the US. In early 2015 Anna and Robbie opened their chocolate factory in Park City, Utah.
For Anna and Robbie, making chocolate is about more than just crafting delicious bars. For them it's about an all round quality of life. Anna wants Ritual to improve the quality of life for everyone involved, from the growers to the customers. Ritual are happy to pay high prices for cacao if that means the growers can improve their quality of life.
Ritual Chocolate In The Chocolate Library