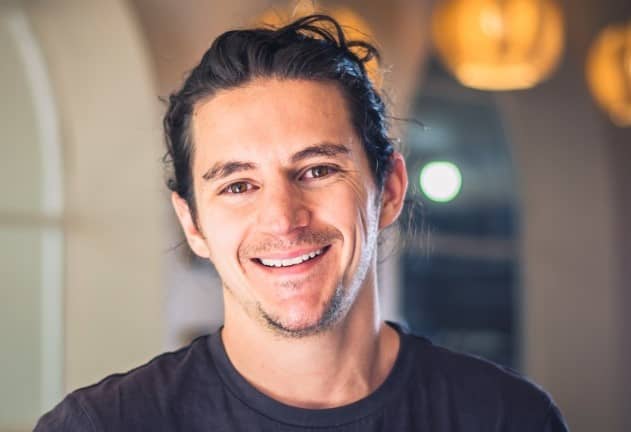 About Latitude
Latitude, a Uganda-based craft chocolate maker, was founded in 2016 by American Jeff Steinberg. The name 'Latitude' refers to their origin, in the small Ugandan town of Kasese, which sits on the equator, at 'latitude-zero'. They've come a long way; from only 3 people (including Jeff), they've grown into a thriving Certified B Corp, run by 25 full-time Ugandan staff. But the mission at the heart of Latitude has stayed the same: They want to bring the unique flavours of Ugandan cacao to the world, creating amazing chocolate, but ultimately have a positive impact on the community in Uganda.
Jeff has a background in development economics and the impact evaluation of social sector interventions in Africa, and saw the opportunities for Ugandan people in the craft chocolate world; "I was captivated by the idea that a company could sustainably put cash into the pockets of thousands of rural African farmers every day". He saw the potential that Uganda had; "we saw a gap in the market to do for Ugandan cacao what our friends have done for Rwandan coffee; re-define an origin".
How they became makers…
Latitude started from humble beginnings, but have been driven by passion from the start. Jeff explained; "ultimately, having seen a gap in the market for quality Ugandan cocoa, we found our way to the sector through a willingness to learn, experiment and the crazy idea that we would buy 25 metric tons of cacao and figure out what to do with it. Learning how to source and ferment cacao takes a lot of trial and error and it's quite expensive to send samples to the US for critique. So, to shorten our feedback loop, we decided to start making chocolate at origin. When it's your own chocolate that is your only source of dark chocolate, you learn to improve quickly. Soon enough we've got ourselves a proper factory!".
Latitude's Sourcing
With a local focus at the heart of everything they do, it's no surprise that Latitude work very closely with local growers in sourcing beans for their chocolate. They have over 1000 small-holder farmers, about half of whom are women, growing on anywhere between 1 and 5 acres, contracted to supply organic-certified beans.  Latitude sets up bi-weekly collection points, walking distance from the farms. On the same day of harvest, beans are weighed, and paid cash on delivery. All of this means farmers not only receive a premium price, but reduced costs of transport, labour, materials, and processing, as well as reduced risk of theft and spoilage. All of this means that Latitude have full traceability to farm-level.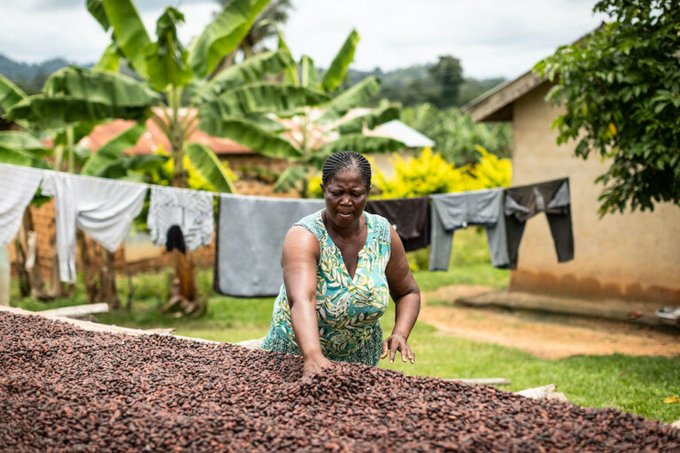 Additional Information about Latitude
Latitude also operate their own fermentary, which means that they're able to control the fermentation and drying processes, to reach their desired flavour specifications.
Latitude's packaging is designed by New York-based freelance graphic designer Paulina Ho. "From the first conversation we knew this was the perfect collaboration. When it comes to this packaging, we're most proud of two things: 1) the way in which our story and team/farmers are represented in an authentic way and 2) the character and vibe Paulina has captured in the illustrations is absolutely totally perfectly emblematic of the brightness of life in Uganda". Their packaging depicts emblematic animals and plants from Uganda, connecting the person who receives the bar with its origins. And their paper wrappers not only evoke some childhood nostalgia, but, as Jeff explains: "the idea that we could create 10-15 more local jobs by hand-wrapping the bars was a nice cherry on top".
Innovations, and Making a Difference
Jeff and the team has faced some huge challenges in driving the craft chocolate sector in Uganda, but they have some amazing achievements. Jeff explains how he is most proud of the team of people which have come together in Uganda, a country where there is not an established tasting pallet for dark chocolate: "In most cases, bitter is not a common (or preferred) flavour here. Uganda is the largest producer of coffee on the continent, yet still the majority of the population drinks tea (with an extraordinary amount of sugar and milk). Our team of chocolate makers does a weekly tasting based on either what was produced in the past week or what they are seeking advice / feedback on. We'll also occasionally throw in chocolates from other makers when we can. To be at the level they're at now in terms of the observations and understanding after starting from zero (they would never even eat a piece of dark chocolate!) is really remarkable".
And it's not just flavour where Latitude has had a big impact; their processes and initiatives are having very real impact on farmers' lives. "We have fully digitized our supply chain so that all individual cacao purchases from farmers are electronically registered, farms are GPS mapped, and all lots of cocoa are fully traceable down to the kilogram. On top of this, we offer farmers insurance (life, disability and health) as well as access to an innovative set of microfinance offerings: financial literacy training, consumption loans to help farmers cope with low income in the offseason, and an interest earning lockbox savings account".
They plan on keeping up the pace, expanding and innovating, developing new bars and growing their sector. "Moving forward our big picture goal is to provide a premium cacao market and these standard Latitude benefits to 5,000 households by 2024".
Inspirations
We asked Jeff about his food inspirations, and particularly about which other chocolate makers he likes: "There are too many good ones. I admire and am really inspired by what Raaka does. Obviously, the transparency and inside of the wrapper was an inspiration for us, but the level of flavour creativity is off the charts, and all with awesome scale and impact. I also have to say that I would probably like to be buried with 1 box of praline from Hasnaa Chocolats & 1 box from Svenska Kakaobolaget. Both are doing really amazing tasty things".
If you want some inspiration, check out which Latitude chocolate bars we have in stock below, and keep an eye out for future lines which we hope to bring you.
Latitude In The Chocolate Library