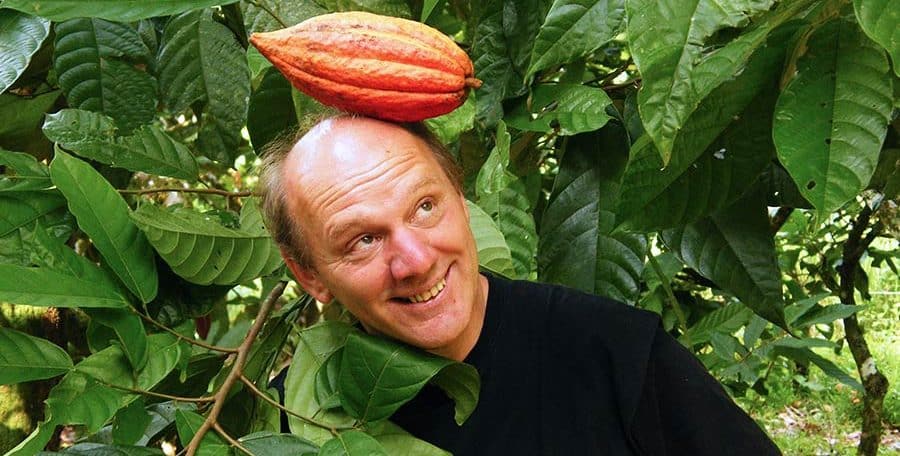 About Zotter
Josef Zotter is a man never to shy away from experimental flavours – think cheese, bacon, craft beer, pigs' blood – no flavour combination fails to exist – hemp mocha, anyone? Zotter is a flavour alchemist to say the least. Yet, at the heart of everything Zotter does is crafting, ethical chocolate from bean to bar. In 1987, Josef Zotter, and his wife Ulrike, decided to open up a confectionery shop in Glacisstraße, Austria – there began his wondrous but unusual creations, selling confectionery like "hemp slices" and "funny pies". Soon after, in 1992, Zotter invented hand-scooped chocolate, earning enough regional fame to prompt expansion and transform the business into the world renowned bean-to-bear craft chocolate makers we see today.
How they became makers…
Josef Zotter's passion was always cooking and working with high quality ingredients. As a cook, he worked at some of the best restaurants of his time, most notably in Vienna and New York until 1987. He always wanted to start his own business, so in August, 1987, he started his own pastry shop in Graz with a friend, where he began experimenting with chocolate. It was the invention of hand-scooped chocolate in 1992 that prompted Zotter to close his pastry shop in Graz and focus on producing his hand-scooped Chocolate in Bergl.
Zotter's Sourcing
Zotter sources its cacao direct from co-operatives and individual farmers – the fairly traded organic cacao is purchased directly, roasted, ground, milled, and conched. 
An Interview with Zotter
Zotter sources its cacao direct from co-operatives and individual farmers. For our Library, we focus on Zotter's 'Labooko' range of single origin chocolates. Each bar comes in two, which makes them ideal for tasting, sharing, and exploring the differences between bean varieties, percentages and flavours. We were lucky enough to ask a few questions to find out more about Zotter's exciting chocolate…
What's Zotter's background? Why and how did he get into chocolate? 
Josef Zotter's passion always was cooking and working with high quality ingredients. As a cook he worked in the best restaurants of this time in Vienna and also in New York and there he focused on the "sweet sides of life". This was till 1987. He always wanted to start his own business and so in August 1987 he started his own pastry shop in Graz with friend. This is when the first Hand-scooped chocolates were developed (1992).
In 1999 we decided to close our pastry shop in Graz and focus on producing our Hand-scooped Chocolate in Bergl. In this time we used couvertures from Callebaut and Valrhona, but we already dreamed to make our chocolates from bean to bar. A Craft-Bean-to-Bar production, as you can find them nowadays, was in this time not available, here in Austria or in Germany such productions did not exist.
So we worked very hard and our chocolates got more and more well known and we had increased our production. And we travelled the first time to a cocoa-producing country, to Venezuela. There we saw the first time, how cocoa grew, and how it was produced – fermented and dried. But we also saw under what bad working and living conditions this was done. So when we returned home, we looked into possibilities to get couvertures, for which the cocoa production took place under good conditions. So since this time we only are buying FAIR TRADE certified ingredients, coming from countries of the south.
Our aim was also only to work with organic ingredients, but this conversion took more time, but we succeeded in 2006.
In late 2005 we met an Austrian Guy – Bruno Plunger, who worked for many years for the Austrian Development Agency in Nicaragua, to support local farmers to become independent. There were many small farmers who had cocoa trees, but could not really sell their cocoa beans. Bruno Plunger supported them in building up a cooperative and in raising the quality of the beans and the fermentation and drying. But he also had to find companies, which were interested in buying this cocoa. He came back to Austria and Germany looking for such companies. But soon he was disillusioned, because there were only few, but very big companies. And for those companies only the price of the cocoa and the quantity was important.
So he came to us too, but at this time, we did not produce from the cocoa bean, but we were very interested in and stayed in close contact with him.
Because to build up a bean-to-bar production was very expensive for us, we thought about dividing the production process:
To roast the beans and to make the cocoa mass, this process we wanted to do in Nicaragua. And the further production – from cocoa mass to the ready chocolate, we wanted to do here in Bergl. So this was our first plan and so we travelled with Bruno Plunger to Nicaragua and visited many cocoa farmers and also had meetings with authorities. But when we saw all the difficult circumstances in this country (corruption, unsureness of the politics, etc. etc.) we decided very quickly, that we will make the whole production here in Austria and buy the cocoa beans from the cooperation in Nicaragua..
So we started planning our bean-to-bar production in spring 2006 and finished it in September 2007. Since this time, we have produced all of our chocolates from bean-to-bar.
Where do you want to go next?  New bars?  New beans?  New markets?  
We are of course open for new beans, new flavours…We would like to branch into China  – Shanghai is developing slowly, but we will see what it will bring in future.
What is your favourite food?  Wine?  Other chocolate makers?
Favourite food: We eat all kinds of food – and we love to eat. But for us the most important thing is, that the food must be honest. I mean no artificial ingredients, no convenience food. Honestly cooked, of course we prefer organic ingredients – especially meat.
Wine: It is the same. Here in Austria many winemakers have changed into organic or biodynamic – those wines we prefer.
Chocolate makers: We respect all honest bean-to-bar chocolate makers. And particularly enjoy Domori!
Also, read about our visit to Zotter's Chocolate factory here.
Zotter In The Chocolate Library