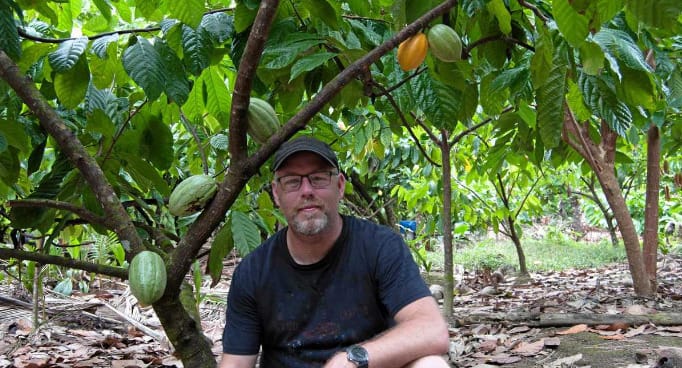 About Metiisto
From car repair, to entrepreneurial patissier, Trevor Smith's Metiisto Artisan Chocolate story started in 2012, in a small town of Falun in Sweden. Trevor was fascinated by the idea of crafting chocolate from bean to bar after meeting with Patric – an American craft chocolate maker. It simply became something he had to try.
After crafting bean to bar chocolate, and winning numerous awards, Metiisto decided to close down its operations to focus on family. For a long vacation, Trevor returned to his home country of Australia, a stay which sparked a desire to move back to Australia. This move revived Metiisto, where Trevor reopened the chocolate operation in Toowoomba, Queensland in 2018.
How they became makers…
A move to Sweden in 2003 shifted Trevor's interests from working in car repair and restoration to opening his own little cafe, complete with French style pasteries and other baked goods in 2009. Whilst on a trip to Stockholm to visit his coffee roaster, Trevor met Alan Mclure of Patric Chocolate, and became impressed at his chocolate making skills. After returning home and running his cafe for 6 months, Trevor came to a realization that his heart really wasn't in it anymore. In light of this, Trevor decided to give chocolate making a try, and started studying and experimenting with chocolate production, which ultimately lead to the birth of Metiisto in late 2012.
Metiisto's Sourcing
Now located in the pacific region, Metiisto now sources its cacao from neighbouring countries, including the Solomon Islands. All of Metiisto's cocoa is sourced ethically and higher than fair trade prices are paid. The cocoa used to make Metiisto chocolate is all 'fine flavor cocoa' – this means it is grown for flavor rather than high volume.
An Interview with Metiisto
Way back when Metiisto was still crafting in Sweden, we spoke to Trevor to find out more about the chocolate maker…
What's Metiisto's background? Why and how did you get into chocolate?
I worked with car repair and restoration up until about 8 years ago. When I moved to Sweden back in 2003 I found that Sweden really lacks in nice pastry and baked goods and so I started teaching myself about all things to do with French pastry. I became rather obsessed with it all, including chocolate work and in 2009 I decided to open my own little cafe complete with French style pastry.
Whilst on a trip down in Stockholm to visit my coffee roaster I met Alan Mclure of Patric chocolate and was rather impressed that this guy made chocolate himself. I went back and ran my cafe for six months, but came to a realization that my heart really was not in it. After a few months of thinking about my future I decided to give chocolate making a try, so from 2010 I started studying and experimenting with chocolate production.
It was not until late 2012 that I decided I would pursue this as a job, and Metiisto artisan chocolate became my main focus.
When did Metiisto start — and with whom?  How many are there of you?
I started selling in 2012 and I was, and still am the only person involved in Metiisto.
Where do you want to go next?  New bars?  New beans?  New markets?
I have slowly been collecting and building more machines that give me greater control of the whole production process. I now use a huge vintage 3 roll refiner, A home made conche (that both dry conches as well as wet conches). I use this equipment along with new tempering and roasting techniques combined with constant studying to know more about everything.
What is your favourite food?  Wine?  Other chocolate makers?
I Iove food in general ! I prefer the simple pleasures over fussy foods. A lovely piece of beef, blue cheese or just a wood fired pizza. Fresh veg and good quality wine and beer and I am very happy.  Fussy and over complicated food and drink is just not my cup of tea.
Favourite chocolate would definitely be Patrics, Rouge chocolatier and Domori. I feel that these guys really are a cut above the rest and I look to then every time for inspiration. My goal as a chocolate maker is to reach the high standard people like this have set.
Metiisto In The Chocolate Library