This maker is no longer available from Cocoa Runners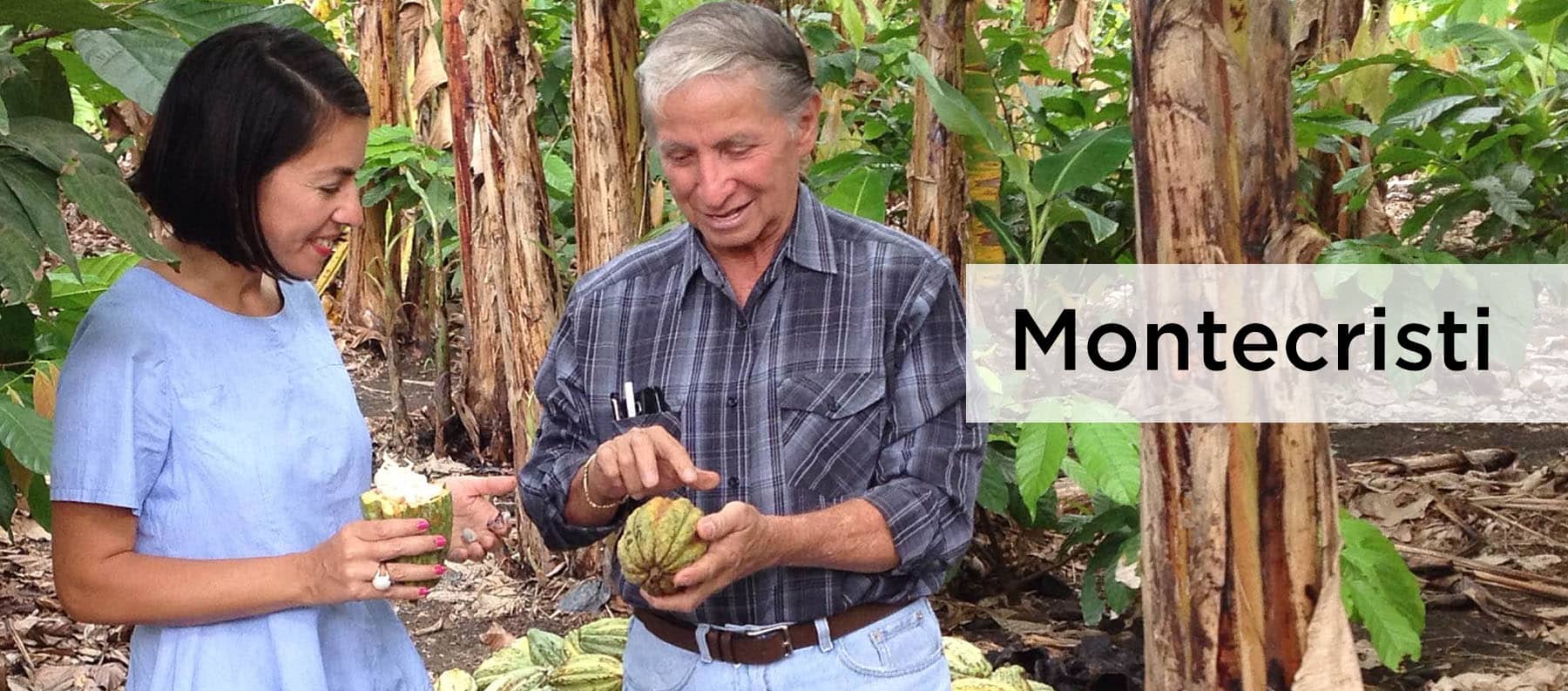 We are delighted to bring you chocolate from this exciting small batch maker, Montecristi.
As is the case with so many craft chocolate makers, co-founder Susana Cardenas enjoyed a glittering career as a globe trotting journalist before she discovered her passion for craft chocolate.  While working in London, Susana wrote about the stories behind craft chocolate bars for Seventy% and it was through these very human stories that Susana's love for craft cacao was ignited.
On her return to Ecuador, Susana sought out ways to discover more about the cacao industry within her native country.  This love led her to co-found Montecristi Chocolate.
Montecristi's mission is to create chocolate with fine flavour cacao beans and which has a human story. They want those who taste their bars to understand the story of its origin and to give them a picture of the people who work so hard to produce such fine cacao beans.
Most importantly of all, they want to try and boost the local Ecuadorian economy.  This need is all the more pressing as a result of the April 2016 earthquake. Now, more than ever, Montecristi is committed to the rebuilding of the region it loves so much.
We are delighted to share these fine, single estate Ecuadorian craft chocolates with you today.  Very soon, Rococo will be releasing a limited edition bar made in partnership with Montecristi, using beans from the region of Ecuador affected by April's Earthquake.  The proceeds from this bar will go toward the cost of rebuilding these communities.
We recently caught up with Susana to find out a little more about how she first got into chocolate, and what continues to fuel her love for all things cacao…
What's your background? Why and how did you get into chocolate?
I was born in Manta, the main fishing port in the province of Manabí in Ecuador. I grew up by the sea, the last daughter of five siblings to a traditional South American mum. My father was from Quito. He left the Andes and fell in love with my mum and the tropics of Manabí. I have a vivid memory of my father driving his small truck full of machinery and scrap metal. He would use these pieces of scrap metal to design and create machinery for local cacao, coffee, fish-canning and banana-processing factories. He was an inventor.
My mum worked for charities, attended literature lectures and was involved in local politics. She remains an effortlessly stylish woman to this day. Maybe all these elements contributed to the fact that I loved writing poetry from an early age and have developed a strong interest in discovering human stories.
My father was a great cook. His fish ceviche was a "must" at Sunday lunch. He taught me how to make it and I used to enjoy selecting fresh tuna, blue marlin and swordfish from our local market with him before preparing it for the family. Apart from loving the sea, I used to love visiting his little plot of land in the countryside with him. I'd run between beautiful mango, orange and cacao trees before taking a dip in the river. He taught how to make chocolate from the Arriba cacao beans we collected on his plot. I must have been about 8 when I first made chocolate with him. We roasted the beans on a large dish, mixed with them with sugar and put this homemade chocolate in ice containers in the fridge. The next day, I proudly took it with me to school to share with my friends.
Years later, I studied journalism in Ecuador. Then I moved to Madrid to study a Masters degree in journalism and became correspondent for a leading Ecuadorian newspaper. I then moved to London and was mesmerised by the art and culture that the city had to offer so I started writing about it for Latin American and Spanish publications. Whilst in London, I was given an opportunity to work in the chocolate industry at Seventy%. They needed a journalist to write human stories about chocolate makers. As well as writing, I also learnt how to taste chocolate from different parts of the world and that is how I got involved in this fascinating world of chocolate!
On returning to Ecuador, I wanted to discover more about the cacao industry in my own country. I started travelling from North to South, visiting cacao plantations in the five coastal regions of Ecuador and also in the Amazon rainforest. I learnt how to taste cacao from the bean and learnt the process of good fermentation. During this journey of discovery, I was approached by a local business woman who saw my passion for chocolate and Montecristi Chocolate was born.
What mission have you set yourselves for making chocolate?
Our mission is to create chocolate with fine flavour cacao beans and which has a human story. We want our consumers to understand the story of its origin and to give them a picture of the people who work so hard to produce such fine cacao beans. Most importantly of all, we want to try and boost our local economy that has been so badly affected as a result of the April 2016 earthquake. Now, more than ever, we are committed to the rebuilding of the region we love so much.
When did you start your company — and with whom?
I started the company in June 2014, with my investor Lucia Fernandez. We're a team of 5 people now.
Where do you want to go next?  New bars?  New beans?  New markets?
We'd like to discover more fine cacao beans and empower more farmers to cultivate them. We want to keep working with farming cooperatives from different regions of Ecuador and even across South America if possible. We're focusing on the UK, Scandinavian and French markets, as these markets seem to appreciate fine flavour and ethically produced chocolate. At the end of this month, we'll be participating at The Fancy Food Show in New York City.
How did you source your beans?
We source the beans from Fortaleza del Valle, a cacao cooperative in Upper Manabi, one hour away from us. The cooperative does an incredible job, not only gathering more than one thousand farmers together, but cultivating amazing Arriba Nacional cacao beans that won the prestigious "Cocoa of Excellence Award" at the 2015 Salon du Chocolat in Paris. It was a beautiful moment for us – being there and witnessing the name of Manabi on the list of winners!
Similarly we would love to hear more about innovations in technology, crafting and marketing  you're pursuing
The next step will be to create another single origin bar from a different province. We work with a wonderful chocolate factory in Quito where they make our chocolate in an artisanal way. When it comes to marketing strategies, we're keen to work in collaboration with renown chocolatiers from the UK. You'll know all about that very soon!
We'd love to know a little more about the other food you love.  What are your favourite dishes and wines?  Are there any other chocolate makers you particularly admire?
My favourite food is ceviche and food from Manabi. As for wine, it will always have to be red even though I love a cool beer with my ceviche. As for other chocolate makers, I admire are Chantal Coady from Rococo Chocolates. She's a pioneer of chocolate in the UK and an extraordinary lady. I admire the work of Chris Brennan from Pump Street Bakery – he's always challenging flavours in chocolate. Finally, I admire my local mentor, Samuel Von Rutte, a cacao farmer based in Ecuador, from whom I learned a great deal about fermentation and flavour notes.
Montecristi In The Chocolate Library