This maker is no longer available from Cocoa Runners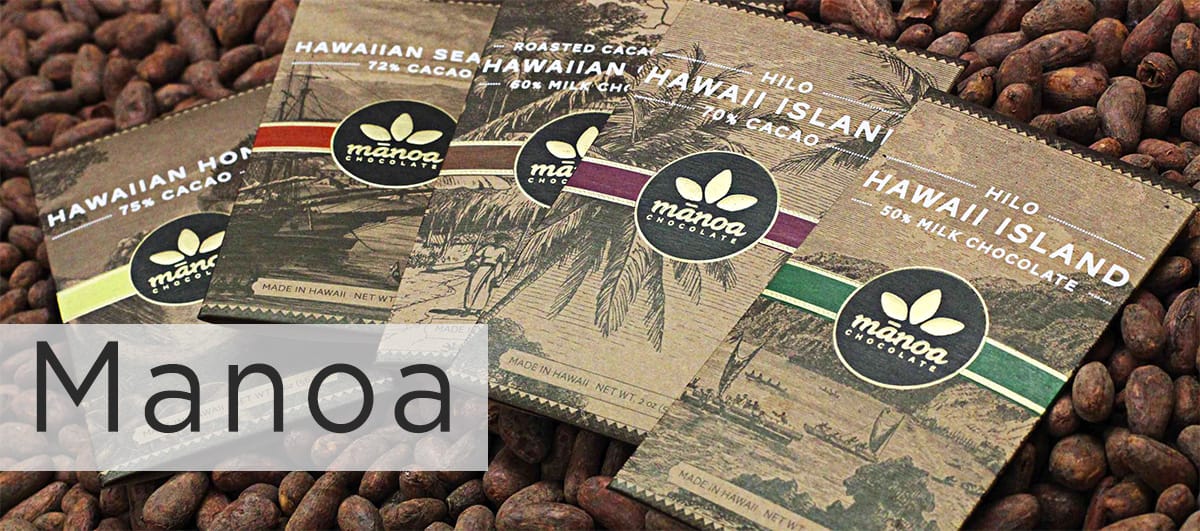 Manoa is our first bean-to-bar chocolate maker crafting chocolate in Hawaii.
Hawaii is the only US state where it is possible to not just make chocolate, but actually grow cacao too. The lush and fertile islands provide Manoa with a bounty of local ingredients to use in its chocolate, including cocoa beans, coffee beans and sea salt.
Manoa was founded by friends Dylan Butterbaugh and Daniel O'Doherty who met while studying cacao at the University of Hawaii. As well as making delicious chocolate, they want Manoa to promote sustainability, support reforestation and showcase Hawaiian cacao to the rest of the world.
We spoke to co-founder Dylan to find out more about Manoa, its mission and its chocolate.
What's your background? Why and how did you get into chocolate?
I was born and raised in Kailua, Hawaii. I grew up traveling with my dad and brother on extended surf trips to Costa Rica, Nicaragua and Indonesia. After high school I went on back packing trips through Europe and lived in Chile for 5 months attending the University of Vina del Mar learning Spanish. I double majored in Spanish and Sustainable Development. While at the University of Hawaii, I did construction work to fund my summer surf trips and University studies. I became friends with Daniel O'Doherty, Dan got the job studying cacao's potential in Hawaii. University of Hawaii has an Agriculture school and they specialize in crops that grow here. I was invited into the lab to crack cacao pods, set up micro ferments of the wet cacao seeds and help transform them into 1 and 2 kg chocolate batches. I was intrigued with the process and it fit a checklist of what I was looking for in a business.
Checklist:
Plant forests
Manufacture a high-end product in Hawaii able to ship internationally
Create a scaleable company. As it grows it can contribute positively to environmental and social good.
Do something that makes myself and others happy.
What mission have you set yourselves for making chocolate?
It used to be planting trees. Mission statements tend to evolve as businesses find their niche. Now it is to encourage the growth of a Hawaiian cacao industry by borrowing aspects of wine: appellations of control, agro-tourism, a "Napa Valley" for chocolate. This will take chocolate to the next level. It will taste so much better in 10 years.
When did you start your company — and with whom?  How many are there of you?
Manoa Chocolate was incubated in the cacao lab at the University of Hawaii where Dan and I started learning the process from tree-to-bar. It was beneficial to be introduced to chocolate on the growing side and this is what interested me at first. I loved the environment of these colorful, pre-historic looking Dr. Seuss fruit hanging under a closed canopy. Dan ended up finishing his masters in cacao and starting Cacao Services and I continued on my own with Manoa Chocolate and took it to my parent's kitchen. I was still a student, so I got a student loan for $3,000 and bought and made small equipment. From there I got another loan from the bank and leased a 600 sq. ft. location and built a micro-batchery.
Where do you want to go next?  New bars?  New beans?  New markets?
I enjoy growing the business. Next steps are in opposite directions. We are working on starting an 8-hectare farm on Oahu's North Shore. This will be a partnership with Dan of Cacao Services and will be one of the most well designed farms on the planet. This is because Hawaii can't compete with other countries affordable land and labor, it will force us to innovate on the growing side where I believe 90+ percent of quality comes from.
The other direction is to set up a chocolate lounge/cafe in my hometown of Kailua, Oahu. This will allow us to interact and educate our consumer base and finance growth.
I have always seen Manoa Chocolate being a larger chocolate company selling to an international market. This has helped me make decisions about how to grow.
How did you source your beans?
In Hawaii there are few options. We meet the farmers, call them regularly and try our best to give feedback on ferments. For the rest of our sourcing it comes through Dan who puts us in touch with farms that we then work with directly. Direct trade is wonderful because when things need adjusting we can call the farmer on Whatsapp or when paying we wire money directly to their bank account. Technology has made direct trade easier than ever.
What inspired your choice of wrapper/mould design?
We wanted something that said Hawaii in a non-cheesy way. Most Hawaiian products use hula girls and Diamond Head. We chose old lithographs, sketches and paintings of Hawaii that we liked. We found tapa patterns on an old Hawaiian record cover at my parent's house and drew them on the computer. This became part of our mould and package design.
Similarly would love to hear more about innovations in tech, chocolate crafting, marketing etc. you're pursuing.
I really enjoy seeing all the different ways craft chocolate is made. This creates chocolate makers style. What is used to roast? Grinding? Conching? There is no "right" way to do this. It is whatever the company wants as an end product. Look at Taza. They barely grind at all and are one of the most successful chocolate businesses in the U.S. Dandelion and Dick Taylor don't add cocoa butter. I have recently decided to get a ball mill and conche. This has such a noticeable affect on texture and taste. It gives me a lot more control over what I am looking for in the finished product.
What is your favourite food?  Wine?  Other chocolate makers?
I love fruit. Mango. Definitely mango. Pirie and Hayden varietals are my favorite. I also became a bit of a wine geek by trying to learn about chocolate. I enjoy wine from all grape-growing regions because they tell a story. I lean toward French wine from Bordeaux. I recently had excellent Petite Sirah from Paso Robles, California and Pinot Noir from Willamette, Oregon.
As far as chocolate makers, I admire 4 companies for making good chocolate and being ambassadors of craft chocolate: Dandelion, Dick Taylor, Marou and Zotter. Dandelion is constantly experimenting with equipment, bean origins and looking at the future. They retail the majority of their own chocolate and have taken risks that have helped our industry to see what does and doesn't work. Dandelion, Dick Taylor and Marou have done such a good job at conveying the message of craft chocolate, why it costs more and getting people accustomed to an $8 bar. Marou has told a story very well from point of origin to beautiful bars sold all over the world all within a few years. Dick Taylor had done the best job at showcasing the craft of chocolate making and how it is an art form like making cheese, wine and beer. Some of the best chocolate I've had has come from small chocolate makers like Rogue, Letterpress, and Patric. On the other hand, I had a test batch of chocolate from Gary Guittard made from Indian cacao that was really good! Zotter makes some of, if not the best chocolate in Europe. His single origin bars around the 70-75% range were excellent. Zotter is the most impressive chocolate company on the planet for their creativity, ethics in the supply chain and quality of chocolate they make. All chocolate lovers need to make a pilgrimage to Josef Zotter's factory in Austria.
Manoa In The Chocolate Library