This maker is no longer available from Cocoa Runners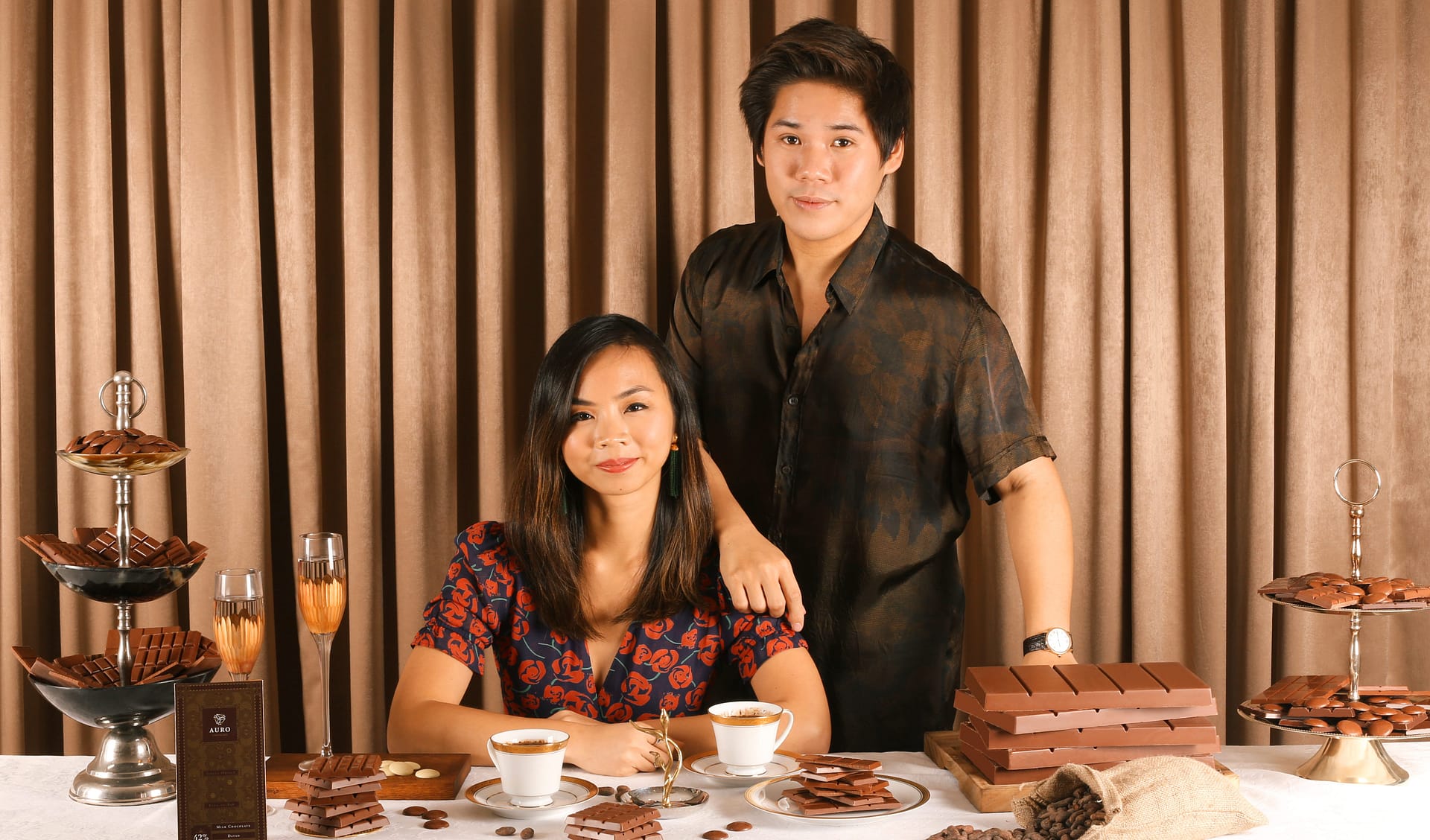 Sourcing its cacao beans directly from farmers in Davao, Auro Chocolate not only crafts its chocolate from bean to bar in the Philippines, it goes that one step further in involving itself in every step of the process.
The founders of Auro, Mark Ocampo and Kelly Go, first discovered the Philippines to be a treasure chest of various varieties of premium cacao during a trip to Chicago in 2010. Mark and Kelly stumbled across a small batch chocolate maker sourcing its fine flavour beans from Davao, Philippines. It had since then been Mark and Kelly's ambition to showcase the Philippines as a producer of both fine cacao and artisan chocolate. Today, Mark and Kelly source a formulated balance of Forastero, Trinitatio, and Criollo beans from in and around the city of Davao. For Auro's 'Reserve Collection', which includes the Tupi 70% bar, the collection is intended to highlight specific areas in Davao, showcasing the distinct flavours depending on where the cacao was harvested.
Pure Criollo cacao made its way into Philippine agriculture in the mid-late 17th century, arriving on Spanish trading ships from Mexico. Since then, the archipelagic country has become the primary producer of cacao in Southeast Asia, with the majority of the country's cacao production hailing from the Davao region. Cacao is one of the Philippines' key crops for growing potential in the international markets. Whilst the country produces and exports a great deal of its cacao, some over 10,000 metric tons, it also imports a great deal more of fermented cacao from other countries. This imbalance of producing and importing cacao owes itself to the mass production of chocolate confectionery in the Philippines. The Philippines consists mainly of smallholder farmers, supplying to small to medium manufacturers, and the country's demand for cocoa is far greater than that of what it can produce. And what hinders increased production includes the lack of post-harvest knowledge and equipment.
Auro set itself a challenge to address and act upon the common issues that cacao farmers are facing in the Philippines, from the lack of infrastructure to poor farm-management to post-harvest knowledge. Auro works with the farmers of Davao by offering constant support in the form of educating the farmers on international quality cacao standards and teaching them skills such as organic farming, post-harvest practices, and fundamental business management.
Beyond its actions, Auro's name reverberates pure gold too. Kelly and Mark explain that originally the name had been "Oro", meaning gold in Filipino and Spanish, however they quickly realised that many companies around the Philippines were already using this name. Instead, the pair wanted to do something a little different, yet still have its name reflect gold. The pair took the chemical symbol for gold, AU, and added this to Filipino "gold". Mark and Kelly go on to explain "We believe that like gold, sometimes farmers and cacao are not given the value that they deserve. Gold isn't fully appreciated in it's raw form, but with work, people see its true value."
Before welcoming Chocolate into our Cocoa Runners library, we talked to Kelly and Mark to find out more about their chocolate venture…
What's your background? Why and how did you get into chocolate?
Mark was in Advertising and Kelly was a political science major. We got into chocolate because of our love for food fuelled by the rich history of cacao in the Philippines.
When did you start your company — and with whom?  How many are there of you?
Kelly and Mark are best friends who worked together to create the Auro Chocolate brand which officially started in 2015 but only launched the first of their products in May of 2017.
What mission have you set yourselves for making chocolate?
Our mission is to create a quality Philippine-origin, bean-to-bar chocolate rooted in sustainability through direct-trade and crafted using only the best ingredients the Philippines has to offer.
How did you source your beans?
We source our beans directly from our local farming communities and pay them significantly higher to incentivise quality and the improvement of their livelihood. We work on developing true partnerships with our farmers by teaching them how to treat their farms as a business. We provide technical support in the form of basic business admin, educating them on the importance of finance management, teaching them how to make their own organic farming products, and how to improve on their own cocoa and chocolate products. We do this because we want them to be able to sustain themselves throughout the year outside of harvest season so that they are constantly able to generate revenue.
What is your favourite food?  Wine?  Other chocolate makers?
We love all food and wine! We're also inspired by many chocolate makers like Dandelion, Omnom, Pump Street Bakery and many many more.
Want to visit Auro?
Auro Chocolate Workshop 
Open from Mon-Fri (9AM-5PM)
Address: Fabtech Building (Phase 1 Block 3 Lot 2 and 3), Santiago St., Magallanes Village, Makati, 1232 Metro Manila
Follow Auro: 
Auro Chocolate In The Chocolate Library