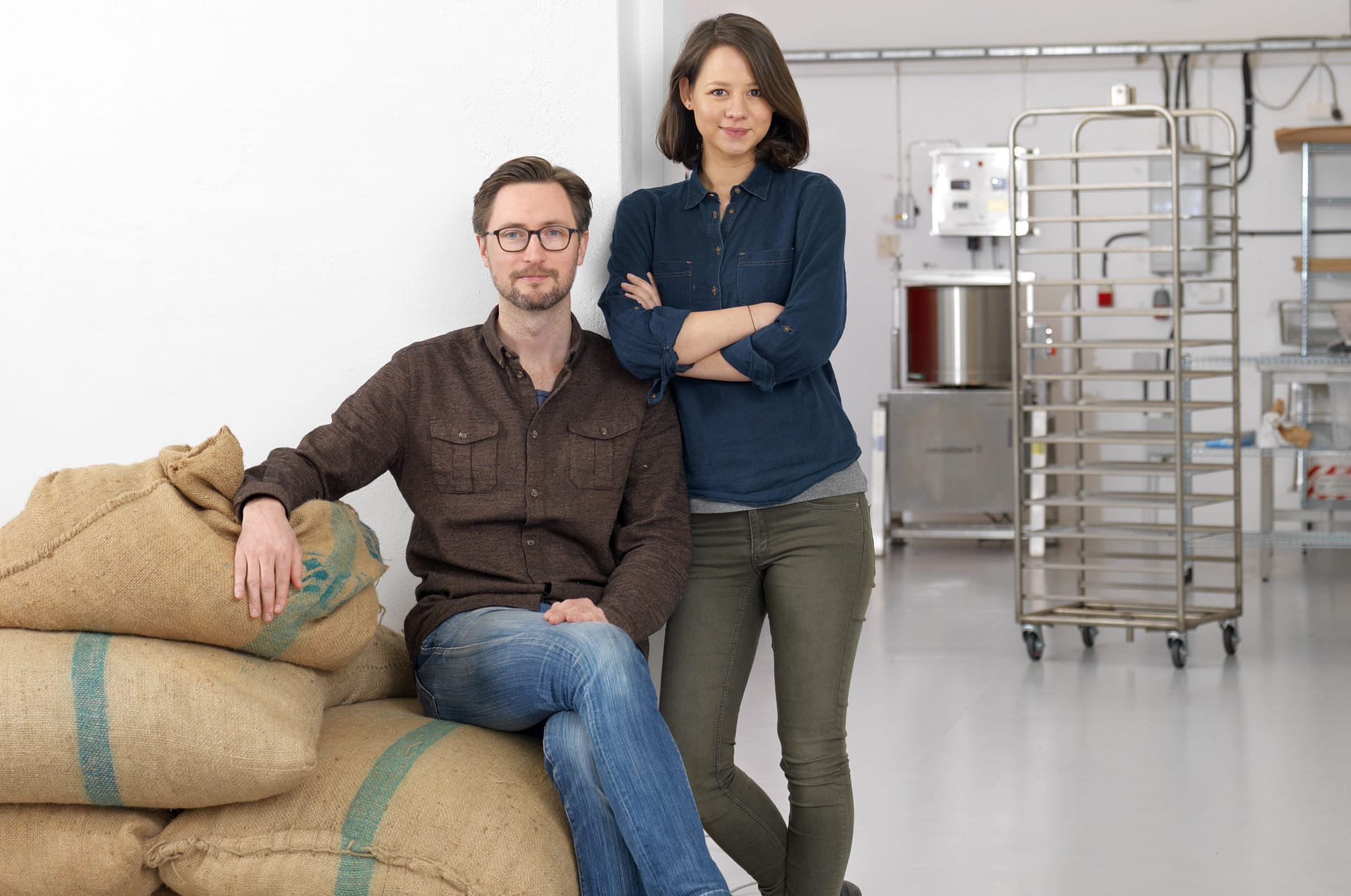 Fredrik and Ulrika name their summer of 2013 as the "vacation that never ended". When in Österlen, a small Swedish village, making a quick pitstop for a cup of coffee, the pair fortuitously left with the keys to a 19th century red brick school building. This building had been the chocolate bonbon factory Österlenchoklad. Fredrik and Ulrika left their busy lives in the city for their new home in the Swedish countryside as chocolatiers.
Despite having bought a chocolate factory, neither Fredrik nor Ulrika knew a thing about chocolate, but nonetheless endeavoured to learn more about it. Whilst enjoying the chocolates they were trying, it wasn't until first trying bean to bar chocolate that the pair were amazed by the complexity and plethora of flavours chocolate could behold, if using fine flavour cacao and in the right craftsman's hands. Delving further into cacao and its varietals, fermentation, roasting, and all other factors impacting its flavour, Fredrik and Ulrika felt it was time to join the craft chocolate revolution and startup their own chocolate factory.
Three months after purchasing the factory, the couple founded Svenska Kakaobolaget – "The Swedish Cacao Company".  Today, Fredrik and Ulrika run both Svenska Kakaobolaget and Österlenchoklad, making all the chocolate and confectionary by hand in small batches.
To Fredrik and Ulrika, it was important that Svenska Kakaobolaget would source fine flavour cacao in a honest, sustainable and transparent way. The purity of cacao and its flavour still plays a leading role within Svenska Kakaobolaget's method of chocolate making. This chocolate maker is foremost led by the flavour and quality of the beans. So much so that for its dark bars, Svenska Kakaobolaget does not add cocoa butter, flavourings, vanilla or lecithin, so as to create a chocolate that is both natural and "clear" in taste.
Svenska Kakaobolaget sources its cacao from fine flavour and fermentation expert organisations who work with smallholder farmers at origin, including Kokoa Kamili in Tanzania, Coop-id Matale in Sri Lanka, and Öko Caribe in the Dominican Republic. The cocoa beans that Svenska Kakaobolaget sources through these expert organisations and co-ops come with the knowledge of the terroir, harvest, fermentation and drying procedures. It's transparency and quality control like this that Svenska Kakaobolaget and the craft chocolate revolution as a whole value so much in chocolate making.
Fascinated by Fredrik and Ulrika's story, we wanted to find out a little bit more information on their backgrounds and their new found vision for Svenska Kakaobolaget…
What's your background? Why and how did you get into chocolate?
Fredrik has a BSc in industrial design and a MSc in business development and Ulrika has a MSc in Political science. We both worked in Stockholm and led busy lives but felt something was wrong. We wanted to make a change. On a vacation in southern Sweden we saw a confectionary factory for sale. We knew nothing about chocolate at the time. It felt like a crazy idea and a summers dream. Around the same time we had some of our first bean to bar chocolate, which totally blew our minds. How could chocolate be this flavoursome and have so many interesting flavours?
We then started digging a little bit deeper in the chocolate industry and found out that all these small Swedish "chocolate factories" weren't actually making chocolate. We felt cheated and felt we wanted to do something about it. This was all something that happened during a period of about two months after we saw the factory for sale. We said, what the heck, let's do it. So we bought the confectionary factory, quit our jobs and moved 600 km to the far countryside. We now run a factory in an old brick building from the 1800s that used to be the village school in a village with 200 people in it. It has been a big change for us, but a change we have never regretted since.
When did you start your company — and with whom? 
2013 we bought the confectionary factory Österlenchoklad. Same year we started Svenska Kakaobolaget in the other part of the building to be able to make bean to bar chocolate. We got married the year after and had the ceremony in the factory garden and the party in the building.
As of 2019, where do you want to go next?  New bars?  New beans?  New markets?
We are in a growing phase where a lot of things happen at the same time. The biggest change for us this year is that we finally will also be able to turn our confectionary factory fully into a bean to bonbon factory, a goal which we've had since the beginning.
What is the story behind your company name?
If you ask a Swede about our name everybody immediately gets it and everybody is surprised how we managed to get such a name. Historically there were companies like "The Swedish sugar company" and "The Swedish match company" (know about Ivar Kreuger?). These smaller producers eventually consolidated and the names often changed. The old Swedish match company is now part of the conglomerate "Swedish match". However this type of old names live on and people remember them with nostalgia. And if you go out on a flea market here in Sweden you will be able to find (if you're lucky) an old wooden box where it says "the Swedish sugar company" (which was used to carry the sugar). These are very sought after as interior decorating objects, so even younger people have seen these names a lot. By taking The Swedish Cacao Company as a name we wanted to make a tribute to the history of great companies before us as well as that chocolate historically was enjoyed as a genuine quality and luxury food. In contrast today's chocolate industry is all about bulk, no quality and a low price. It's become the modern world's guilt free candy with mostly sugar and a minimum of cacao. We want to go back to the quality roots chocolate has (with all its health benefits) and now lift it into the future through the bean to bar concept and pioneer the Swedish chocolate industry.
Who designed your packaging – and what are you most proud of about your packaging?
Even though Fredrik has designed everything, Ulrika has also played a big part in the highly iterative process called creativity. Since our name has so much implied heritage we wanted to make a modern design to show that our chocolate bars are the re-birth of chocolate as a concept. We are today very happy that we went with a lot of colours and we personally enjoy modern art a lot. So in the end we become glad ourselves and have a lot of fun when we design our bars which is important for us.
How did you source your beans?
Firstly it starts with flavour for us. If we try a bean and think it has an exciting flavour
profile we go ahead and do more research about the producer. Before we start working with a new producer it's very important for us to know all about what happens at origin and that the producer shares our values when it comes to quality, transparency, sustainability and fairness towards farmers. Our goal is to visit all producers we work with and establish long term relationships and evolve and learn together throughout the years. That's how we believe you create change in the long run.
What inspired your choice of wrapper/mould design?
Our mould is designed after the triangle pattern we use for our origin bars. The triangular pattern itself started with the Sri Lanka pattern which was our first bar. And if you look at the whole pattern you will see that it is a cacao tree in the jungle with all the green leaves of the jungle making the pattern against the sky. If you would go out in a forest and look to the sky you would see a lot of triangles formed by all overlapping leaves. After the sri lanka jungle pattern we took the same pattern for our other origins but changed the colours to something we think represent the origin. Tanzania is all about the red sun and the savannah, which is why it became yellow, orange and red. Peru on the other hand is for us all about the very colourful and bright clothes many wear – pink, blue and purple. Hondurians have a strong feeling for blue and white which is also their flag's colours.
What is your favourite food?  Wine?  Other chocolate makers?
Everything interesting, natural, honest and crafted with lots of love. Without mentioning any specific names, many of our international chocolate maker friends also carry this ethos and we highly enjoy all their different chocolates. Outside chocolate, Natural wine and specialty coffee are two segments we enjoy deeply and have done so for a long time.
What chocolate achievement are you most proud of to date?
The realisation that we play a, small yet important, part in changing a very big industry. And also that we as a small player can make a big impact for farmers at origin and together with our bean to bar friends we suddenly start to make a big impact.
Svenska Kakaobolaget In The Chocolate Library