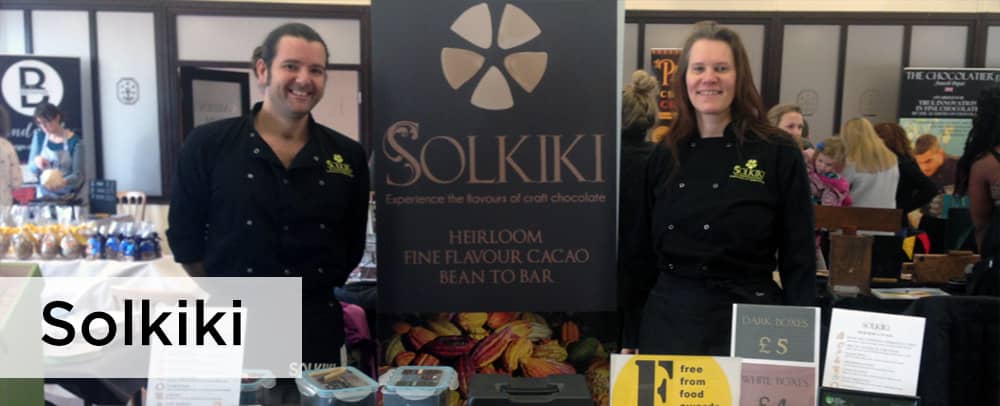 We discovered Solkiki by chance in early 2016. By a happy twist of fate we happened to have a stand next to Solkiki at a chocolate fair. Always excited to find you new makers (especially ones an easy train ride away) we got to chatting and tasting.
We were delighted by what we tasted. While dark bars such as the Los Rios and Maranon were beautiful expressions of these heirloom cacaos we were particularly intrigued by the vegan milk and white chocolate bars. By using coconut milk instead of dairy they had managed to craft sweet, creamy bars infused with the characteristics of the cocoa bean and the coconut.
Like many craft makers, for Iris and Bob (the couple behind Solkiki) crafting chocolate from the bean is not just about creating chocolate that tastes better but about creating an ethical product that is good for people and planet. They source more than half their beans directly from the farmers and source the rest as directly as possible. On top of this Iris and Bob want to avoid any possible exploitation of animals so and so all of their bars are also vegan.
We asked Solkiki's Iris & Bob to tell us a bit more about their vision and how they discovered the world of craft chocolate.
What's your background? Why and how did you get into chocolate?
Iris has a masters in Clinical Psychology and Bob has degrees in Human-Computer Interaction and Business Law, so after a long stint touring the world directing and producing videogames, starting a family and bean-to-bar chocolate making seemed the obvious next step!
We are most comfortable facing challenges that call for equal measures of art and science.  Back in 2008 we were looking for a vegan/dairy free white chocolate and having tried everything on the market we were very underwhelmed.
Iris started making white chocolate by reconstituting the ingredients, then followed experiments with mylk chocolate (milk chocolate made with a milk alternative). We persevered. It was also in 2008 that we discovered craft chocolate. Bob travelled to the US and brought back our first craft chocolate, it was Askinosie and it blew us away; we never had chocolate so flavourful or complex before. After this we tried Amano chocolate and we were sold.  We've since tried a lot of chocolate from makers all over the world and had so much fun tasting; every maker has something valuable to offer!
Making stoneground chocolate came next, when we were living in Canada for a few years. We bought a grinder and started experimenting with different cacao beans and different recipes.  It was a revelation!  We both fell in love with the cacao bean and the craft; it's an amazing material to work with and we were quickly hooked as it captured our imaginations and hearts.
We decided to move back to the UK to dedicate our lives to making chocolate and living closer to family. Back in the UK we bought a very old cottage that needed a lot of work; we renovated it and set up a dedicated 5-star chocolate workshop.
What mission have you set yourselves for making chocolate?
Flavour, quality, health, creating chocolate in an ethical way.  Our mission is to make really great chocolate, white, milk and dark (and sometimes other colours like pink) and do this the right way.  We want to trade as directly as possible, making sure farmers receive what they need. Over half our beans are purchased directly from source; the remainder come exclusively from the farmers via the shortest possible chain.
We don't want to exploit anything – animals and Mother Nature included – so all our chocolate and all our ingredients are vegan and sustainable. Health is important too: we use the highest quality ingredients we can find, so we're using cold-pressed cacao butter and avoid flavourings, colourings, lecithin and cheap fillers.
We believe the way we process the bean into bars makes Solkiki chocolate very beneficial to mental health, physical health, even dental health and general wellbeing!  Our process means vitamins, minerals, trace minerals and positive chemical compounds are present in much higher quantities in Solkiki chocolate than in supermarket or 'health food' chocolate.
When did you start your company — and with whom?  How many are there of you?
Since 2008 we have been experimenting with chocolate and selling it informally every now and then. We only recently started properly making chocolate as Solkiki in the UK. Solkiki is owned and run exclusively by the two of us and we also have 2 small children, so life is very busy. They sometimes help with tastings and are brutally honest!  We source the beans, speak with customers and perform every step in between.
Where do you want to go next?  New bars?  New beans?  New markets?
For now we would like our craft to feed the kids and survive our first year, growing our business and getting people to know our chocolate! It's still early days for us selling our chocolate, but we feel very passionate about it and are extremely proud that we've already won awards in the Free From Food Awards, the Academy of Chocolate and the International Chocolate Awards.
Like most chocolate makers, we are rarely satisfied, we're consistently trying new things and trying to improve what we have. We want to get to know more farmers better and meet more of the lovely people that comprise the fine chocolate scene!
Most importantly, we want to continue refining our craft, working with cacao and chocolate; it's a beautiful and uniquely complex material that's a joy at every stage.  The way the unroasted beans look, smell and feel… all the way through to the first taste of a finished bar. Full of sensorial delights!  We have just started experimenting on very special new inclusion bars, and always have a backlog of great beans to evaluate under our process.
How did you source your beans?
We approach each new bean as a secret, wrapped in a puzzle waiting to be solved!
For sure there are many good answers. When we look for new beans we do a lot of research, we want to make sure we find the most interesting and high quality cacao beans as possible. We also want to make sure that the farmer has received a good price for his beans. This is important because we need to make it worthwhile for farmers to continue growing their fantastic trees.  The average age of a cacao farmer is increasing, and we want to help reverse that trend.  It's important we don't lose these special varieties of cacao trees. Sourcing beans is much easier today than it was in 2008 and simply put, as we look, we find.
Similarly would love to hear more about innovations in tech, crafting, marketing etc. you're pursuing
Like a lot of chocolate makers we use Indian spice grinders.  We built our first and second winnowers from scratch (not advised), and our process is labour intensive and relatively low tech.  We invested in a label printer to help us remain highly nimble; printing our own labels onsite means a new recipe or special short run can be unveiled at any time.
What is new about us is that we have strength in depth for a chocolate maker just officially starting out; our darks, mylks and whites have all won recognition this year. We're not afraid to experiment with new ingredients. We try to coax out flavours in cacao beans that we haven't seen from other chocolate makers using the same beans. Our Maranon 68% for example has complex flavours of honey, raisins, florals like jasmine and sour fruit notes, pink grapefruit.  It took us a lot of failures to understand how to unlock and stabilise these flavours but it was worth it!  Pushing boundaries and cracking the bean's flavour secrets is where the excitement lies for us.
When we are better established we hope to unveil more interesting things, from products to marketing and other elements too!
What is your favourite food?  Wine?  Other chocolate makers?
We're always very excited by new foods. We also grow some of our own foods, usually cook everything from scratch. Any dish is so much better when you use fresh and high quality ingredients; we stay away from processed foods as much as possible. Sometimes we think that as we got older our palates have changed and we just don't get thrilled by anything processed anymore, but get a big kick out of high quality foods prepared with love, same for our chocolate really. We're guided more in our food choices by how our bodies respond to food. When eating proper foods you can truly feel it, it doesn't tire you out, it gives you energy. We both ate a lot more rubbish in the past and were used to being tired after a meal, now we still have lots of energy after eating, feel better generally and again it's the same with chocolate. Eat good quality chocolate and you'll feel the difference.
We've also been making our own nut cheeses, water kefir, tempeh, fermented vegetables, all kinds of dehydrated concoctions and let the way we feel guide us.  When time allows we also hunt and grow gourmet mushrooms and edible flowers just for us.
Other chocolate makers we love: We tried Palette de Bine when she just started out and we were living in Montreal. There was this lovely craft chocolate shop called La Tablette around the corner from where we lived that just opened up so of course we bought half their stock each month. This gave us an excellent insight into North American and French craft chocolate.  We'll always have a weak spot for Askinosie and Amano since we ordered boxes and boxes of their chocolate when we just discovered craft chocolate and they were lovely. Manoa made a bar in 2014 from Hawaii that is unforgettable and Pablo at Forever Cacao also deserves a hi-5.
Almost every maker we have tried has something unique to offer and that's the real beauty of fine craft chocolate; there is such room for creativity and interpretation where boundaries can be pushed and assumptions challenged in the utterly lovely, edible and complex medium of cacao!
Solkiki In The Chocolate Library