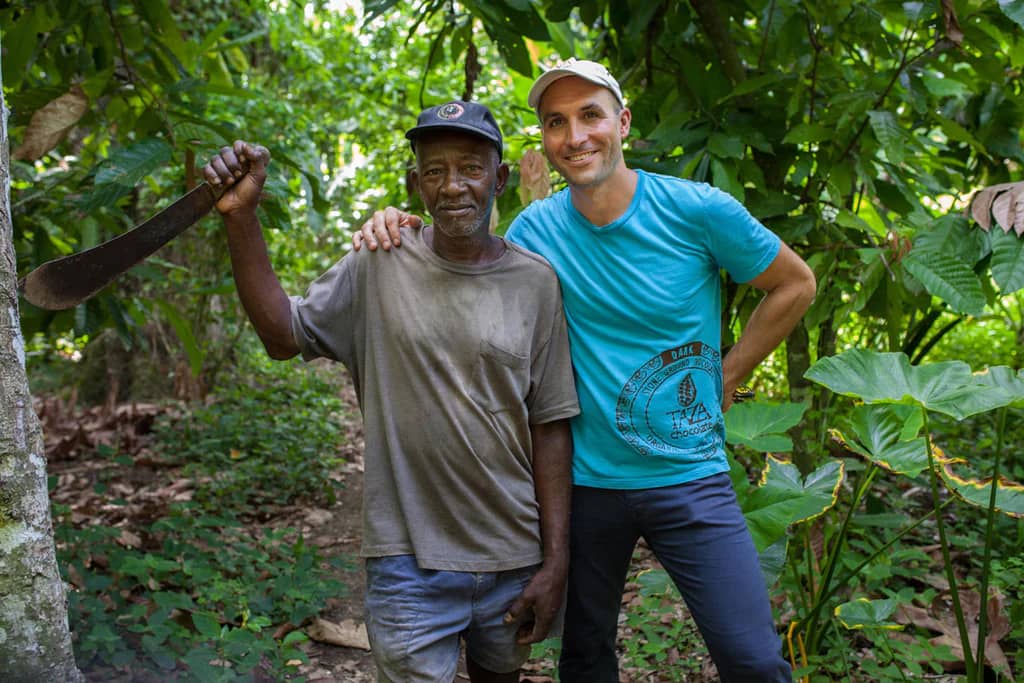 About Taza
Taza was launched in 2005 by Alex Whitmore and his wife Kathleen Fulton. Alex was one of one of Zip Car's earliest employees and is living proof of the deeply transformative power of chocolate. After experiencing traditional stone-ground chocolate created using authentic and ancient techniques during a trip to Mexico, Alex decided to revolutionise US chocolate making by bringing these practices home with him to Massachusetts. He makes chocolate in his factory, on the site of a car wrecking yard just a stone's throw away from Harvard University.
Taza is all about cacao with a conscience. Fundamental to its ethos is a deep commitment to ethical cacao sourcing, establishing meaningful relationships with their partners in a Direct Trade model which eliminates the middle man in order to guarantee optimum prices for farmers. Taza pride themselves on sourcing the best cacao in the fairest way possible to the producer whilst making this process transparent to its consumers, who are encouraged to engage with the process from bean to bar.
At Taza, simplicity is key. Its chocolate is organic and proudly unrefined, creating the grainy texture that is its signature. This is chocolate as it used to be, packing hundreds of years of history in every bite.
How they became makers…
Whilst studying for a degree in anthropology at Vassar College, Alex first learned of the traditions at the origin of chocolate in Mesoamerica. It was on a trip the state of Oaxaca in Mexico that Alex first encountered stone ground chocolate, created using traditional hand-carved millstones known as molinos. The experience was life-changing. Alex was so inspired by the region and its chocolate that he apprenticed under a molinero in Oaxaca in order to learn these authentic techniques, even hand-carving his own granite mill stones. With the goal in mind of revolutionising American chocolate with the addition of this new kind, Alex made the first batch of Taza Chocolate by hand back in his apartment after coming to an arrangement with Boston ice cream chain J.P. Licks to roast his cacao beans at night in their coffee roaster. Eventually, Alex developed a factory space in Somerville, MA, in which he united an eclectic mix of traditional and vintage machinery. Alex's wife, Kathleen Fulton, has also been central to the development of Taza, designing all of the packaging as Brand Manager.
Taza's Sourcing
Taza's self-proclaimed position as a "pioneer in ethical cacao sourcing" is well deserved. Taza's sourcing manager, Jesse Last, pictured below, makes a meaningful and laudable commitment to get to know its producers at each origin and to guarantee transparency in the sourcing process, bringing this information openly and directly to consumers.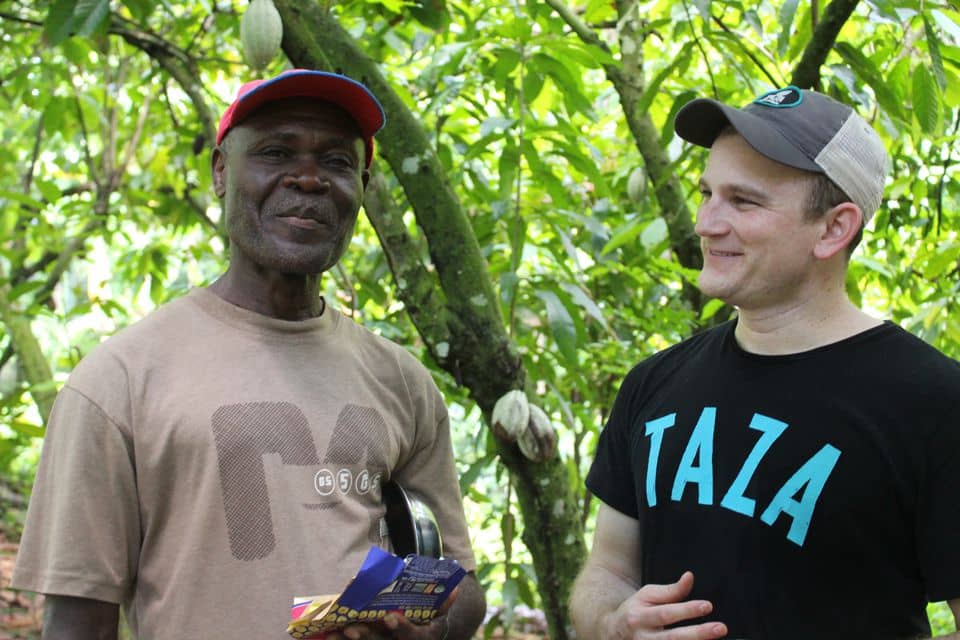 Establishing and maintaining fair and transparent Direct Trade relationships with all cacao farmers is a priority. Under the Direct Trade paradigm, middle men are eradicated: Taza purchases certified USDA organic cacao beans directly from cacao producers who they visit at least once a year. In fact, Taza are the first U.S. chocolate maker to establish a Direct Trade Cacao Certification program certified by a third party. Taza pays at least $500 above the market price for commodity cacao, a significant 15-20% premium, considerably more than the FairTrade price.
The company really encourages its consumers to engage with their model of Direct Trade, with videos online that show its tangible progress in partner communities that put a human face to the cacao sourcing process. Accessible annual transparency reports are also readily available, breaking down clear financial data, along with partner-producer interviews and helpful articles explaining how fair financing is calculated and ethical practices ensured. The hashtag #sourcingseason on social media gives a particularly novel and immersive insight into Taza's annual explorations in pursuit of the best beans, bringing us along with them on this exciting journey to find out exactly where the product in our hands comes from.
Taza partner only with cacao producers who guarantee fair labour practices and demonstrate a respect for the rights of their workers and the environment., including Finca Elvesia and Öko Caribe in the Dominican Republic, Alto Beni Cacao Co in Bolivia and PISA in Haiti.
Taza's Chocolate
The ethos central to chocolate production at Taza is simple- doing less brings more when it comes to allowing the complex flavours of cacao to shine. In fact, its chocolate is much more similar to the kinds of bars you might have found a hundred years ago, still popular today in Mexico (and also in Modica, Italy). Organic cocoa beans and organic cane sugar are loosely stone ground in a traditional Mexican molino and moulded straight into bars and discs. Taza prides itself on being unrefined and minimally processed, in contrast to many chocolate makers who can spend days refining and conching their products until smooth. The result is a chocolate with a signature coarse, almost biscuit-like texture and a unique flavour.
The use of traditional Mexican stone milling practices to grind cacao not only imparts Taza's signature coarse texture but preserves and showcases the "bright" and "fruity" flavours of their organic beans. According to Taza, this minimal processing allows the flavours to speak for themselves, resulting in a chocolate that is "bold, rustic and satisfyingly gritty—unlike any other chocolate you've tasted."
Taza Chocolate In The Chocolate Library