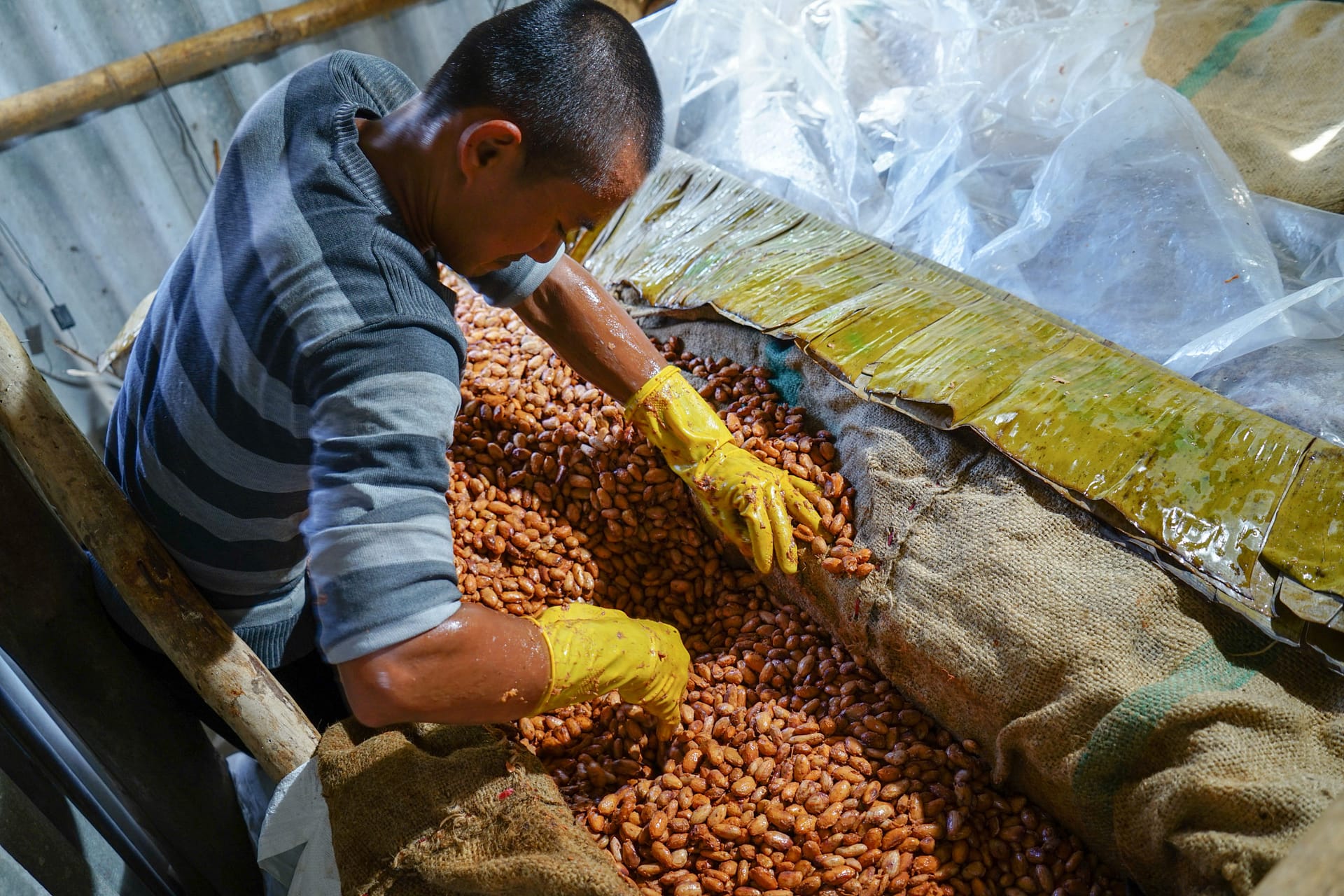 TBROS chocolate maker was started by Truong Minh Thang and Nguyen Duy Thong, friends and classmates from high school, in 2017. They, along with the rest of the company sharing the love for cacao and chocolate, are like "bros" in a family.
Truong works directly with cacao farmers in Vietnam, sourcing beans from various provinces around the country. When sourcing cacao from Dak Lak, Truong buys the pods directly from the farmers. He then ferments and dries the beans using his own TBROS method.  For all other origins (including Tien Giang), Truong looks for fine flavour cacao produced by small farmers and supports and encourages them maintain (or better) their quality.
At Cocoa Runners, we first met and tasted TBROS chocolate at the Salon du Chocolat Paris in 2019. It was love on first bite… And our tasting team were torn on which were our favourites. Months later, we decided on bringing you our two firm favourites: Dak Lak 70% and Tien Giang 70%.
We caught up with Truong Minh Thang before launching his chocolate and we had a couple of questions to ask him….
What's your background? Why and how did you get into chocolate?
My name is Truong Minh Thang and I've a Bachelors in Food Technology and a Masters in Industrial System Engineer from studying at the Polytechnic University in Vietnam. Whilst studying from my Masters, I was a production supervisor and warehouse manager in an instant noodle company and later became the vice director in a nail polish company.
It was in 2013 that I discovered cocoa bean, reading about them in the news. The cacao that was growing in Vietnam was being recognised as one of best cocoa beans in the world. I was intrigued and wanted to find out more about these cocoa beans. Although Vietnam grew fine cacao, there were very few Vietnamese companies actually making fine chocolate. That's when I decided to get into chocolate.
When did you start your company — and with whom?  How many are there of you?
I started my company in April 2017 with my classmate in high school, Nguyen Duy Thong.
What mission have you set yourselves for making chocolate?
Our mission is build sustainable supply chain from cocoa tree to chocolate bars: buy direct and pay higher price for farmers; create fine cocoa beans by myself fermentation and drying; make fine chocolate from my fine cocoa beans.
Where do you want to go next?  New bars?  New beans?  New markets?
For beans, I want to develop new flavours by new fermentation and drying methods. For bars, I want to create new flavours from ingredients in Vietnam or combine Vietnamese cuisine and chocolate. Now, I am looking for new customers, new markets for our products: beans and bars.
How did you source your beans?
I have 2 sources: Dak Lak origin and other origins. For Dak Lak I buy the pods directly from farmers. After that, I ferment and dry by my own process.
For others origins, I looks for new fine beans from a few farmers to support and encourage them to maintain and enhance their quality.
What innovations in tech, crafting, marketing etc. are you pursuing?
I like to look at the science in researching cocoa, from varieties, microbial (yeast and bacteria… ) and fermentation.
What is your favourite food?  Wine?  Other chocolate makers?
My favourite foods are fermented foods: tea, coffee, cocoa, kombucha…
TBROS In The Chocolate Library