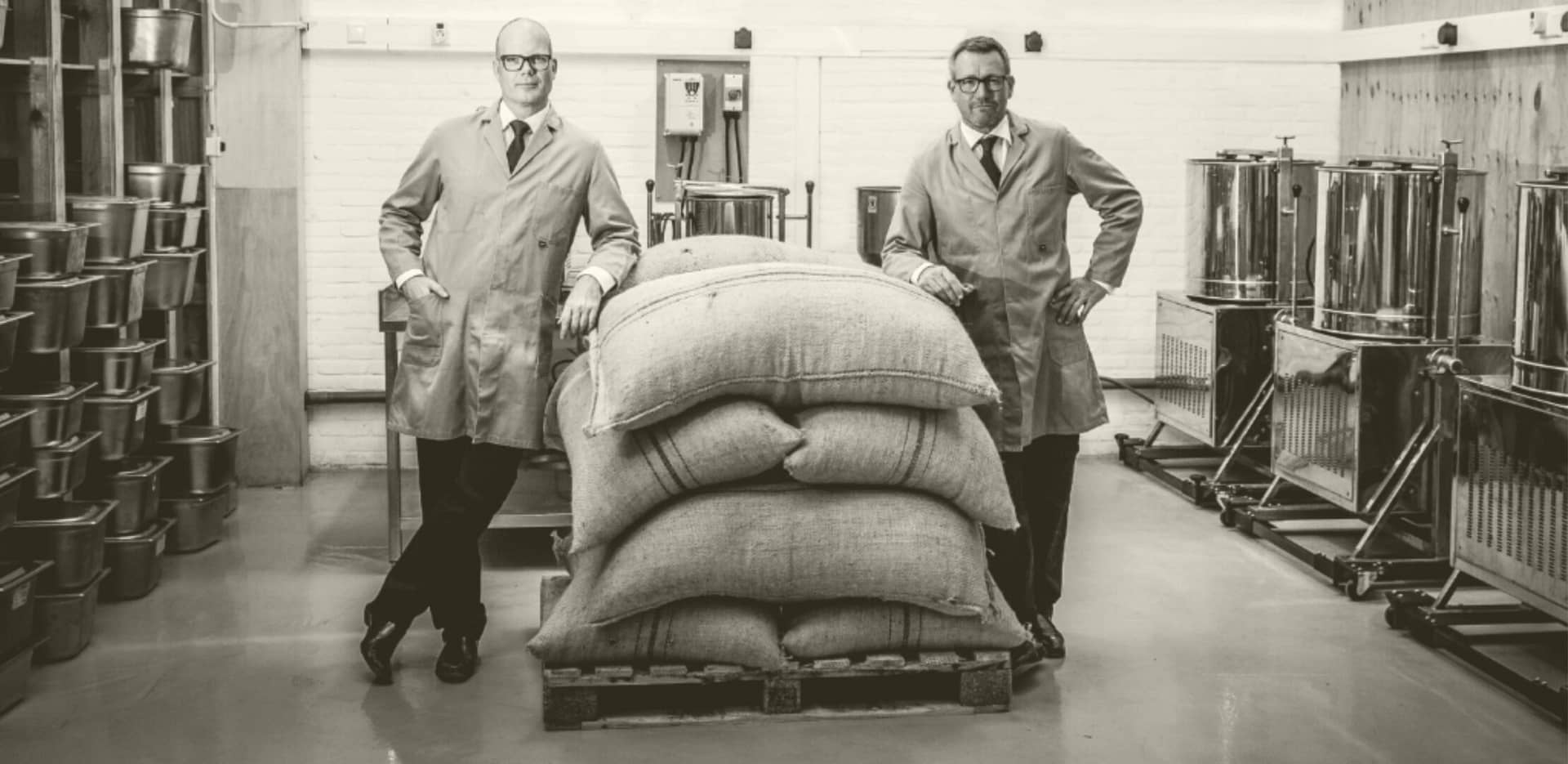 Heinde and Verre
Origins 
Heinde and Verre, established in 2019, have brought their own flare to the craft chocolate world. The Company's name translating to "Near and Far" represents their ethos, and a dutch culinary habit, of sourcing incredible produce from distant reaches of the world and combining it with fine quality local ingredients. Heinde and Verre holds an exciting position in the craft chocolate world, growing and inventing new recipes; even developing their own vegan milk formula. 
Based in Rotterdam, owners Jan-Willem and Ewald have slowly built up a repertoire of chocolate knowledge, constantly changing and improving their process to highlight the special qualities of each type of cacao they use. They're a formidable double act.
Not always belonging to the craft chocolate world, these business partners used to have very different careers. They have  both worked various jobs, including; science and econometrics professor, strategists, product development and marketing. Eventually they both grew tired of sitting behind computers, they wanted a new challenge and they wished to meet new people and interact face to face. 
Outside of their business careers, Ewald has a background as a registered vinologue from the Dutch Wine Academy (comparable to WSET) and trained as a sommelier and wine consultant. Whilst, Jan Willem is a life long, very talented pastry enthousiast. So they are both fascinated by flavours and aromas – as they confess – practically since they were born. This enthusiasm led to the creation of Heinde and Verre. 
Chocolate Making; Getting Started
It was on a skiing trip in Italy where the idea for Heinde and Verre was born. Both Jan-Willem and Ewald love chocolate, they had time to kill and decided to try an italian dark chocolate. After sampling the bar, they believed it could be bettered and wanted to give it a try themselves. They decided to pair up and have a go at developing a chocolate business. 
They were, and still are, inspired by the flavours of great wines, pushing the duo to experiment with ageing chocolate, as opposed to conching, as a way to develop depth.
The operation started in one of their spare rooms, gathering equipment and learning the basics of chocolate making. To help in their discovery, early on, they visited Duffy's where they developed a better understanding of what it takes to make incredible craft chocolate from bean to bar. 
When it came to sourcing, much like every good craft chocolate company, it was paramount to know exactly where their beans came from. This was their central focus starting out. They began buying straight from KSS cooperative in Bali. To ensure a consistent flavour, they chose their beans they wanted right down to the specific farm. 
To get making the chocolate, they needed machinery. They started off with 3 stone grinders from India – this gave the pair a good start, however the work and maintenance on the machines, as they were not originally designed for chocolate making was quite a challenge. Luckily, with the expansion of craft chocolate, came better equipment. They now work with several stone grinders of various sizes and designs, to enable them to develop the right flavour profile for each origin and recipe.
The team have two types of ovens; convection oven and large custom made drum roaster – they get completely different flavours from each – the drum roast roasts much slower. To add variety and depth to their chocolate, they sometimes use a mixture of roast profiles for each cacao.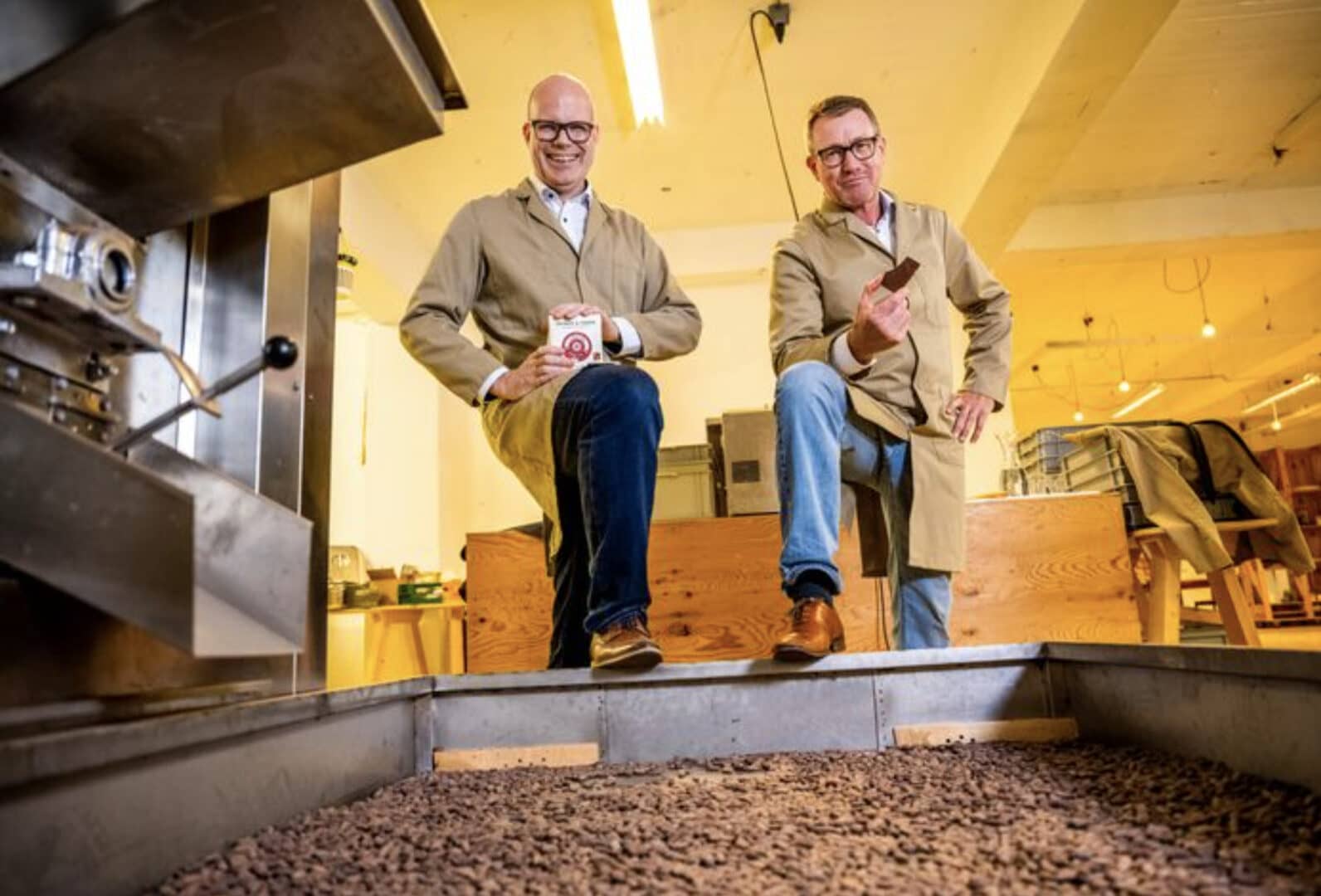 Sourcing: In depth
Sourcing the Bali KSS up to the farmer group, is made possible by Biji cacao trading (Heinde and Verre's cacao partner for Indonesia). Currently they select two farmer groups within the KSS cooperative to ensure a consistent flavour profile that matches the Heinde & Verre style. Also for their outer origins they work closely with the cacao farmers. The piura from Norandino cooperative is selected from three distinct villages, and a more exclusive selection of a subregion of Piura is on it's way. Amazingly, they are one of the very first to work with a new cacao from Hacienda Victoria in Ecuador, called La Perla (a crossover between Arriba and a criollo form Venezuela).
Additionally, one to two times per year, a limited edition is released. For limited editions we try to find very special and rare cacao, or touch upon a special theme (like the effect of ageing, terroir, etc), or share an exiting recipe, like the Dutch Gianduja we made for Clay Gordon at the 20st Anniversary of "The Chocolate Life", made with Dutch Hazelnuts and Dutch "basterd sugar"
What's Next?
Heinde and Verre have been working tremendously hard to build their company in their first few years in the chocolate industry. Last autumn, they were working 7 days a week, 12 hours a day in the factory. Chocolate has been all consuming for them. 
They're efforts have certainly paid off. They've been running for 3 years and have doubled in revenue each year – 400 kilo a month, around 50,000 bars last year. 
The business is authentic, with true care a consideration going into all aspects of the chocolate making process, from the bean sourcing, to the recipe creation. All their bars are handpacked – and the packaging was immaculately designed by the co-founder himself.
This attitude and commitment to producing incredible chocolate, in an ethical and considerate way is at the heart of Heinde and Verre. We can't wait to see what they come up with next and to see them develop even more wonderful recipes. 
Heinde & Verre In The Chocolate Library