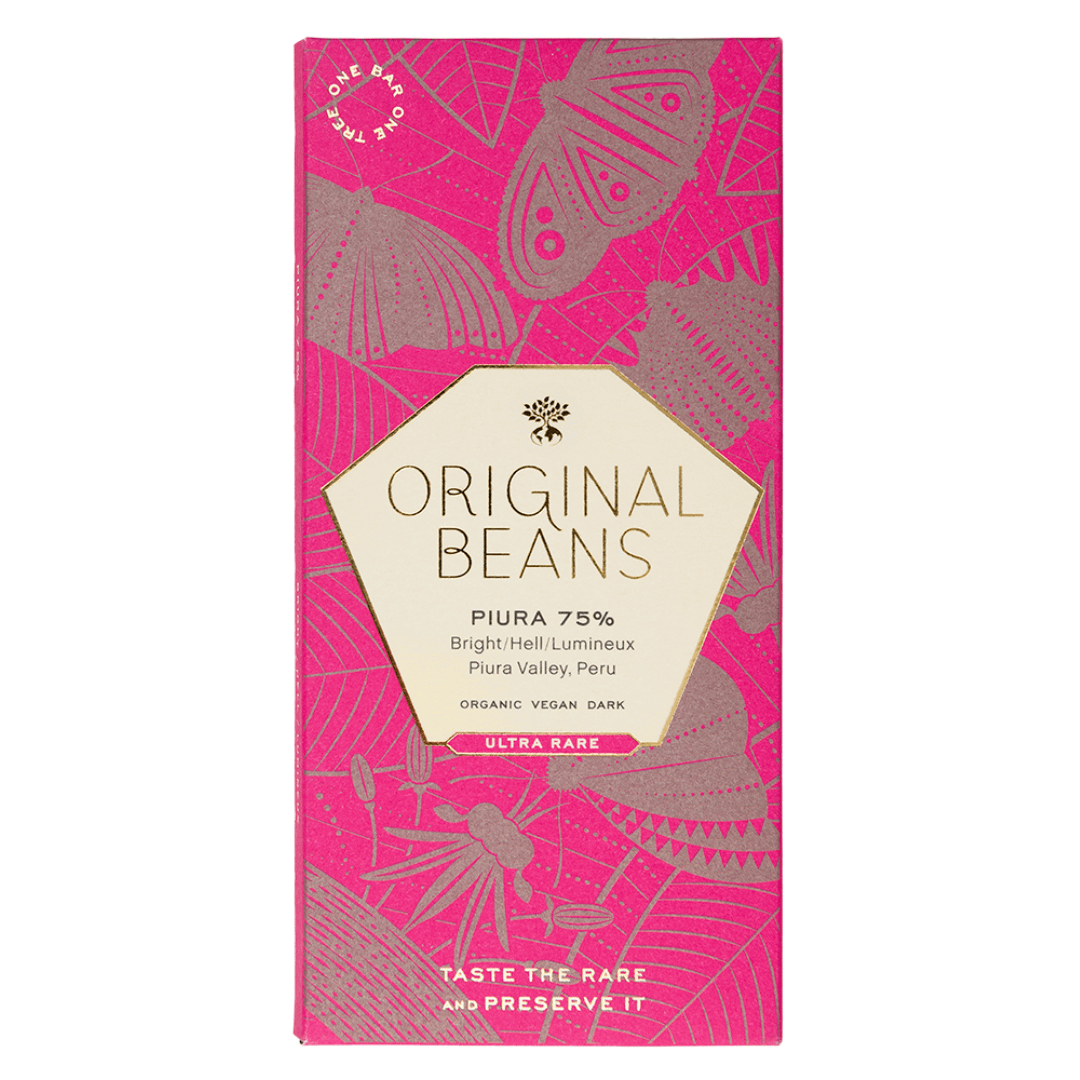 Original Beans – Piura Porcelana (Carton of 13)
£64.35
Flavours of raspberry, dried prunes, and pecan are sure to shine through in this smooth and vibrant Swiss chocolate.
In stock
Description

Please note: This product is a carton of 13 bars.

TASTING NOTES

This delicately floral dark chocolate has bright highs of raspberry, dried prunes, and pecan. Made in Switzerland from Peruvian beans, this classic Original Beans creation is sure to satisfy with its vibrant intensity, rounded off with roasted notes in a silky smooth melt.

ABOUT THE MAKER

Original Beans was founded in 2008 by Philipp Kauffmann, a former conservationist at the World Wildlife Fund and the United Nations, to be a regenerative chocolate making company that focuses on protecting farmers, the rainforest, and thousands of endangered species. Their One Bar : One Tree programme promises that a tree is planted every time an Original Beans bar is sold, which can be tracked on their website with a special code on the back of the packet.

THE BEANS

The rare Piura Porcelana white cacao was discovered by the Original Beans team in 2007 in the dry desert valleys of northern Peru. Decades of deforestation, drought and flooding had pushed these beans near to extinction, but now their widespread cultivation has reforested the valleys, protecting the life-giving streams that the whole ecosystem and community depend upon.

Additional information

Click on any underlined term to see more products

| | |
| --- | --- |
| Weight | 1370 g |
| Type of Chocolate | |
| Maker | |
| Maker Country | |
| Cocoa Percentage | |
| Bean Origin | |
| Conch | |
| Ingredients | |
| Certifications | |
| Select Size | Single Bar £4.95, Carton of 13 £64.35 |
| Lifestyle and Diet | |

Reviews

There are no reviews yet.

Nutritional info coming soon.

Allergens

Peanuts (traces), milk (traces), nuts (traces)

Ingredients

Cacao mass, raw cane sugar, cacao butter
You need to be logged in to post a review.
Maker description
As fanatical about conservation as they are about chocolate, Original Beans plant a tree in the rainforest for every single bar you buy. Read more about Original Beans
Type of Chocolate
Maker Country
Cocoa Content
Bean Origin