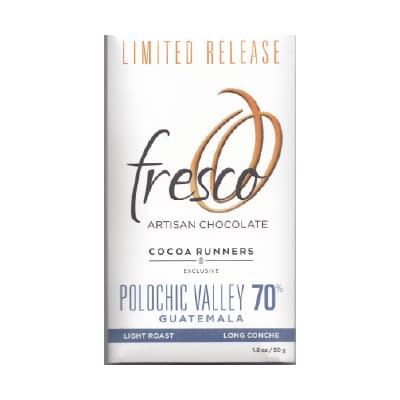 Fresco – Guatemala Polochic Valley 70% Dark Chocolate – Cocoa Runners Exclusive
A mellow dark chocolate bar crafted exclusively for Cocoa Runners by Fresco.
Description

Unfortunately this bar is no longer available in our Library. Please see below for four bars that we think you will enjoy.

We are delighted to bring you this exclusive limited edition 70% dark chocolate bar. Fresco's Rob Anderson has crafted this bar exclusively for Cocoa Runners.

We love this bar for its fantastic melt: pop it in your mouth and you'll notice how smoothly and evenly it dissolves, giving way to a delightful mouthfeel. Light roasting and a long conche ensure that the mellow dark chocolate notes allow the flavours of stone fruits to slowly rise through.

Based in Lyndon, Washington, the story of Fresco's creation is not a conventional one. In 2010, Rob Anderson, a computer scientist from southern California, began his bean-to-bar journey after inspiration struck on a visit to the legendary Scharffen Berger factory. Rob's approach is both unique and scientific in its simplicity: use the best possible ingredients and change the variables that affect taste one at a time. Whilst most chocolate makers undertake this process when creating their bars, the journey stops there as they pick their favourite cocoa percentage, roast and conch time to make a finished product. Fresco, however, release each variation, so that we can see what a profound difference these subtle changes can make, and so that we can choose our own personal favourites. We think that you'll be amazed just how much difference changing a single variable can make on the flavour of chocolate!

Created and packaged exclusively for us, this bar is not available anywhere else in the world. Rob made us a one-off batch, so once these bars are gone they're gone.

Additional information

Click on any underlined term to see more products

| | |
| --- | --- |
| Weight | 50 g |
| Type of Chocolate | |
| Maker | |
| Maker Country | |
| Cocoa Percentage | |
| Bean Origin | |
| Roast | |
| Conch | |
| Ingredients | |

Reviews

There are no reviews yet.

Nutritional info coming soon.

Allergens coming soon.

Ingredients

Cocoa beans, cane sugar, cocoa butter
You need to be logged in to post a review.
Type of Chocolate
Maker Country
Cocoa Content
Bean Origin