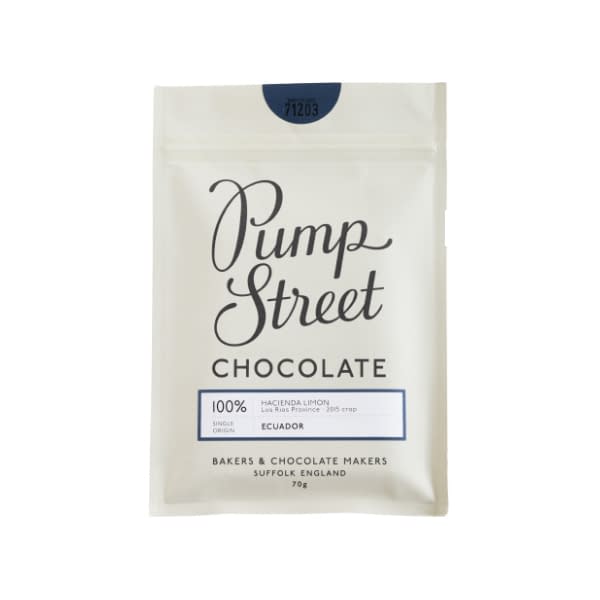 Pump Street Chocolate – Ecuador 100%
£6.25
In stock
Description

A pure cocoa  made using  Arriba cocoa from the Guantupi River in Ecuador. Possessing an intense cocoa flavour this bar has a low acidity, earthy taste thanks to its long conch yields. With no added sugar this is perfect for those who love powerful flavours and pure chocolate.

 

Additional information

| | |
| --- | --- |
| Weight | 70 g |
| Type of Chocolate | |
| Maker | |
| Cocoa Percentage | |
| Maker Country | |
| Select Size | Single Bar £6.25, Carton of 10 £62.50 |

3 reviews for

Pump Street Chocolate – Ecuador 100%

Tzvi S.

June 28, 2020

I recently received this bar again and decided to give it another shot. Whether my taste buds improved, tastes evolved, or something else entirely, this bar is definitely recommended in my opinion. I don't know if this will replace my previous review. (Sorry Pump Street)

Tzvi S.

March 3, 2020

I did not like this bar at all. It's just bland with nothing to focus on.

Julie M.

November 5, 2018

Nice and creamy, easy and very enjoyable to eat. An approachable 100% chocolate.

Nutritional info coming soon.

Allergens coming soon.

Ingredients coming soon.
You need to be logged in to post a review.
Maker description
As makers of both bread and chocolate, UK-based maker Pump St Bakery is a truly unique company. Set up by father and daughter team Chris and Joanna, they really care about making high quality chocolate, managing their production process with a forensic attention to detail. Read more about Pump Street Chocolate