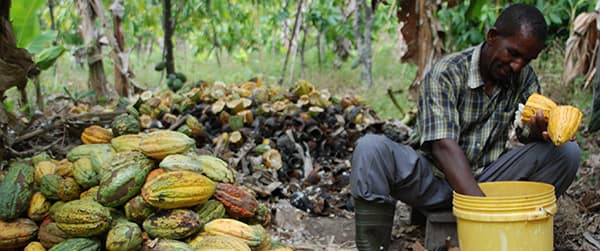 Recently we've seen a number of great bars using beans from Tanzania. In the last couple of months alone, both Omnom and Damson have released two new bars made with beans from the African nation. Both makers are using beans sourced from Kokoa Kamili.
Based in the Kilombero Valley of Tanzania, Kokoa Kamili are dedicated to helping local farmers and craft chocolate makers worldwide get the best from Tanzanian beans. It buys wet beans directly from farmers and then dries and ferments them at its own specially built facility in the valley. Once fermented it supplies these to makers who will coax the full flavour from the beans and transform them into chocolate that showcases the quality of Tanzanian cacao.
We spoke to Simran, co-founder of Kokoa Kamili, to find out more about the company.
What's your background? How did you get into cacao (and end up in Tanzania)?
Both Brian and myself had been working in international development. I was initially working in Lesotho in southern Africa. Brian started out as a Peace Corps Volunteer in Tanzania before he went to get his MBA, worked in management consulting and then found himself back in Tanzania. After my time in Lesotho I joined an NGO in Tanzania where I was working on researching the history of cocoa in the country and writing the Ministry of Agriculture's Cocoa Development Strategy. Coincidentally Brian was leaving the same NGO where he had been managing a large team working with milling businesses throughout Tanzania helping them improve their processes and encouraging them to fortify their flour.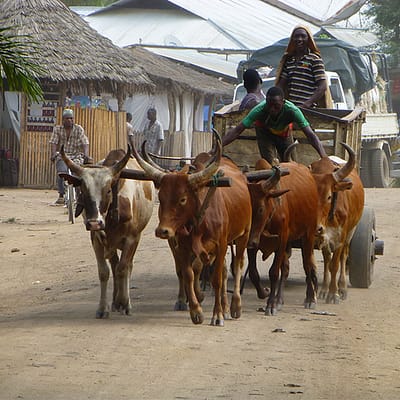 Over the course of my work, I saw what I perceived to be an opportunity, we have really interesting genetics in Tanzania, a great terroir, but we were seeing really poor fermentation and drying. Farmers had no incentive to improve their operations – – the work of fermenting and drying can be a laborious and long process. Existing buyers were large commodity companies with little interest in high-quality cocoa. Concurrently the craft chocolate scene was growing rapidly, with chocolate makers looking for new, exciting origins able to produce consistent, high quality cocoa.
I discussed this perceived market gap with Brian (who had previously explored doing something similar in coffee) and he agreed that it was something worth looking at. Brian ran the numbers to see if it could make sense and we began exploring the cocoa growing areas of Tanzania to pinpoint the best place for us to set up shop.
Can you tell us a little more about the cocoa landscape of Tanzania?
Cocoa was first introduced to Tanzania in the 1880s while Tanganyika (as it was then known) was under German rule. It was initially grown as a plantation crop in the north of the country although few records remain. There have likely been several reintroductions of the crop to Tanzania over the past hundred years, with the main growing area (Kyela – in the south of the country) being established in the 1960s. We estimate that between 8,000-10,000MT of cocoa are produced in Tanzania annually. There are four main buyers in the country, all large trading companies. Kokoa Kamili operates in the Kilombero Valley – a geographically distinct area compared to Kyela, with a much lower production.
You mentioned you worked with a number of smallholder farmers, how did you first reach out them? And how do you managed the relationship with so many different farmers?
Given our background in international development, we've both spent a fair bit of time in rural villages, especially given Brian's Peace Corps experience. We would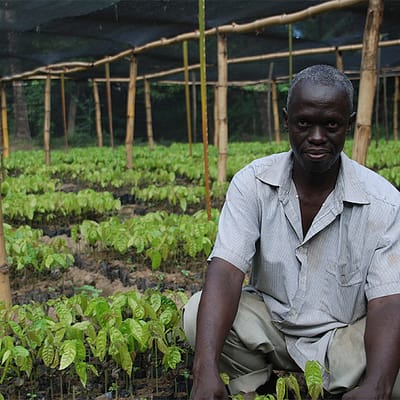 start with the village leaders, explain what we were thinking about, ask if they thought it would be feasible, would it be something the village would be interest in supporting, would it be beneficial to the village, etc. etc. When we began our research it was a lot of long conversations under mango trees getting an understanding of what would and wouldn't work for the farmers and explaining our business model of buying 'wet' cocoa rather than dry.
We now work with ~2,500 farmers – up from around 1,000 at the end of our first year (although 80% of our volume comes from just 23% of our farmers). Our growth in sourcing is simple. We make it more attractive to farmers to sell to us, we pay more, we collect from farmers, provide agricultural training services, we offer transparent pricing and only buy directly (as opposed to using middlemen/agents).
Can you tell us a bit more about you operation? How many of you are there? Do you build all of your equipment (e.g fermentation boxes yourselves)?
At our peak we have about 30 staff. All of our processing equipment we built in the village that we work in using locally available materials. However, the monitoring equipment (e.g. thermometers, moisture meters) we source internationally.
Who was your first buyer and how did you find them?
Our very first sale was an air freight shipment to Chocolate Naive in Lithuania – I'd met them at the London Salon du Chocolat in 2013 and we've been good friends since. We were excited to host them as our first visitors last year! Our first large buyer was Mast. Honestly, we met them by cold-calling them and showing up at their factory in Brooklyn. They were nice enough to take the time to meet with us and were interested in learning about what we were doing and have been a great partner to work with ever since.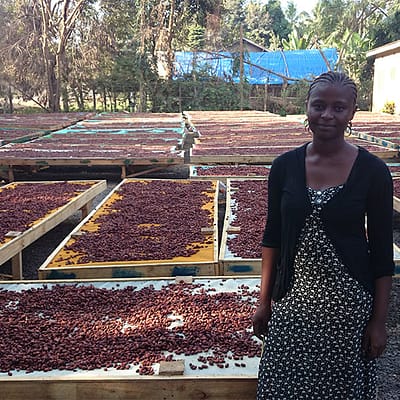 Can you explain a bit more about fermentation and how it works, you mentioned 3 & 5 tier – can you explain this a little? (Obviously not prying for secrets, jut an overview of the process)
Our typical method of fermenting is a three tier, six day ferment. However, we're constantly running experiments to tweak with our protocols to ensure we can get the very best out of our beans. We just put together our first five tier array and are going to be running a whole host of experiments on them in the coming season!