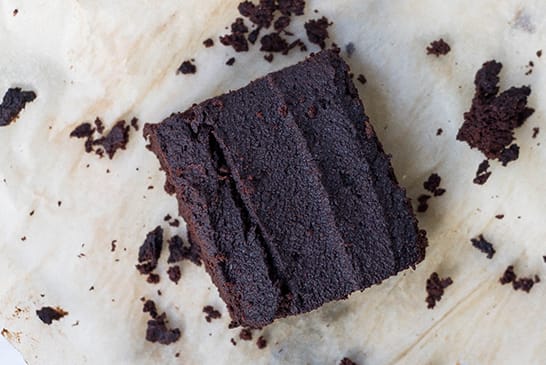 Makes 16
Everyone loves a brownie! Adding hazelnuts and cocoa nibs adds both texture and flavour to these rich, chocolate-y treats.
150g butter
250g Cocoa Runners dark chocolate
2 eggs
200g caster sugar
150g self-raising flour
75g hazelnuts, dry-roasted and cooled
2 tbsp cocoa nibs
METHOD
Preheat the oven to 180°C. Line a 20cm square baking tin with foil.
Melt the butter and chocolate in a heatproof bowl suspended over a pan of summering water, stirring now and then. Once melted, set the mixture aside to cool slightly.
In a mixing bowl, whisk together the eggs and sugar until pale and thick. Gently stir in the melted chocolate mixture until well-mixed.
Sift the flour and gently fold in, using a metal spoon. Stir in the hazelnuts and cocoa nibs. Transfer the mixture to the lined tin.
Bake for 20-25 minutes until the mixture has set and a 'crust' has formed on the surface. You want the texture under the crust to be soft and fudgy. Remove, cool and slice into 16 squares.
Recipe by Jenny Linford. Follow Jenny on Instagram @jlinford and see more of her work at www.jennylinford.co.uk
Recipe Card
Shop Our Cooking Chocolate Range