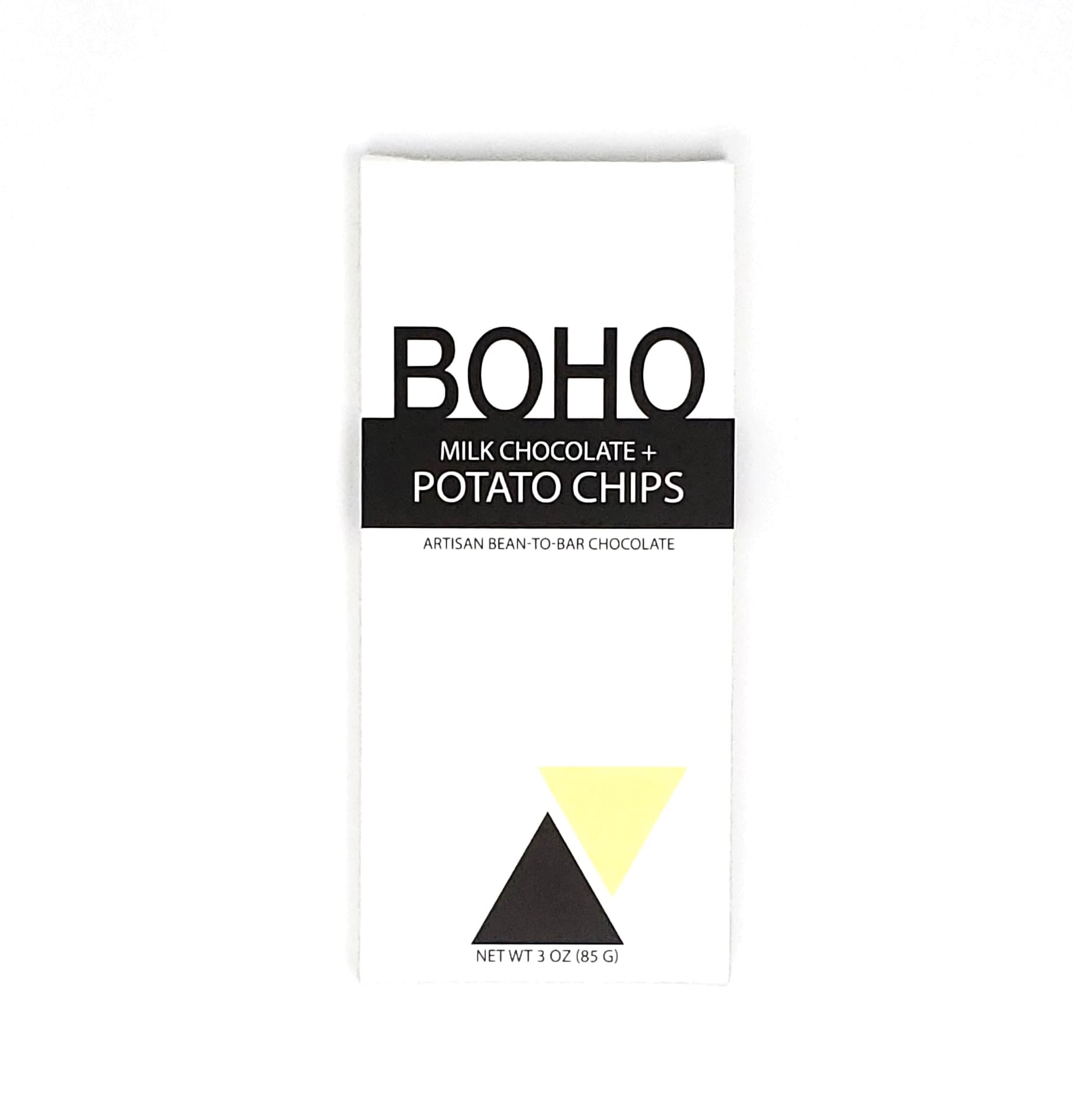 BOHO – Milk Chocolate with Potato Chips
£7.95
This 51% Dark Milk from American maker BOHO is an extremely fun bar – we doubt you've tried anything like it before!
In stock
Description

TASTING NOTES

Believe it or not, the smooth creaminess of milk chocolate combines beautifully with the salt and delicate crunch of potato chips. The contrast in texture and the balance in flavour make for an extremely enjoyable bar, unlike anything else we've tried before.

ABOUT THE MAKER

Charlie Burke, the founder of BOHO, started his chocolate journey in the 1980s, when he opened a small chain of chocolate and confectionery shops in New England, USA. Having always wanted to craft their own chocolate, Charlie and his partner, Suzanne, set out in 2014 to learn how to make the very best bean-to-bar chocolate. They founded BOHO after a trip to South America with Taza Chocolate to visit farmers, cooperatives, and local chocolate makers. The name BOHO is short for Bohemian, which signifies their "organic, artistic, and independent approach to making quality chocolate."

THE BEANS

The beans in this bar have been sourced from Maya Mountain Cacao, one of the earliest centralized fermentery social enterprises. Established in 2010 in the early stages of the Craft Chocolate boom, Maya Mountain works with over 350 cocoa-growing families in southern Belize to process their beans centrally, which allows them to export high-quality cocoa beans to premium-paying craft chocolate makers.

Additional information

Click on any underlined term to see more products

| | |
| --- | --- |
| Weight | 85 g |
| Maker | |
| Cocoa Content | |
| Maker Country | |
| Icons | |
| Type of Chocolate | |
| Cocoa Percentage | |
| Bean Origin | |
| Lifestyle and Diet | |

3 reviews for

BOHO – Milk Chocolate with Potato Chips

Martina J.

February 24, 2021

I really liked the crunchy texture of the potato chips in this bar, and the chocolate is very nice quality. However I didn't love the fried, slightly oily flavour of the chips in conjunction with the chocolate. I think puffed rice works better!

rgcroydon

December 7, 2020

Really enjoyed this bar , flavour was a creamy milk chocolate . Thought the potato chips might be Overpowering but they were a Great addition .

Alison B.

September 23, 2020

AMAZING - absolutely delicious chocolate and the crunch of the crisps gives it the extra special edge

Nutritional info coming soon.

Allergens

Milk

Ingredients

Organic cane sugar, organic cacao beans, organic cocoa butter, organic milk, potatoes, safflower and/ or sunflower and/or canola oil, sea salt
You need to be logged in to post a review.
Maker description
Cocoa Content
Maker Country
Type of Chocolate
Bean Origin