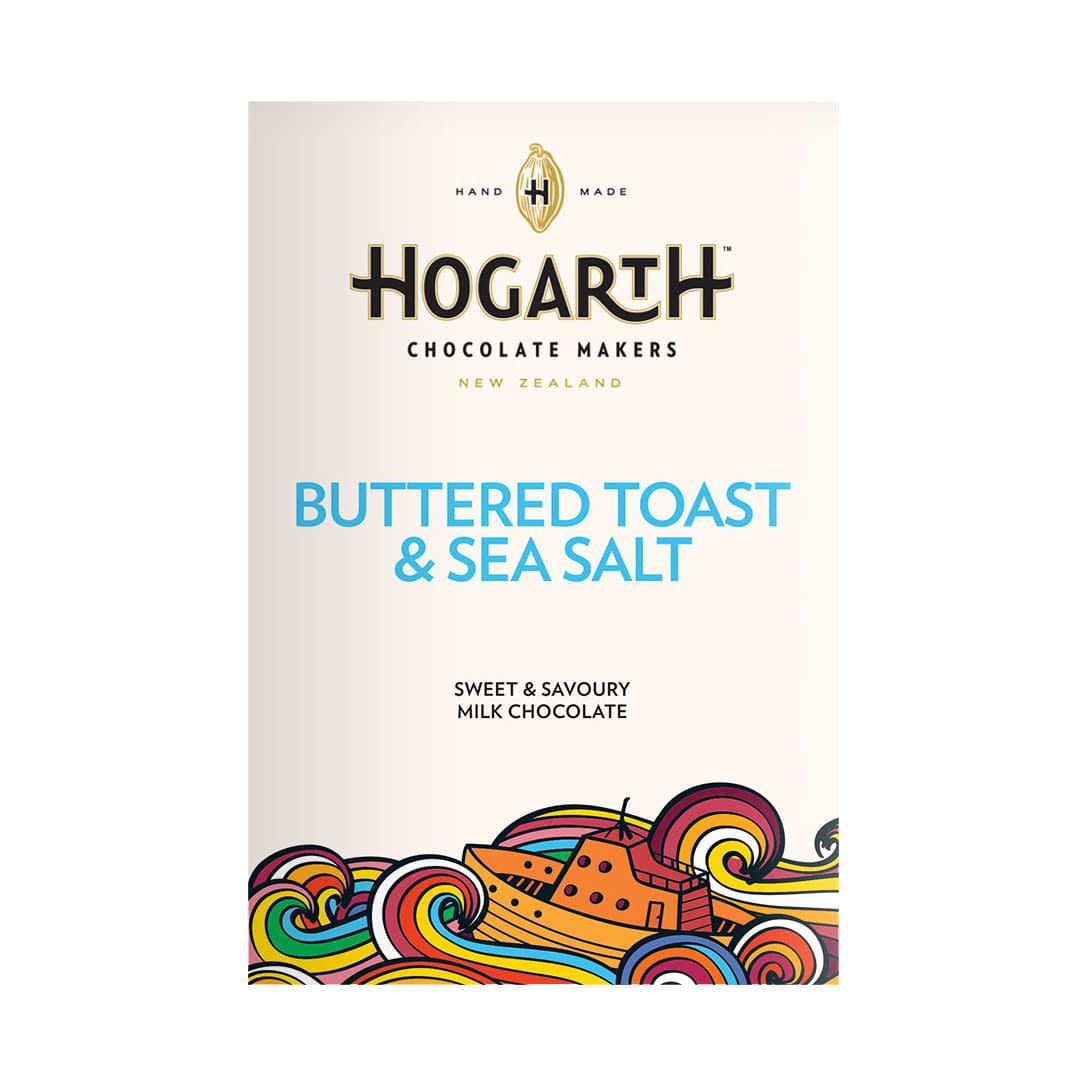 Hogarth – Buttered Toast and Sea Salt
£7.95
Inspired by Karl and Marina's regular breakfast routine, this chocolate is flavoured with rye bread and pure New Zealand butter.
In stock
Description

TASTING NOTES

It's a morning ritual for Hogarth's founders to start their day with a piece of rye toast and pure New Zealand butter. Using classic Vogels Original bread and sumptuous butter, they've put that savoury and salty feast into a chocolate bar.

ABOUT THE MAKER

Karl Hogarth began a nautical career as a 15-year-old deck boy before becoming captain and moving into the gas and oil industry. He discovered chocolate in Guatemala, and was amazed at the variety of flavours he encountered. He soon decided to make his own chocolate in his shed and sell it at the local farmers' market in Nelson, New Zealand, where he lives with his wife, Marina. He was amazed at the reception, and Hogarth Chocolate was born. Now popular around the world, Karl and Marina love experimenting with new flavour combinations, which they continue to try out at the Nelson farmers' market every Saturday morning.

THE BEANS

Hacienda Victoria is a 500-hectare cocoa plantation about half an hour from Guayaquil, Ecuador. Established in 2012 by Carlos Eduardo García Fuentes and named after his wife, Victoria, the estate is leading the way in sustainable, socially responsible cocoa agriculture.

Additional information

| | |
| --- | --- |
| Weight | 70 g |
| Type of Chocolate | |
| Maker Country | |
| Maker | |
| Bean Origin | |
| Cocoa Percentage | |
| Cocoa Content | |

9 reviews for

Hogarth – Buttered Toast and Sea Salt

Alison P.

April 18, 2021

Sadly doesn't live up to the rave reviews it received on Sunday Brunch. I was expecting milk chocolate, and this is dark, and I just don't get any hint of buttered toast (and I love Vogel bread!). Sorry!

Zoe A.

April 16, 2021

Mark W.

March 18, 2021

Beautiful chocolate, guess you have to pay for this level of quality. Not sure its worth the premium price though... Like most others I was intrigued following the piece on Sunday Brunch and had to satisfy my curiosity. Cocoarunners were the only suppliers and I'm delighted to have found them!

Andrew T.

March 1, 2021

Incredible taste, surprisingly similar to buttered toast! The buttery texture is smooth and moorish!

Lucy F.

February 28, 2021

I just HAD to try this bar after seeing the rave reviews on Sunday Brunch, and was eagerly anticipating it's arrival....only to be left slightly disappointed. Don't get me wrong, it's a fine bar. Nice and creamy, with a definite salty, buttery taste that's both unusual yet quite tasty. It's probably my fault for setting my expectations so high and expecting that mind-blowing 'wow' moment that just never came, but I definitely feel like I regret spending so much on it for what it was.

John B.

February 25, 2021

Really good flavour combination. Lovely and smooth and complex - if a little pricey.

Claire H.

February 21, 2021

Kate A.

February 4, 2021

Properly indulgent. Sweet, salty and a little bit addictive!

Anastasiya M.

February 3, 2021

So smooth and perfectly balanced sweet&salty taste. Hard to resist!

Nutritional info coming soon.

Allergens coming soon.

Ingredients coming soon.
You need to be logged in to post a review.
Maker description