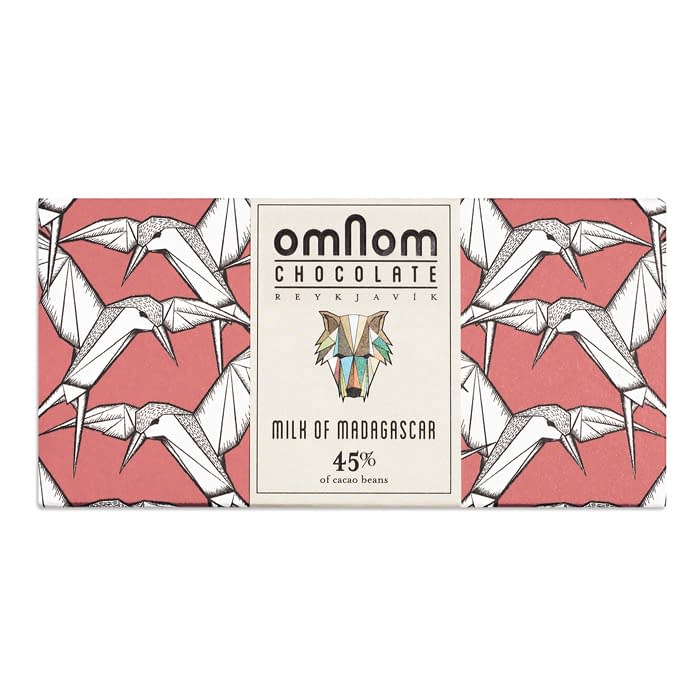 Omnom – Milk of Madagascar 45%
£7.95
In stock
Description

The Madagascan Milk from Omnom is such a contrast to their dark chocolate bars. They've coaxed wonderfully mellow caramel notes from the beans, to produce a standout milk chocolate. Often milk chocolate doesn't have as clean a snap, and this intensely sweet, silky bar is sure to please anyone with a sweet tooth. We also think you can detect some of the characteristic slightly fermented texture of the Icelandic milk in this bar.

This bar was a Silver Award Winner at the International Chocolate Awards World Final 2015. It also won Bronze at the Academy of Chocolate Awards 2015.

Additional information

3 reviews for

Omnom – Milk of Madagascar 45%

Harriet M.

February 25, 2021

takes a while to open up, milk and coffee, slow to melt so lasts a long time - a small piece is enough

Marcus A.

June 17, 2020

A fantasticly good milk chocolate. Obviously it is sweet but I have to try really hard to stop myself eating more than a quarter of a bar at a time and I quite often fail to do so. VERY expensive but I continue to buy it.

Dina A.

April 27, 2015

Very sweet, very milky, with slight red fruitness to it.Perfectly pleasant but I couldn't have more than two pieces at a time, definitely one for serious milk chocolate lovers.

Nutritional info coming soon.

Allergens coming soon.

Ingredients coming soon.
You need to be logged in to post a review.
Maker description
Born of a true passion for fine food, Omnom is one of Iceland's first small batch artisan chocolate makers. Read more about Omnom