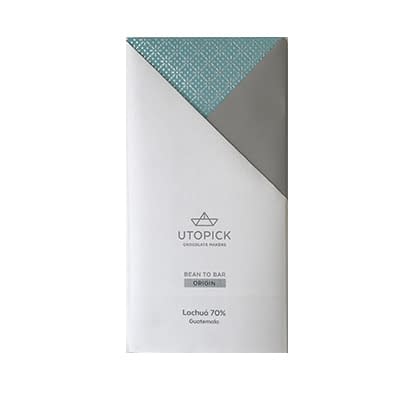 Utopick – Chivite, Guatemala 75% Dark
£6.95
Out of stock
Description

About the Beans

The San Juan "Chivite" community is based on a 180-hectare cacao farm. The farm's original owner had abandoned its land during the Guatemalan civil war in the 1980's. The 65 families who were workers of the farm at the time seized the farm in 1985. In 2002, the families converted an area of the farm that produced coffee over to cacao, and as the community has grown from 64 to 125 families today, cacao cultivation remains the source of over 90% of the community's income.  (Uncommon Cacao)

About the Maker

A bean-to-bar chocolate adventure is the product of a life time of culinary devotion for Valencia based chocolatier Paco Llopis. The son of patissiers at the helm of the Valencia institution Pastelería Llopis in Alzira, Paco's initiation into the realms of confectionery was a somewhat magical one, living above the kitchens of the family business providing a constant and immersive source of experimentation and inspiration. It wasn't long before his attention turned to chocolate, eventually becoming a master chocolatier with a truly impressive professional trajectory including the kitchens of some of Europe's most prestigious restaurants and chocolateries. Paco's mission is simple: to create the best and most surprising chocolates that have ever been. It's no surprise then that, in collaboration with his wife, designer Juana Rojas, he embarked upon a voyage into the world of craft chocolate.  With an extraordinary range of single origin chocolate bars, all wrapped up beneath an exquisite origami boat reminiscent of the Spanish voyages that brought cacao to Europe in the sixteenth century, Paco invites you to pick your very own Utopian chocolate!

Tastings Notes

This bar bears Utopick's signature silky smooth texture and melt. Upon taste, the bar delivers a flavourful and aromatic bouquet. With liquorice, aniseed and aromatic spices, the silky melt uncovers a delightful surprise of virtually no bitterness and little astringent.

Additional information

Click on any underlined term to see more products

| | |
| --- | --- |
| Weight | 75 g |
| Type of Chocolate | |
| Maker | |
| Maker Country | |
| Cocoa Percentage | |
| Bean Origin | |
| Ingredients | |

1 review for

Utopick – Chivite, Guatemala 75% Dark

Mairi R.

February 8, 2020

This is the best bar of chocolate I have tasted in a long time. It has a very interesting character, hardly any bitterness and also extremely smooth. Not to mention a very good looking bar too.

Nutritional info coming soon.

Allergens coming soon.

Ingredients coming soon.
You need to be logged in to post a review.
Maker description
Type of Chocolate
Maker Country
Cocoa Content
Bean Origin