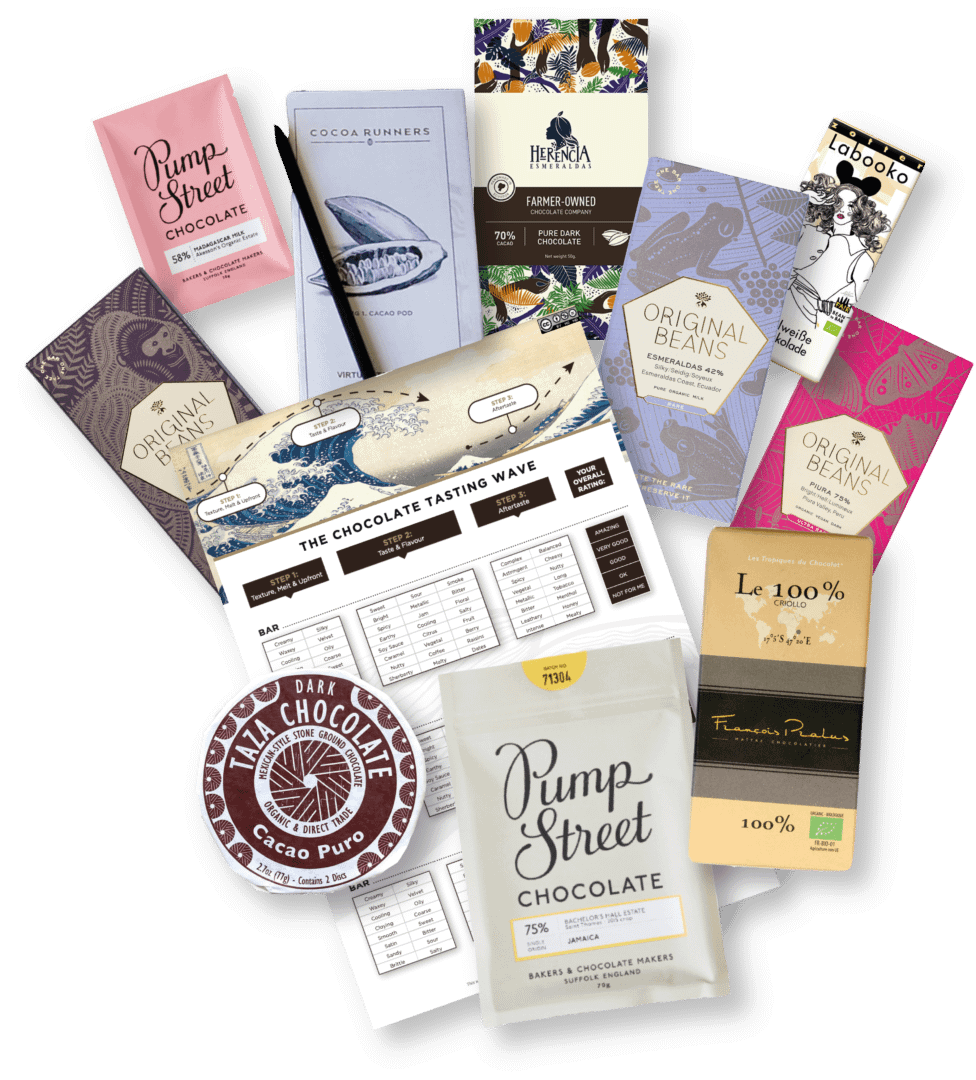 Masterclass Virtual Tasting: Welcome to the Craft Chocolate Revolution!
Our virtual craft chocolate tasting goes well beyond a standard tasting. We want to unlock your palate, so that you know exactly how to taste and savour exceptional chocolates.
How does it work?
Choose between our 3 virtual tasting kits (pair, family, or vegan) and purchase this kit at our checkout to be delivered to your home address.
You will receive nine delicious craft chocolates, a flavour wave, and tasting leaflet in the post.
Once you have received your physical kit, sign up to a tasting on our calendar

here

(tastings happen every week)
Bring along your tasting kit and experience an expert-led tasting, discovering chocolate's history, science, and how it's made.
---
More than just a Chocolate Tasting
The virtual tasting goes well beyond a standard chocolate tasting. Our chocolate experts will guide you through the history of chocolate, how chocolate is made, and the difference between commodity and craft chocolate.
You will receive nine premium craft chocolate bars, each with various histories, bean origins, makers, and stories behind them. If you haven't tried craft chocolate before, these nine bars perfectly exemplify craft chocolate makers' commitment towards provenance and quality.
The virtual tastings are also interactive. For each chocolate, you will be able to discuss your thoughts and tasting notes. There is also plenty of time to ask our experts questions and there is a quiz to finish the event (with brilliant prizes).
---
Looking for our Advanced Virtual Tasting?
If you've already enjoyed our Introductory 'Welcome to the Revolution' virtual tasting and would like to continue on your craft chocolate journey, we have the solution.
Our Advanced Virtual Tasting: Deep Dive into Taste and Flavour provides a further delve into the world of craft chocolate and its fascinating science. We'd recommend attending the 'Welcome the Revolution' Tasting first, but feel free to jump straight to this course.
---
Choose your Kit
Enjoyed By
Enhance your Tasting Experience
We have teamed up with Corney & Barrow to curate this wine kit, pairing perfectly with each of our virtual tasting chocolates.
Meet Your Hosts
FAQs
How can I arrange a virtual tasting?

Click on the tasting experience that interests you most from the above selection and, once you're sold on whichever package you'd like, purchase the appropriate kit. Links and further details will then be sent to you, asking you to sign up to whichever tasting you'd like at our calendar here.
Can we choose the date for the tasting?

The dates available for different tastings vary. See our tastings calendar for a comprehensive list of tastings and when you can book them. Tastings happen every week.
How long do virtual tastings last?

Sessions last for about an hour and half, including a quiz and Q&A at the end. Sessions can be a bit longer or a bit shorter depending on how interactive your group is. You are also free to leave at any point.
Can we choose bars to go into the tasting?

We use a specifically curated collection of bars for our tasting sessions to best illustrate the world of craft chocolate. We don't offer an option to edit these, but we're confident that they will have everything you need for the best experience
Is there a delivery charge?

There is a shipping fee for each individual tasting kit. Deliveries within the UK are charged at £3.95 each and deliveries outside of the UK cost between £7.95 and £9.95 depending on location. All kits are sent via tracked delivery.