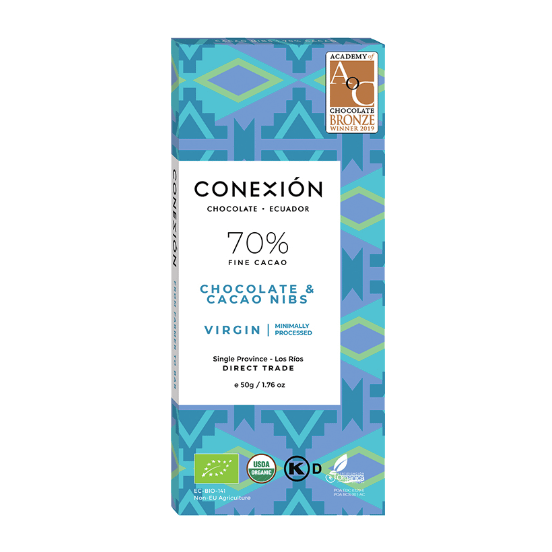 Conexion – Virgin Dark 70% with Cacao Nibs, Apovinces
£4.95
This bar, made especially for Cocoa Runners, is Ecuadorian through and through. Intense, crunchy nibs play off against the lightly fruity flavour profile of these fantastic beans.
In stock
Description

TASTING NOTES

The beans for this bar, sourced from the famous Apovinces Cooperative in Los Rios, Ecuador, have been flash roasted in order to highlight their fantastic natural flavour profile. The lightly floral aroma and fruity flavours (look out for hints of green apple) are accentuated by the addition of cacao nibs, giving a great crunch and intense chocolatey hits.

ABOUT THE MAKER

Conexión Chocolate exclusively crafts chocolate with Ecuador's fine-flavour Arriba Nacional cocoa beans. Founded by Jenny Samaniego in 2016, it partners with young farmers, who face uncertain futures and often have to migrate to Ecuador's cities to make a living. Jenny has also launched a profit sharing program in partnership with these farmers, demonstrating once again her pride in Ecuador and determination to help its cocoa farmers thrive.

Additional information

| | |
| --- | --- |
| Weight | 50 g |
| Type of Chocolate | |
| Maker | |
| Maker Country | |
| Bean Origin | |
| Icons | |
| Cocoa Percentage | |

Reviews

There are no reviews yet.

Nutritional info coming soon.

Allergens coming soon.

Ingredients coming soon.
You need to be logged in to post a review.