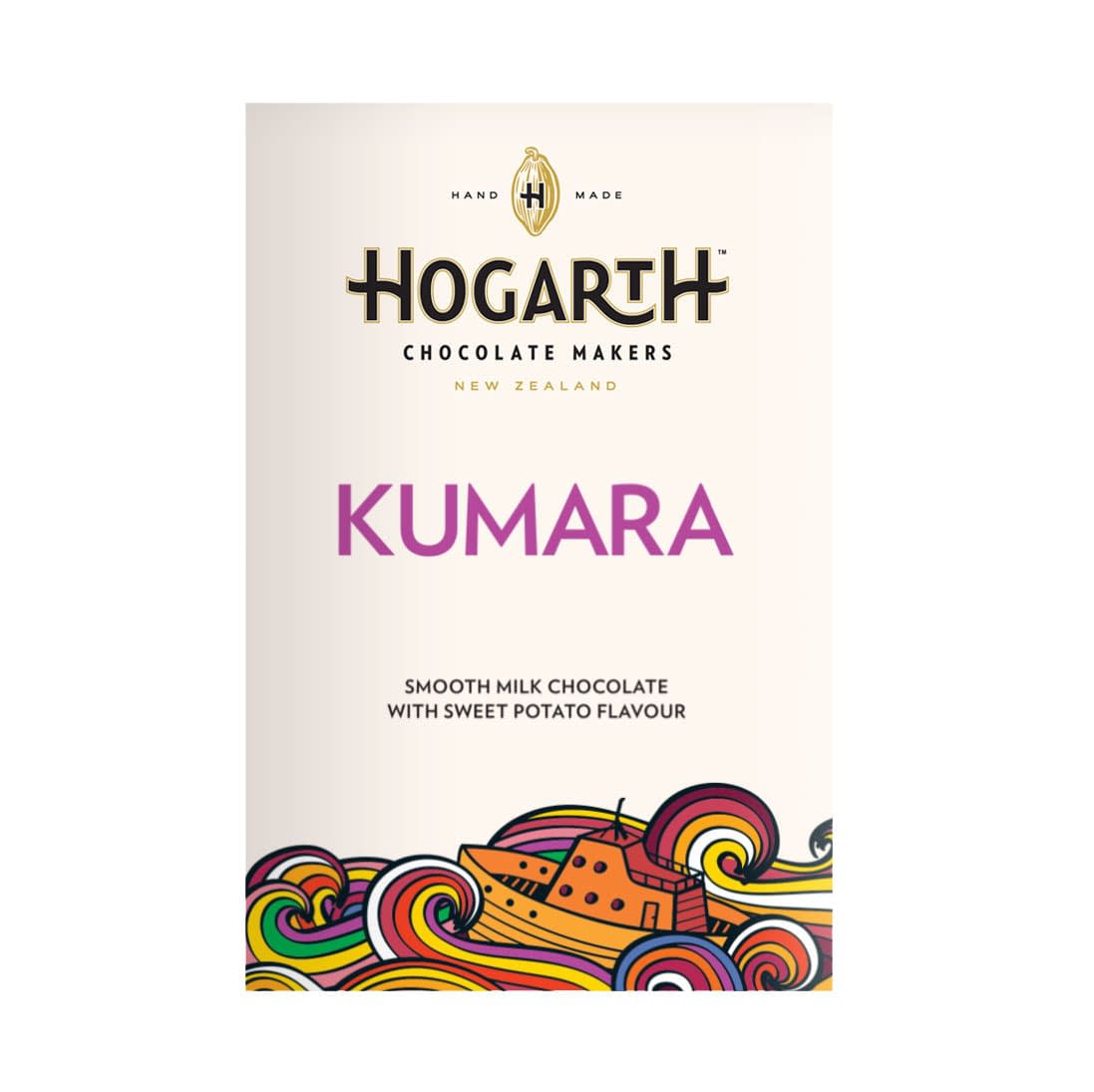 Hogarth – Peru 45% Milk with Sweet Potato Crisps
£7.95
This Peruvian milk chocolate, flavoured with local New Zealand sweet potatoes, is full of caramel and fruity notes.
In stock
Description

TASTING NOTES

Kumara, or sweet potatoes, are a prominent crop in New Zealand. So it was only natural that Karl and Marina would decide to flavour their Peruvian milk chocolate with sweet potato crisps from their friends Ned and Mina at Proper Crisps. Expect caramel and fruity notes in this deliciously smooth milk chocolate.

"So tasty, so creamy, so smooth and so good, I was seduced before I knew what was happening. Thank goodness the bar was 'only' 70g." – Annalisa Barbieri in The Guardian, 7th March 2021

ABOUT THE MAKER

Karl Hogarth began a nautical career as a 15-year-old deck boy before becoming captain and moving into the gas and oil industry. He discovered chocolate in Guatemala, and was amazed at the variety of flavours he encountered. He soon decided to make his own chocolate in his shed and sell it at the local farmers' market in Nelson, New Zealand, where he lives with his wife, Marina. He was amazed at the reception, and Hogarth Chocolate was born. Now popular around the world, Karl and Marina love experimenting with new flavour combinations, which they continue to try out at the Nelson farmers' market every Saturday morning.

THE BEANS

These Gran Nativo Blanco beans were sourced from the Piura Valley of northern Peru. Rediscovered in 2008, the varietal was reintroduced to the region with the help of the Norandino Cooperative, founded in 1995 and now serving over 7,000 smallholder cocoa, coffee, and sugar farmers.

Additional information

Click on any underlined term to see more products

| | |
| --- | --- |
| Weight | 70 g |
| Type of Chocolate | |
| Maker Country | |
| Maker | |
| Bean Origin | |
| Cocoa Percentage | |
| Cocoa Content | |
| Icons | |
| Lifestyle and Diet | |

2 reviews for

Hogarth – Peru 45% Milk with Sweet Potato Crisps

Dean F.

June 6, 2021

Simply incredible, not just in taste but as an experience. I first heard about this chocolate bar from a Guardian news article titled: 'Truly unusual flavours from the far side of the world' and decided to buy this as a present for my partner (who, as you can guess, likes sweet potato). She and I loved it; you are first wondering and trying to make sense of the smell and taste but very quickly that sweet potato flavour comes knocking. The flavour combination is amazing and tasting that sweet potato while eating this chocolate bar was an incredible experience, it is so unique. I and my partner would highly recommend this product.

Ben S.

January 29, 2021

Very sweet, even by milk chocolate standards

Energy
2440kJ/583kcal
Fat
40.8g
of which
- saturates
21.6g
Carbohydrates
50g
of which
- sugars
38.5g
Protein
6.4g
Salt
0.066g

Allergens

Milk, nuts (traces)

Ingredients

Cocoa beans, sugar, cocoa butter, kumara crisps, skim milk powder
You need to be logged in to post a review.
Maker description
Type of Chocolate
Maker Country
Bean Origin
Cocoa Content