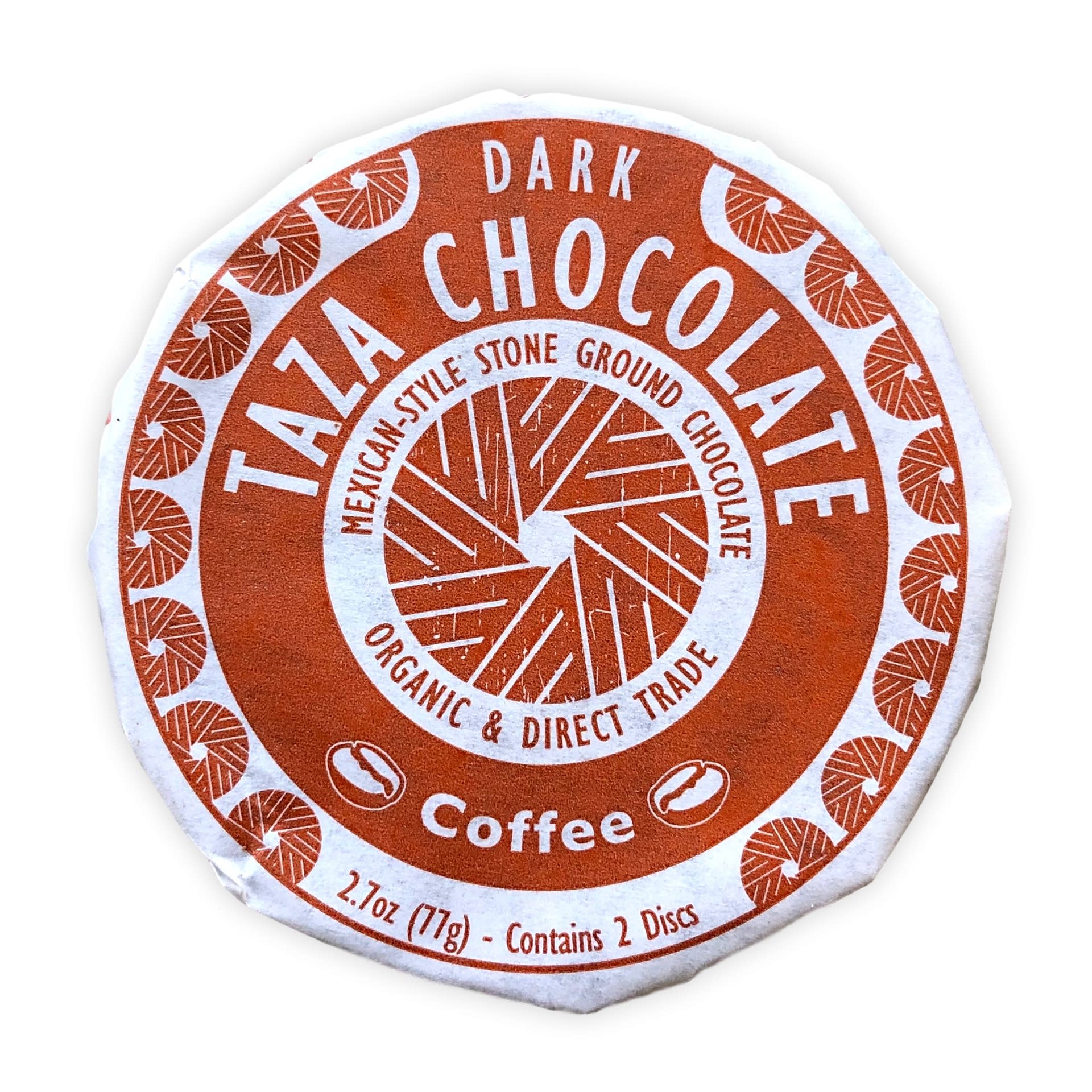 Taza Chocolate – Mexicano Coffee
£5.95
In stock
Description

For this 55% dark chocolate bar, Taza have incorporated Counter Culture's fresh roasted Direct Trade coffee. Counter Culture custom-roasts the coffee beans ever so slightly darker to create a perfect match between the rich chocolatey notes and the natural nuttiness of its coffee beans. Don't be fooled by the delicate coffee aroma, this is a deep flavour experience.

Here's a chocolate that may be a little different from anything you've tried before. For Massachusetts-based Taza, when it comes to making chocolate, doing less brings more when it comes to allowing the complex flavours of cacao to shine. Their style of craft chocolate is much closer to the kind of chocolate you might have found 150 years ago, still popular today in Mexico and some parts of South America. This is because Taza prides itself on being stone ground and unrefined; whilst many chocolate makers spend days on end refining and conching their products until smooth, Taza simply grinds its organic cocoa beans with cane sugar and spice in a traditional Mexican stone mill called a molino.

The minimal processing involved in creating Taza's stone-ground chocolate gives a finished product with a satisfyingly coarse, almost biscuity texture and a sweet flavour that lets you taste the bold flavours of the cocoa, sugar and spices individually.

Taza is proof that chocolate can change lives, producing its stone-ground chocolate using the very same traditional techniques that inspired its founder Alex Whitmore (one of Zip Car's earliest employees) to become an apprentice to an authentic molinero whilst on holiday in Oaxaca. But it also transforms the lives of the cacao producers that it works with, buying from farmers directly in a Direct Trade model that enables farmers to receive a price above even Fair Trade levels. Taza truly is chocolate with a conscience.

Additional information

3 reviews for

Taza Chocolate – Mexicano Coffee

Graham S.

February 21, 2021

I really enjoyed this bar amazing texture and great flavour.

Fiona E.

June 17, 2020

I usually buy the cinnamon (also great) but thought I would try this. The coffee flavour is subtle, but I think really works - you can still taste the chocolate, so it enhances rather than overpowers. Love the texture and the taste. The stoneground texture is great. some have said gritty, I would not agree. I think it really adds something. As a dark chocolate this is not as bitter as you might expect, which suits me. Will be buying again.

penny a.

February 18, 2019

slightly apprehensive after the description above, but needn't have been. This is delicious and just the right (small) wish size to convince yourself you're not being greedy if you eat it all. Really pleasant gritty texture and coffee flavour and beautiful packaging.

Nutritional info coming soon.

Allergens coming soon.

Ingredients coming soon.
You need to be logged in to post a review.
Maker description
Based in Massachusetts and famous for their traditional style unrefined & stone ground chocolate, Taza make unique chocolate bars that everyone should try. Read more about Taza Chocolate