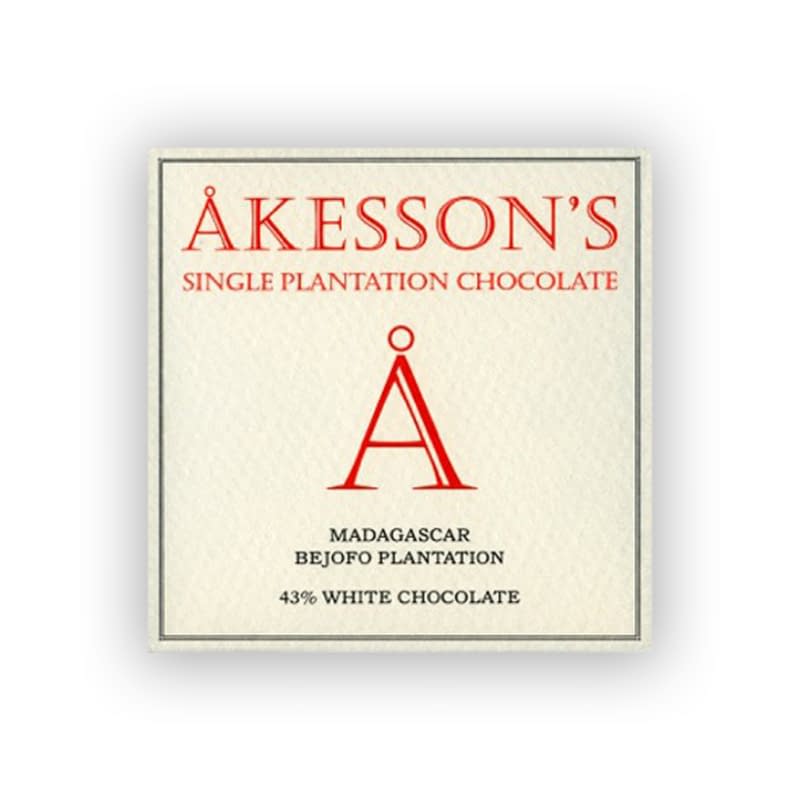 Akesson's Madagascar White 43%
£5.95
Discover the deep chocolatey flavour of the world's first ever single-estate white chocolate bar, with this artisanal creation from renowned maker Åkesson's.
In stock
Description

TASTING NOTES

The first ever single-estate white chocolate bar, this delightful creation from Åkesson's uses undeodorized cocoa butter to retain the natural flavours of the butter. The result is a smooth and creamy bar with hints of smokiness and a deep chocolatey flavour rarely found in white chocolate.

Bertil presses the cocoa butter from his beans in Madagascar, and then crafts the bars in France. Unlike most white chocolate bars, he does not "deodorise" the butter. Rather Bertil relies on the finest ingredients to create a wonderful "toasted" white, with caramel and creamy notes.

ABOUT THE MAKER

Bertil Åkesson is one of the true heroes of the bean-to-bar market. He has pioneered the direct sale of his single-estate beans to over 300 chocolate makers all over the world and has crafted his own range of award-winning bars. Born to a Swedish diplomat father and a French mother, Bertil grew up in Madagascar, where his family settled in the 1970s. His father established a number of cocoa and spice plantations on the island, which Bertil has since expanded.

Bars made with Bertil's beans have won a long list of accolades and prizes all over the world, and this lively and expressive single-origin bar is no exception. Awards for this bar include Gold at the 2016 Great Taste Awards and Gold at the 2017 International Chocolate Awards. This bar hails from Åkesson's Bejofo Estate in the celebrated cacao producing valley of Sambirano, northwest Madagascar, a favourite source of beans for many of the world's best chocolate makers and chefs.

Additional information

Click on any underlined term to see more products

3 reviews for

Akesson's Madagascar White 43%

Ben S.

September 26, 2020

I suspect that people who like white chocolate would really enjoy this bar. But compared to some of the other chocolates around - including from Akesson's - it doesn't stand out

Simon T.

November 5, 2018

I was disappointed with this. I thought it was one step up from Milky Bar. It's a quality product but not enough flavour in it for me.

Michael A.

March 4, 2016

This piece of chocolate is the Performing Arts of chocolate, meaning in every palatable sense, it's taste, and flavor sang a beautiful falsetto. Rather than the milk and sugar having a disagreement with being paired with cocoa butter that is true to itself, and unplugged (deodorized), Akesson has developed a way to let these three ingredients sit down and have a meeting thus finding a happy medium so that one or the other won't be upstaged. Akessons white chocolate is definitely top spot, in line with non deodorized competitors that co exist in the world of fine white chocolates. Thank You, and God Bless/Best Regards

Energy
2602kJ/622kcal
Fat
47.6g
of which
- saturates
0.0306g
Carbohydrates
36.9g
of which
- sugars
34.92g
Protein
11.42g
Salt
0.011g

Allergens

Milk, nuts

Ingredients

Fine organic madagascan cocoa butter 43% min, organic milk powder, organic cane sugar
You need to be logged in to post a review.
Maker description
Cocoa grower Bertil Åkesson's father was a Swedish diplomat before starting a trading company and traveling the world before settling in Madagascar. Read more about Åkesson's
Type of Chocolate
Maker Country
Cocoa Content
Bean Origin