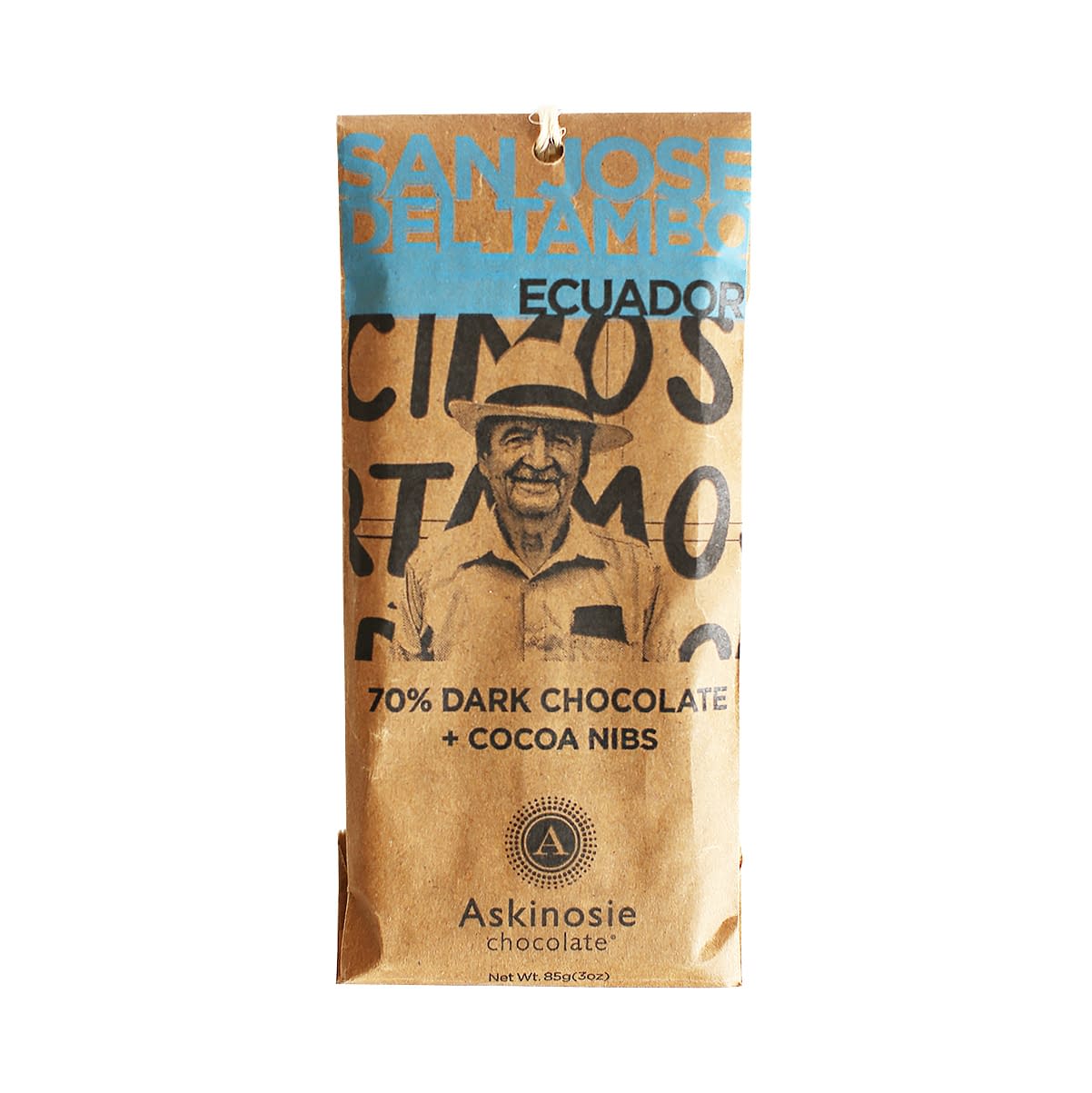 Askinosie – San Jose Del Tambo 70% with Cocoa Nibs
£9.95
A luxury dark chocolate bar with cocoa nibs included, created by bean to bar maker Askinosie.
In stock
Description

Askinosie handcraft this single origin 70% dark chocolate (68% cocoa liquor and 2% cocoa butter, pressed in their own cocoa presses) with cocoa beans sourced directly from farmers in San Jose Del Tambo. Askinosie then add San Jose Del Tambo roasted cocoa nibs to the back of their bar. The cocoa nibs are from the same batch of beans used to make the bar itself, so in just one bite you can taste the entire story from sourcing to production.

As with all Askinosie bars, each square has a letter (from ASKINOSIE) printed on it, so as you break up the bar it provides a great tool to practise your spelling.

This is a wonderfully punchy bar of chocolate, with tonnes of berry jams, and some woody afternotes

Additional information

| | |
| --- | --- |
| Weight | 85 g |
| Type of Chocolate | |
| Maker | |
| Maker Country | |
| Cocoa Percentage | |
| Bean Origin | |
| Bean Variety | |
| Certifications | |
| Icons | |

2 reviews for

Askinosie – San Jose Del Tambo 70% with Cocoa Nibs

Farrah L.

December 28, 2018

Delicious... the perfect balance of honey floral sweetness & crunchy bursts of flavour-packed nibs

NC M.

July 23, 2018

The gutsiest chocolate ever! This has rich deep flavours like a really fine port with the added oomph of crunchy nibs.

Energy
2364kJ/565kcal
Fat
37.6g
of which
- saturates
23.5g
Carbohydrates
47g
of which
- sugars
23.5g
Protein
7g
Salt
0.02g

Allergens coming soon.

Ingredients

Cocoa beans, organic cane sugar, roasted cocoa nibs, cocoa butter
You need to be logged in to post a review.
Maker description
Based in Springfield, Missouri and founded by former defence lawyer Shawn Askinosie, Askinosie Chocolate is one of the pioneers of the American bean-to-bar movement. Read more about Askinosie Chocolate