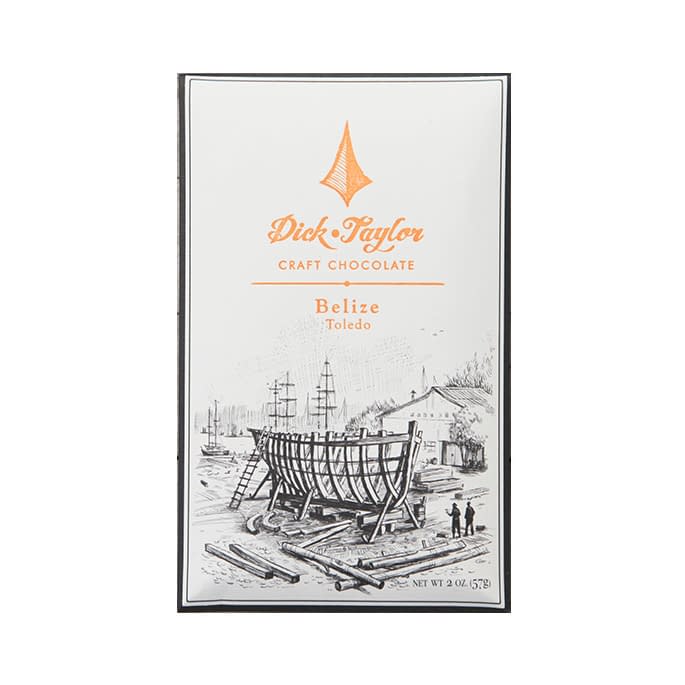 Dick Taylor Belize Toledo 72%
£9.95
A flavourful green and fruity dark bar with subtle hints of floral notes and dried fruits.
In stock
Description

This 72% dark chocolate bar immediately delivers a wave of roasted and green flavours, followed by slightly fruity notes with particular hints of citrus. We also detected some nuanced floral and dried fruit notes, creating a rounded and flavoursome tasting experience.

Adam and Dustin source their cacao from Toledo, southern Belize, through the Maya Mountain Coop. They work tirelessly to ensure that top quality cacao is paid for fairly, profoundly impacting upon the lives of the farmers they work with. Their model is simple: connecting Belizean smallholder farms with craft chocolate makers, building long term partnerships in a transparent supply chain. Producers are paid fairly, through a direct trade model that eliminates the middle man. After harvesting, the beans are transported from farms
to a centralised fermentation facility constructed by the cooperative to ensure consistency in fermentation and drying processes, before being hand sorted for quality by locals prior to shipping. This creates a value added component to the beans for local economies; by carrying locally out more of the processes necessary to create chocolate from the cacao, more jobs are created and the beans will have a higher value, having already progressed through many of the essential stages for chocolate production.

As an added bonus, this bar might just be the prettiest bar you'll ever eat, the delicate moulding reflecting an artistry and craftsmanship that harks back to Adam and Dustin's noble former profession of boat building. In fact, craft was a guiding principle, in addition to a love of tactile endeavours, in leading them in 2010 to join the craft chocolate revolution that was gaining momentum. Seeking to "reinvent the chocolate experience" by showcasing the subtle nuances in flavour that can be captured from the finest cacao across the world, today Adam and Dustin operate out of their small factory in Eureka, California where they pride themselves on a simplicity of ingredients and a long and meticulous production process.

Additional information

Click on any underlined term to see more products

| | |
| --- | --- |
| Weight | 57 g |
| Type of Chocolate | |
| Maker | |
| Lifestyle and Diet | |
| Maker Country | |

1 review for

Dick Taylor Belize Toledo 72%

Ben S.

September 26, 2020

Energy
2520kJ/602kcal
Fat
42.3g
of which
- saturates
24.7g
Carbohydrates
49.3g
of which
- sugars
31.7g
Protein
9g
Salt
0.01g

Allergens coming soon.

Ingredients

Organic cacao, organic cane sugar
You need to be logged in to post a review.
Maker description
Originally carpenters making wooden boats, Dick Taylor is a company focused on change. After making the move from boats to chocolate, they turned their attention to making the finest fair-trade organic chocolate from their small factory in California. Read more about Dick Taylor Craft Chocolate
Type of Chocolate
Bean Origin
Cocoa Content
Maker Country