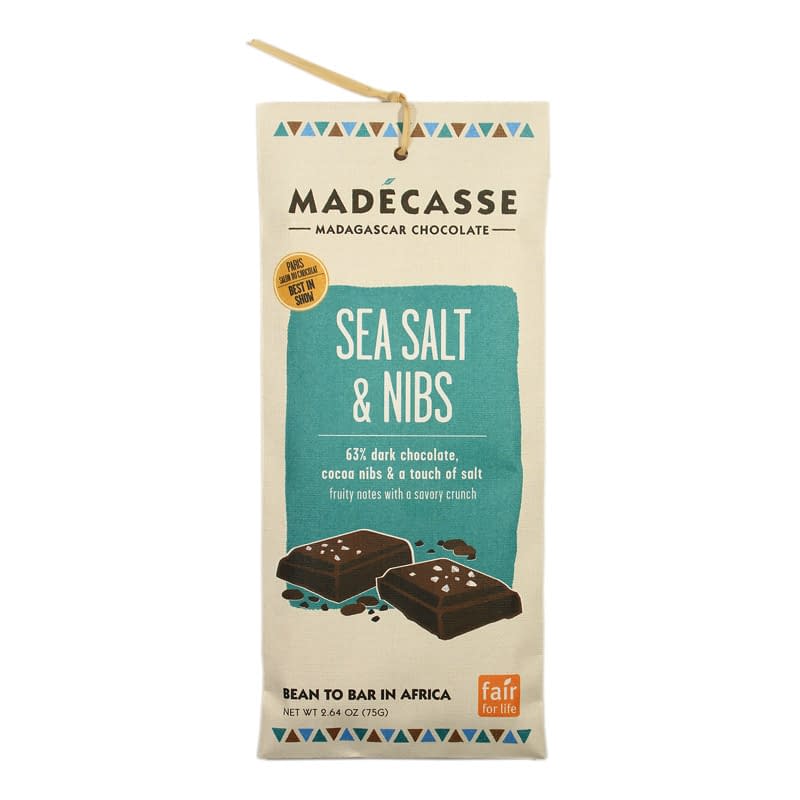 Madecasse Sea Salt & Nibs
Description

Unfortunately this bar is no longer available in our Library. Please see below for four bars that we think you will enjoy.

Madécasse's founders, Brett Beach and Tim McCollum, met as Peace Corps volunteers in Madagascar. Struck by the fact that while over 65% of the world's cocoa is grown in Africa, less than 1% of chocolate is made there, they set about producing chocolate on the island to help the local economy. Partnering with local cocoa farmers and a factory in the capital Antananarivo, they produce chocolate that has around four times the benefit of Fair Trade.

This is a 63% dark chocolate made with a generous helping of cocoa nibs and a touch of sea salt. It features a rich and fruity flavour that's intensified by the salt, and a satisfying crunch from the nibs.

Additional information

Click on any underlined term to see more products

| | |
| --- | --- |
| Weight | 75 g |
| Type of Chocolate | |
| Maker | |
| Maker Country | |
| Cocoa Percentage | |
| Bean Origin | |
| Dietary Information | |
| Archived Maker | |

1 review for

Madecasse Sea Salt & Nibs

Natasha H.

May 23, 2014

Quite pale coloured for a dark chocolate, and there's something a touch vegetal (smoked peppers?) about the chocolate...The salt is quite nicely balanced, though, leaving an overall impression of sweet fruit on the palate. Have tasted better salted chocolate bars though...

Nutritional info coming soon.

Allergens coming soon.

Ingredients coming soon.
You need to be logged in to post a review.
Maker description
This maker is no longer available from Cocoa Runners
A truly ethical chocolate made from the bean at source in Madagascar. Read more about Madécasse
Type of Chocolate
Maker Country
Cocoa Content
Bean Origin