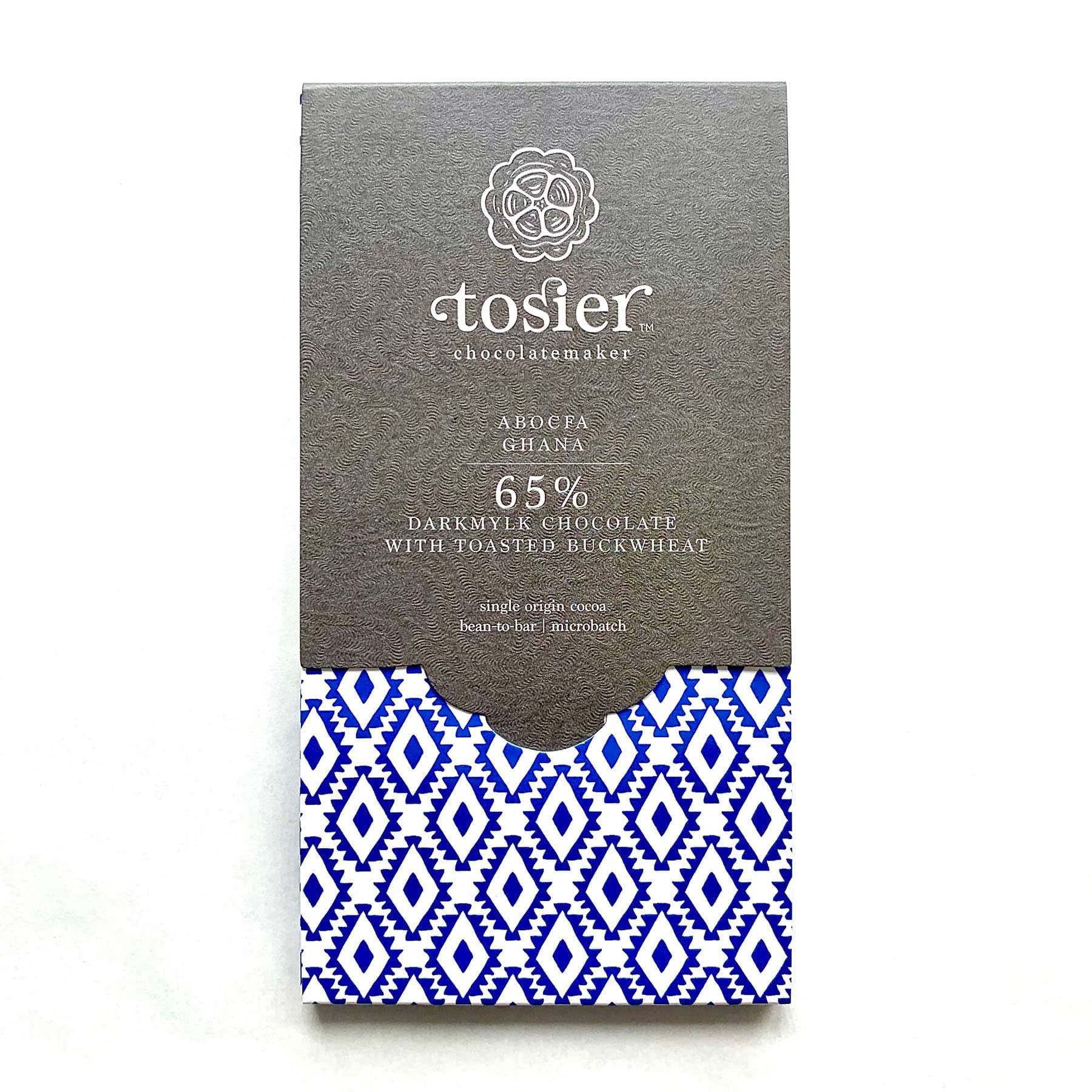 Tosier – ABOCFA, Ghana 65% Dark Mylk with Toasted Buckwheat
£6.95
This vegan, gluten-free dark milk chocolate has all the classic characteristics of a dark milk, with creamy fudgy notes and a lovely deep nuttiness on the finish.
In stock
Description

TASTING NOTES

This vegan dark milk bar is made using toasted buckwheat (sometimes known as "kasha") as a milk substitute. It has all the classic characteristics of a dark milk bar, with creamy fudgy notes and a lovely deep nuttiness on the finish. (It's also gluten-free, as buckwheat is not a grain but a seed!)

Annalisa Barber wrote in her column Notes on Chocolate for The Guardian, this bar has:

"a glorious nutty, toasted bread taste, which almost has a Horlicks finish. I've yet to find a Tosier chocolate that I don't love and the flavours are so complex and refined"

ABOUT THE MAKER

Deanna Tilston launched Tosier in Suffolk in 2017 as part of her personal journey to learn about and craft great-quality chocolate. This endeavour has turned into an award-winning chocolate maker dedicated to giving farmers a fair price as part of a transparent and traceable supply chain. Tosier's chocolate is made in twenty-four-kilogram batches, allowing Deanna to keep a close eye on each step of the chocolate-making process. It also means that no batch of chocolate Deanna makes will ever be quite the same; each batch and harvest that Tosier receives has different characteristics. We think this variety is part of the beauty of craft chocolate.

 

THE BEANS

The beans in this bar were grown by the folks at ABOCFA, a 13-village farmer cooperative in Ghana known for producing some of the highest quality traceable cacao in the country. Unlike in other cocoa cooperatives, the beans at ABOCFA are not centrally fermented, so each farmer must be taught the best practices for fermenting and drying. The program has been successful, though, because ABOCFA beans are known the world over for making great-tasting chocolate.

Additional information

Click on any underlined term to see more products

| | |
| --- | --- |
| Weight | 60 g |
| Maker | |
| Maker Country | |
| Bean Origin | |
| Cocoa Percentage | |
| Cocoa Content | |
| Type of Chocolate | |
| Lifestyle and Diet | |

Reviews

There are no reviews yet.

Nutritional info coming soon.

Allergens

Peanuts (traces), nuts (traces)

Ingredients

Cocoa beans, unrefined cane sugar, cocoa butter, toasted buckwheat
You need to be logged in to post a review.
Maker description
Maker Country
Bean Origin
Cocoa Content
Type of Chocolate