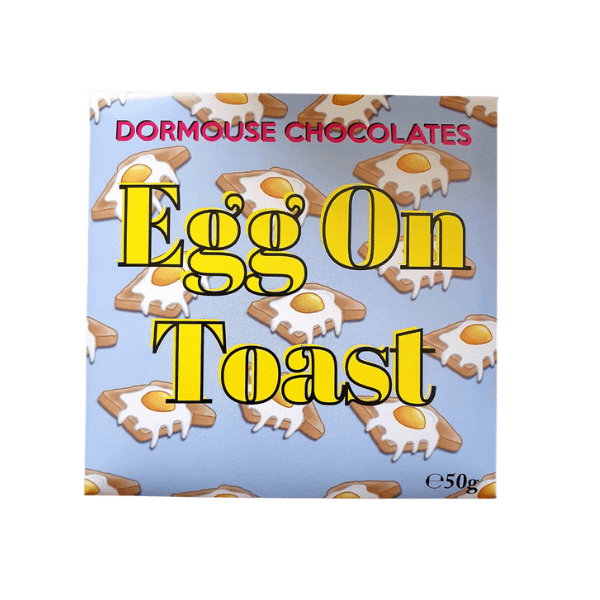 Dormouse – "Eggs on Toast" Milk and White Chocolate
£6.00
A limited edition milk and white chocolate bar from Manchester based maker Dormouse, created as a playful nod to a breakfast classic, "egg on toast".
Out of stock
Description

TASTING NOTES

This Easter limited edition bar from Dormouse is as visually striking as it is delicious.  The 'toast' is created from a 51.5% Guatemalan milk chocolate which has been blended with browned butter and toasted sourdough, that Isobel and Karen have sourced locally in Manchester.  This is then topped with a white chocolate and peach egg, created from Madagascan white chocolate.  Enjoy your "egg on toast"!

ABOUT THE MAKER

Dormouse is a one-woman bean-to-bar craft chocolate maker, established in Manchester in 2014. Isobel, the founder, started her chocolate journey as a student temp at a luxury chocolate shop, before becoming a bean-to-bar chocolatier and eventually investing in her own equipment. She crafts and hand-wraps every bar herself, and has built a strong reputation for her experimental and limited edition bars.

THE BEANS

This 'toast' element of this bar is crafted from Guatemalan Lachua cacao, while the 'egg' is created from Madagascan cacao butter.

Additional information

| | |
| --- | --- |
| Weight | 50 g |
| Type of Chocolate | |
| Bean Origin | |
| Maker | |
| Maker Country | |
| Cocoa Percentage | |
| Icons | |

1 review for

Dormouse – "Eggs on Toast" Milk and White Chocolate

Claire H.

March 24, 2021

Great novelty yet tasty item

Energy
2418kJ/576kcal
Fat
40.6g
of which
- saturates
25g
Carbohydrates
36.6g
of which
- sugars
34.7g
Protein
9.6g
Salt
0.9g

Allergens

Milk

Ingredients

Cocoa nibs, muscovado sugar, organic milk powder, cocoa butter
You need to be logged in to post a review.