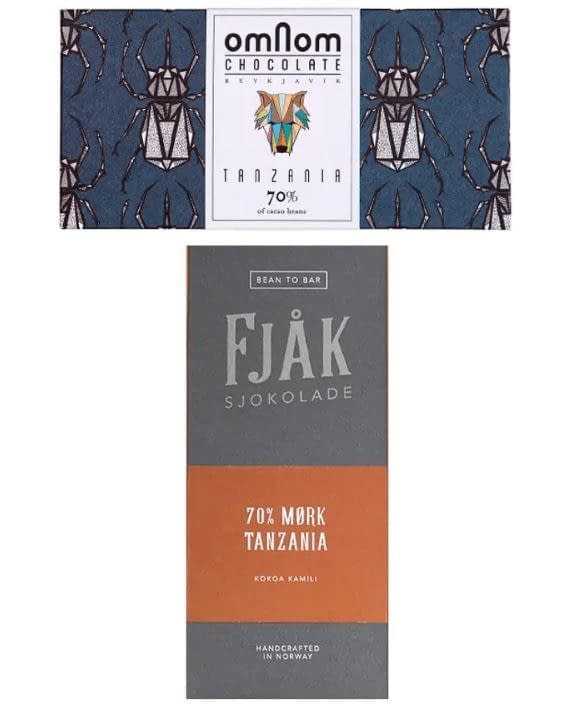 Same Beans – Different Makers – Kokoa Kamili
£12.91
Description

TASTING NOTES

These two bars from are both crafted from the same type of cocoa bean; a Tanzanian variety of amelando fermented by a co-operative called 'Kokoa Kamili', set up by Simran and Brian. These two Scandanavian makers, Fjak and Omnom, have taken these beans and crafted two different bars, each bringing distinct flavour and experience. The Fjak bar has notes of coffee and cardamom amongst a fruity, juicy acidity. The Omnom bar is rich and fruity with layers of damsons, apricots and ripe plums.

ABOUT THE MAKERS

Iceland's first small-batch artisan chocolate maker, Omnom is one of the quirkier makers in our chocolate library. From making their chocolate in a converted petrol station, to their uniquely stylish packaging and unusual flavour combinations, Omnom's creativity and originality shines through in every part of the chocolate making process.

Fjak crafts its small batch chocolate in the depths of Hardangerfjord in Norway. Making chocolate since 2015, it was only late 2017 that Agur and Siv officially launched Fjak. Those two years acted as the experimental stage, where Agur and Siv endeavoured on the pursuit of crafting great chocolate – from ethics to flavour – with the vision of making production scalable from the get go.

Additional information

| | |
| --- | --- |
| Type of Chocolate | |
| Maker Country | |
| Bean Origin | |
| Cocoa Percentage | |

Fjak - Kokoa Kamili, Tanzania 70%

| | |
| --- | --- |
| Weight | 53 g |
| Maker | |
| Maker Country | |
| Bean Origin | |
| Ingredients | |
| Cocoa Percentage | |
| Cocoa Content | |

Omnom - Tanzania Dark

Reviews

There are no reviews yet.

Coming soon.
You need to be logged in to post a review.