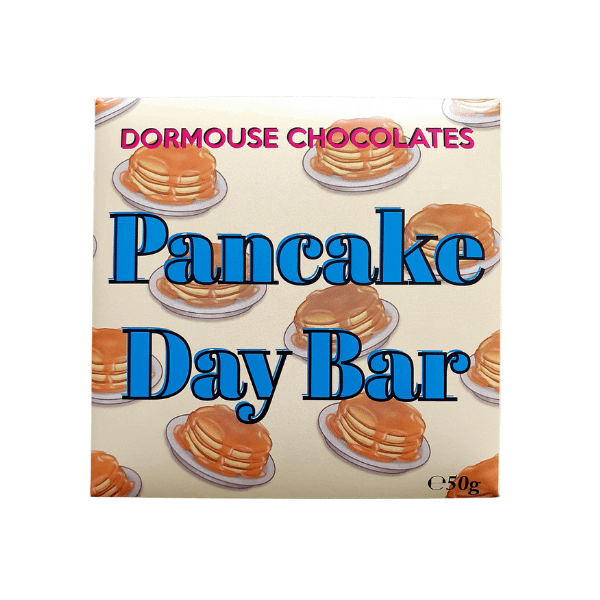 Dormouse – Pancake Day Milk and White Chocolate Bar
£6.00
A limited edition milk and white chocolate bar from Manchester based maker Dormouse, created in tribute to Pancake Day.
Out of stock
Description

TASTING NOTES

The 'Pancake' element of this Easter limited edition bar has been crafted from 55% Guatemalan Cahabon cocoa.  It is rich, creamy and has a subtle crunch, care of the wafer feullitine inclusion.  This has been topped with a drizzle of lemon flavoured white chocolate, and studded with maple candy.  A truly memorable Easter treat.

ABOUT THE MAKER

Dormouse is a bean-to-bar craft chocolate maker, established in Manchester in 2014. Isobel, the founder, started her chocolate journey as a student temp at a luxury chocolate shop, before becoming a bean-to-bar chocolatier and eventually investing in her own equipment. She crafts and hand-wraps every bar herself, and has built a strong reputation for her experimental and limited edition bars.

THE BEANS

The beans in this bar are grown and processed by members of the The Association of Integrated Development "OX EEK" Santa Maria Cahabón (ADIOESMAC) cooperative in the jungled hills of the Cahabón region of Guatemala, these beans are sometimes nicknamed "potato beans" due to their unusually large size.  Serendipity led Isobal and Karen to these beans – they arrived in Manchester  after a slight mix up at the Uncommon Cacao warehouse, but we are glad they reached Isobel and Karen's capable hands.  The white chocolate is created from Madagascan cocoa butter.

Additional information

| | |
| --- | --- |
| Weight | 50 g |
| Type of Chocolate | |
| Bean Origin | |
| Maker | |
| Maker Country | |
| Cocoa Percentage | |
| Icons | |

1 review for

Dormouse – Pancake Day Milk and White Chocolate Bar

Claire H.

March 24, 2021

Energy
2418kJ/576kcal
Fat
40.6g
of which
- saturates
25g
Carbohydrates
36.6g
of which
- sugars
34.7g
Protein
9.6g
Salt
0.9g

Allergens

Milk

Ingredients

Cocoa nibs, muscovado sugar, organic milk powder, cocoa butter
You need to be logged in to post a review.