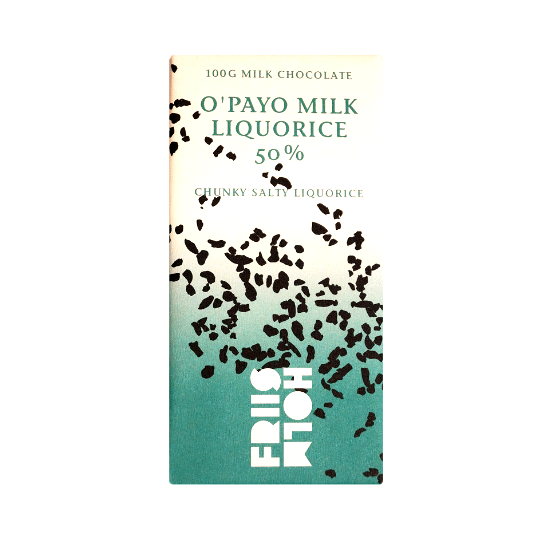 Friis Holm – O'Payo Milk Chocolate with Liquorice
£12.95
Out of stock
Description

Mikkel Friis-Holm, a trained chef and founder of Friis-Holm, has truly made a name for himself in the world of chocolate, namely for his attention to detail and experimental style when it comes to subtle variations in chocolate making.

This milk chocolate bar has been crafted using a blend of Nicaraguan beans from a co-operative in Waslala, in the nature reserve in the mountains of northeastern Nicaragua. Added to the mix is Danish Lakrids licorice from Johan Bülow.

On the palate, expect a rich creamy chocolate with notes of honey against the herbal and distinctly liquorice flavours. The liquorice has some bite, so do expect a chew against this fudgy Friis Holm milk chocolate.

Additional information

| | |
| --- | --- |
| Weight | 100 g |
| Type of Chocolate | |
| Maker | |
| Maker Country | |
| Cocoa Percentage | |
| Bean Origin | |
| Ingredients | |
| Icons | |

1 review for

Friis Holm – O'Payo Milk Chocolate with Liquorice

Lynne S.

December 3, 2020

An interesting mix of flavours.

Nutritional info coming soon.

Allergens coming soon.

Ingredients coming soon.
You need to be logged in to post a review.