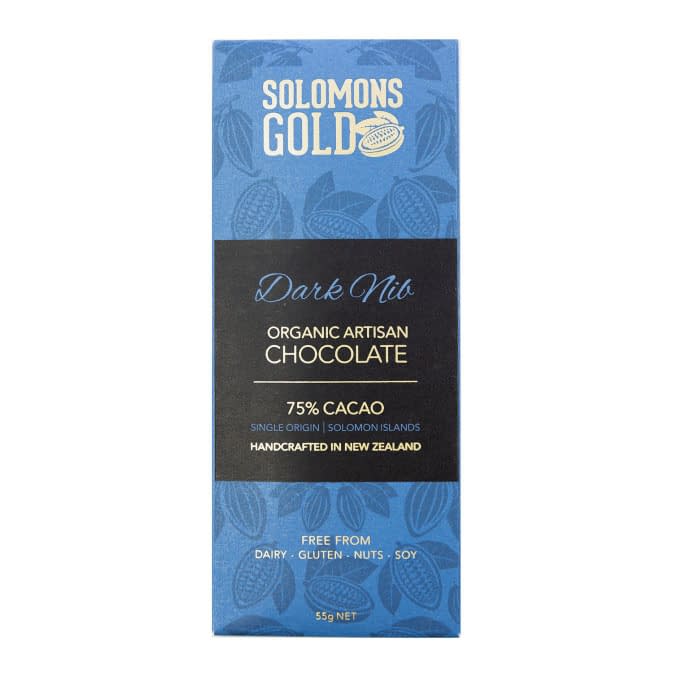 Solomons Gold – 75% Dark with Nibs
£5.95
A smoky and savoury dark made with cocoa beans from the Solomon Islands.
In stock
Description

Solomons Gold second bar, this is similar to the classic dark, but with added cocoa nibs.

An intense and savoury dark chocolate bar, this is perfect for those looking to try something different. The bar has a little fruit, but the overall aroma has a smokey edge. The unique soil climate of the Solomon Isles has produced a bean with a profile that reminds us a little of woodsmoke.

Wooded hints of tobacco, rough leather and saddle soap drift under the smoke. The strong flavours counteract any sweetness, making this an intense and unique tasting experience. The strength of flavour is comparable to much higher percentage bars.

Large crunchy pieces of nibs break up the bar's texture and provide a distinctive contrast to the smooth chocolate.

Lying between Papaua New Guinea in the west and Vanuatu in the southeast, Solomon Islands is made up of 6 main islands and over 900 smaller ones. In the area where the cacao is grown the soil is volcanic. Solomons Gold believe that it is the particular make up of the volcanic soil that give the beans their smokey quality.

Perhaps one of the most interesting chocolate phenomena, this 'smoked chocolate' note is something we are seeing more of. There are a number of cocoa-producing islands in the South Pacific and many of the bars that hail from them have a similar profile. At the same time, each different plantation and islands' own micro-climate has a huge impact on the beans' flavour. So far Solomons Gold has the most pronounced smokiness  of any bar we've tasted.

Additional information

| | |
| --- | --- |
| Weight | 55 g |
| Maker | |
| Bean Origin | |
| Cocoa Percentage | |
| Maker Country | |
| Ingredients | |
| Certifications | |

1 review for

Solomons Gold – 75% Dark with Nibs

Farrah L.

December 21, 2018

Wow, tastes like a nice Smokey scotch with a roasted crunch

Energy
2541kJ/607kcal
Fat
40g
of which
- saturates
26.1g
Carbohydrates
52.4g
of which
- sugars
29g
Protein
9.03g
Salt
0.00245g

Allergens coming soon.

Ingredients

Cacao, organic sugar
You need to be logged in to post a review.