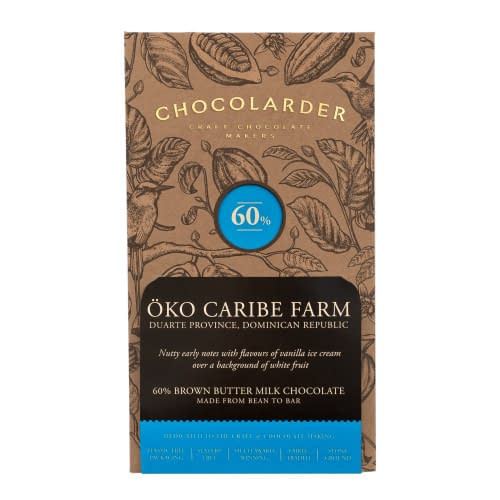 Chocolarder – Oko Caribe, 60% Brown Butter Milk Chocolate
£5.95
In stock
Description

Central to Chocolarder is an ethos of "ethical transparency" which prevails at all stages right from the bean to the bar. Not only is Mike Longman – the founder – dedicated to environmental sustainability, Mike also makes a meaningful commitment to economic sustainability for to the communities at the origins of the cacao that he sources by building meaningful relationships with them in a direct trade model.

For this 60% Brown Butter milk chocolate, the cacao is sourced from Öko Caribe in the Dominican Republic. Öko Caribe cultivate and ferment its cacao in the Duarte province.

Browned butter, as a trend, sees significant spikes in interest during November and December. And rightly so, being a flavour that is so warming and perfect for seasonal bakes. The caramelised and nutty flavour of browned butter harmonises with the fruity and nutty flavours of the Öko Caribe cocoa beans.

Tasting Notes
This 60% Brown Butter milk chocolate revels in coconut, rich, buttery shortbread and sherbet pear-drops. The browned butter flavour is distinct during melt, and the finish lingers a fresh, Cornish vanilla ice cream flavour. The texture of this bar is slightly coarse, signature of Chocolarder's rustic style.

Additional information

| | |
| --- | --- |
| Weight | 70 g |
| Type of Chocolate | |
| Maker | |
| Maker Country | |
| Bean Origin | |
| Cocoa Percentage | |
| Dietary Information | |
| Ingredients | |

3 reviews for

Chocolarder – Oko Caribe, 60% Brown Butter Milk Chocolate

Lucy F.

February 28, 2021

Not sure if I just got a bad batch as my opinion varies so wildly from other reviews, however I was not a fan of this bar at all. It was completely bland and tasted even a little chemical-ly. I was expecting something rich and creamy, but it was just....nothingness? It didn't melt in the mouth like I expected and had hardly any flavour.

Ben S.

September 26, 2020

Best chocolate I've ever tried? Definitely up there! Strikes a really good balance between being intense and moreish

Vicky H.

June 26, 2020

rich, smooth frankly yummy

Nutritional info coming soon.

Allergens coming soon.

Ingredients coming soon.
You need to be logged in to post a review.
Maker description
Chocolarder is a small, truly ethical, and wonderfully innovative bean to bar chocolate maker based in Cornwall, UK. Read more about Chocolarder