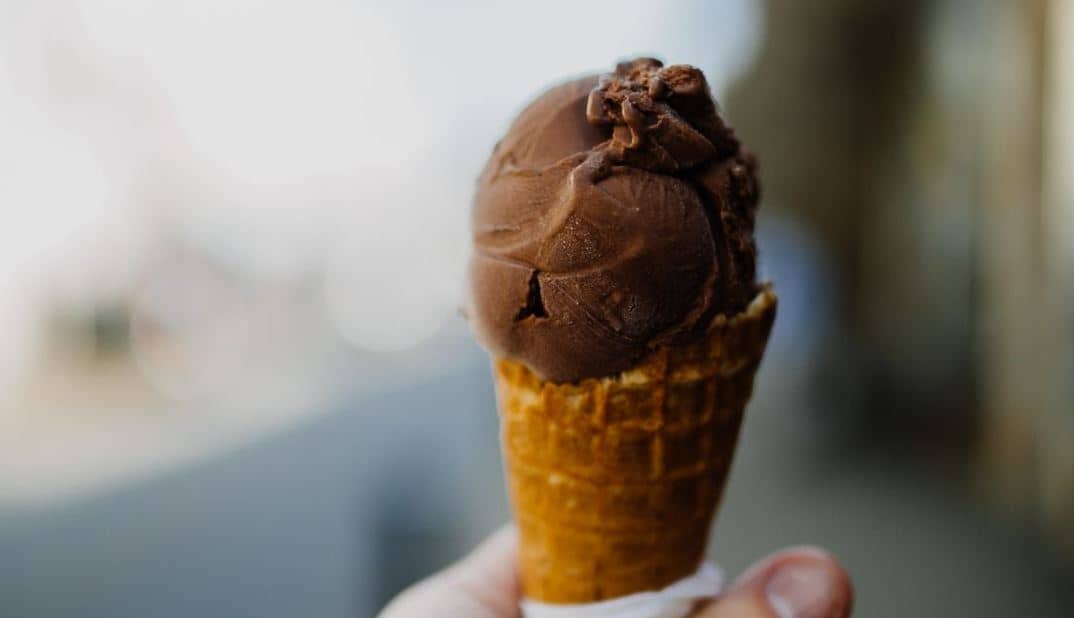 Let's start with a question with a surprising answer (unless you've guessed from the above picture!): Which was the first item, after drinking chocolate, that chocolate was used as a base ingredient and 'cooked' with?
Chocolate Ice Cream?
Chocolate Mousse?
Chocolate Digestive biscuits?
Chocolate Brownies?
Chocolate Cakes?
The answer is chocolate ice cream; we've a recipe dating back to 1692 for chocolate ice cream (it's in the same book that has the first recorded recipe for tomato ketchup). Recipes for chocolate cakes appear about a 100 years later, and the likes of brownies and digestives far more recently (1895 and 1926 to be exact). And even chocolate mousse is a nineteenth century discovery (the artist Toulouse Lautrec is claimed to have written the first recipe for what he called a chocolate "mayonnaise").
This week, on Sunday, we're tasting some great small batch ice creams made with craft chocolate on Channel 4's 'Sunday Brunch' (you can watch it on 'catch up' HERE) and hear why these are so, so great!
And if you want to try any of the three makers (Jack's Gelato, Happy Endings or Lumar), head over to the website HERE for an interactive map showing where their ice creams are for sale (along with where our makers are, plus where you can purchase bars from wine and coffee stores we supply). And if you want to try the bars that inspired these chocolates, and a few other ice cream related bars (for example; the TCHO bar using astronaut ice cream), see HERE and below.
If you want a crash course in the history of ice cream, and why craft chocolate and artisan ice cream makers are soulmates, read on.
A Quick History of (Chocolate) Ice Cream
We've been using ice (and snow) to create ice cold drinks for millennia. We've records from Shiraz in modern day Iran of sharbats being made and stored from around 500BC, and they were also very popular in India during the tenth and eleventh centuries. These were (and are) made from fruits and flower petals which are combined with syrups and then served chilled. And the Greeks and Romans were also partial to similar drinks.
Although it's a neat story, it turns out that Marco Polo did not bring ice cream to Italy on his way back from China. Credit for what we now call sorbet (as opposed to sherbet, ice cold drinks or sharbat) was another Italian, a couple of hundred years later, who found a way to make something colder than ice which could "freeze" stuff into sorbets (and later ice cream). Quite how he discovered this trick isn't recorded. But somehow Giambattista del Porta, a polymath who lived in Renaissance Italy, worked out how to use saltpeter (used to make gunpowder) and snow to freeze sherbert and sharbats (i.e. cold drinks) into what we'd now call a sorbet (an icy substance). Intriguingly, after making various fruit sorbets, Della Porta tried to make various wine sorbets, but because they contain alcohol all he managed to do was create very popular alcoholic slush puppies.
The next key innovation was to move from fruit sorbets (and wine slush puppies) to making ice-cream by trying the same trick of using salt and water to freeze custard (i.e. eggs and milk, and cinnamon, nutmeg, vanilla, etc.). Quite who first worked this out is also unclear, but rapidly this innovation took off. The first recorded recipe comes from an unpublished book written by an Englishwoman, Lady Anne Fanshawe, in 1665 (she'd lived in Spain before then, and that may be where she first discovered "icy cream"), but there are multiple written and pictorial records of people enjoying "icy cream" and "ice custard" before then.
Chocolate ice cream soon followed. And as per the quiz question above, chocolate ice cream is arguably the first example of anyone 'cooking' with chocolate (i.e. combining it with other ingredients to create a meal, treat, etc.). The first recipe we have is from another Italian, Antonio Latini, who, in 1692, produced a book called "The Modern Steward" (Antonio also has a claim for the first recipe for tomato ketchup in this book). Anyway, the key point is that creating chocolate ice cream happened way earlier than the likes of chocolate cakes, brownies, biscuits and even Mexican chocolate moles. And it helped chocolate gain more followers.
Chocolate ice cream was super popular amongst the aristocracy in 17th and 18th century France, Italy and Spain — and chocolate ice cream is a key part of the movement that saw the expansion of simple fruit based sorbets, sherberts and alcoholic slush puppies towards all the amazing ice creams we enjoy today. And then the creation of the "ice trade" and popularity of ice houses in the 1800s in the US really kick started ice cream's sales, moving it from being an elite luxury to mainstream treat for everyone.
The Similarities Between Craft Chocolate and Ice Cream
As I chatted with Max, Terri and Jack about what makes a great ice cream, two obvious similarities in crafting were immediately apparent:
You need great ingredients to make great artisan ice cream; not just great craft chocolate, but also fresh and creamy milk and great eggs. And just as we know the origins of all our makers' beans, a great ice cream maker takes HUGE pride in where they get their milk, cream and eggs from as well as their chocolate (hence why Max uses Land's chocolate, Terri uses Original Beans and Jack uses Pump Street). Provenance is all important, not just for flavour, but also for environmental and ethical reasons. For example, Terri is an avid fan of Original Beans for their commitment to planting a tree for every chocolate bar that they sell, as well as for "the amazing flavour" of OB's Femmes De Virunga, and she is similarly passionate about the milk, cream, eggs, sugars and other ingredients she uses.
You need to be really skilled in and passionate about making ice cream. As with bread, ice cream is best when super fresh, so many ice cream makers have pretty early mornings. And just like craft chocolate, there is a huge amount of craft and skill involved. Artisan ice cream is done from scratch. So just as it's not like buying chicken nuggets and microwaving them to make the meal, it's not about purchasing ready made blocks of mass produced chocolate and adding flavouring and putting in a pretty box with marketing slogans. It's a real labour of love to bring out the flavour, tastes and textures.
And there's one more important similarity. Both craft chocolate and artisan ice cream are an affordable and eminently worthwhile treat. They taste better. They are better for the farmers. They are better for the planet. And neither a bar of craft chocolate, nor a scoop of artisan ice cream costs an arm and a leg. To quote Jack (of Jack's Gelato): "It's not like going out for a Michelin starred meal … for a couple of pounds, it's wonderful for anyone to be able try the world's greatest ice creams". And that's why he resists raising the price of his ice cream even though he is frequently advised to do so…

Indeed you can have any of these artisan ice cream delights for little (if any more) than a mass produced, heavily advertised ice cream from a vending machine or convenience store. And in this it's similar to craft chocolate, both artisan ice cream and craft chocolate are an affordable luxury where you get a tonne of value from searching. You just have to do a little searching (hopefully now made easier by our interactive map)

Enjoy! Happy ice cream, and craft chocolate, savouring!
Spencer
PS We'll be writing about sugars next week now, and thanks for all your comments on fast food and mass produced chocolate addiction!
PPS One final suggestion for our international subscribers, check out the interactive map for makers like PLAQ and Chapon who are turning cocoa pulp into ice cream (and we're please to let you know that Pacha de Cacao pulp drinks are back in stock HERE).